Padeniya indulges in private practise during strike: Dayasiri
Posted on May 6th, 2017
Courtesy The Daily Mirror
Heated arguments emerged in parliament today when Sports Minister Dayasiri Jayasekara alleged that some government doctors who were on strike in the daytime were working at private hospitals in the evening.
He displayed a receipt showing that GMOA Secretary Anurudda Padeniya had made an appointment at a leading private hospital to treat a patient at a cost of Rs.1,925 at 4.00 p.m. having organised a strike at State hospitals in the morning.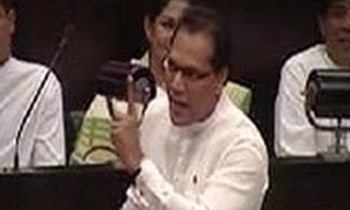 JVP leader Anura Kumara Dissanayake said the minister had no right to talk on that matter as he was not the subject minister.
Mr. Dissanayake said it was not reasonable to express opinions by other than the subject minister or the Prime Minister.
Meanwhile, House Leader Lakshman Kiriella said this was a national issue.
MP Weerawansa said the issues could not be resolved by slinging mud at doctors but the government should engage in discussions with them.
Mr. Dissanayake said private practice was the matter they were protesting against and asked what would happen if lecturers of State universities joined SAITM. (Ajith Siriwardana)
– See more at: http://www.dailymirror.lk/article/Padeniya-indulges-in-private-practise-during-strike-Dayasiri-128425.html#sthash.cs67xYFv.dpuf