PM Modi meets former Lankan president Rajapaksa
Posted on May 11th, 2017
Courtesy ANI
Colombo [Sri Lanka], May 12 (ANI): Prime Minister Narendra Modi on Thursday met former Sri Lankan president Mahinda Rajapaksa here, in an unscheduled meeting.
Indian High Commisioner to Sri Lanka Taranjit Singh Sandhu told reporters, while briefing them about the Prime Minister's itinerary over the day, that the meeting was held at Rajapaksa's request.
The meeting comes days after Rajapaksa called for a black flag protest around Prime Minister Modi's visit.
Rajapaksa had earlier accused Sri Lankan President Maithripala Sirisena of compromising the country's sovereignty and declared that black flags would be shown to the visiting Prime Minister.
In a recent media interview, however, Rajapaksa said that he admired Prime Minister Modi, years after blaming India for his defeat in the January 2015 Presidential polls.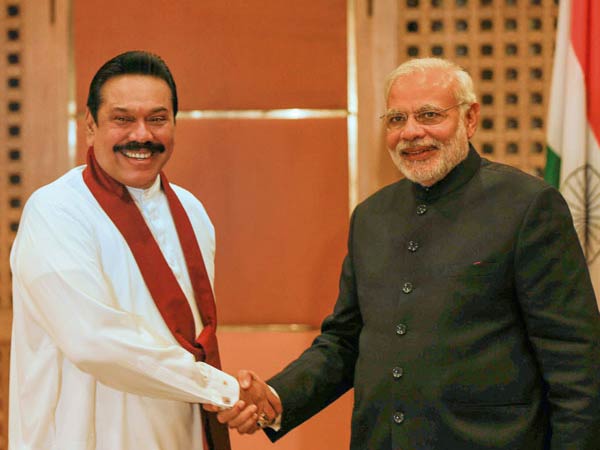 Meanwhile, Prime Minister Modi also met his Sri Lankan counterpart Ranil Wickremesinghe and discussed various issues that concern with the growing cooperation between the two countries.
Prime Minister Modi also met President Sirisena.
Sanjay Panda, MEA, said there were no MoUs signed between the two neighbouring nations on the opening day of Prime Minister Modi's visit and the focus of the discussions was Buddhism, promotion of tourism, and enhancing the connectivity between the two nations.
"The visit assumes importance because of our common Buddhist heritage that spans over centuries," Panda added, while briefing the media about Prime Minister Modi's itinerary over the day.
"Space cooperation also featured in the discussions and India assured Sri Lanka of her help," Panda added. (ANI)