SriLankan Airlines take off or Nose Dive
Posted on June 21st, 2017
By Dr. Tilak S. Fernando
To set up an airline and operate is an arduous task. Running it profitably is even much harder and demanding. In such a backdrop the National Carrier (Air Ceylon) established in 1947 has gone through a metamorphosis at various stages without a having a single accident reported.  When the Government declared bankruptcy on Air Ceylon, Air Lanka was established with Singapore Airlines, who did not have any ulterior motives to exploit the national carrier. Subsequently UTA negotiated an agreement in 1971 with the promise of training hundreds of pilots to fly bigger aircrafts. That relationship too ended up on 31 August 1979.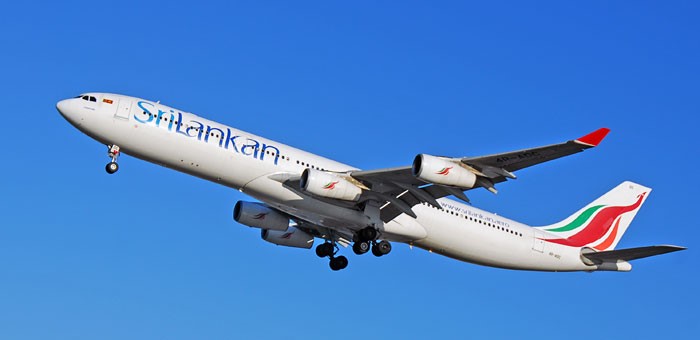 Subsequently, Sri Lankan government signed an agreement for a ten-year strategic partnership with Emirates Group, which included exclusive rights for all aircraft ground handling and airline catering at Bandaranaike  International airport. Emirates's share capital of 40% stake was worth US$70 million (which it later increased to 43.6%). Although the government retained majority of shares of the airline, full control was given to Emirates for investment and management decisions. In 1998, the Air Lanka changed its corporate image to SriLankan Airlines, thus losing its years of earned publicity and reputation as Air Lanka.
By 1998 Emirates decided not to renew the Sri Lankan Management contract  claiming the Sri Lanka government was seeking greater control over the day-to-day management of the airline, thus ended their contract on 31 March 2008. Emirates sold their 43.63% shares to the government of Sri Lanka. By 2010 the airlines ended any relationship with each other. The accumulated profit of SriLankan Airlines in that financial year was Rs.9.288 billion when Emirates pulled out.  Political interference and installation of square pegs into round holes created the depressing scenario (From 2008 to 2015 when the Rajapaksa administration ran it), where the loss for the seven years was Rs. 128.238 billion (US$875 million).
Corruption.
In the recent past SriLankan airlines has been accused of  corruption, and the former Chairman lacking the experience or formal education that would qualify him to be the head of an airline, which has been the cause for the airline to lose hundreds of millions of rupees from the time company's management was taken back from Emirates Airlines!
In October 2015, the Presidential Commission of Inquiry to Investigate and Inquire into Serious Acts of Fraud, Corruption and Abuse of Power, State Resources and Privileges (PRECIFAC) attempted to summon the former Chairman to inquire about various irregularities in the Airline; however, it became a futile  attempt as his wife  seemed to have claimed  that she was unaware of his warebouts, and he had not  come home for three years ! Later he had notified the PRECIFAC that he was abroad, and was unable to give a statement.
Financial Mess
The Unity Government since coming into power has had to face a major financial issue in trying to find ways and means of bailing out the National carrier, which appear to have been in a real arduous task. According to SriLankan statement quoted in the Press, even during under the present government, the year 2016-2017, the draft loss to the airline has been Rs.27.7 billion. Government efforts to woo several international airlines to take over, or even come into partnership with SriLankan Airways has so far been unsuccessful, instead the government had run into deeper problems although operational costs appear to be impressive. This was believed to be purely due to political interference in the past whereby installation of square pegs into round holes has created the present scenario.
State Minister for State Enterprise Development, Lakshman Yapa Abeywardena, was quoted recently in the press as saying, what the government was trying to find out was 'why the airline is still accumulating losses when all the flights seemed to be fully booked. Given the serious financial issues, the airline would find it difficult to function beyond September unless other financial arrangements are done'.
Open Tender
With this in view, a tender procedure has been followed where there had been nine proposals to invest in SriLankan Airlines, out of which only three were shortlisted. Subsequently, even those three shortlisted bids have been rejected.  In the meanwhile, as the writer understands, an unsolicited bidder, from an aviation consortium, has handed over their proposal to the Prime Minister on 19 April 2017.
Their attractive impressive proposal seems to include an initial investment of 5 billion Euros, and an additional remittance of 10 billion to an Astro account to immediately bail out the government with an added undertaking of settling all the outstanding debts of the Airline and restructure it to a profitable level. For this purpose, it is mentioned they have negotiated with Japan Airlines to come as a joint venture Partner without any investment from Japanese but only for the purpose of prestige value. The Consortium has also given the assurance that the Airline would be handed back to the Sri Lanka Government within twelve years.
Should the Government decide to reconsider in getting back to the same old union with Emirates for whatever reasons, critics say Emirates Airlines does not invest any money and the damaged done by Emirates during 1998 and 2008 is highlighted as follows:
All SITA shares were sold out. Operation system of telegraphic.
Solely owned 06 Aircraft (340) sold out, and bought replacements on lease basis.
Prestigious landing rights maintained by Air Ceylon, later Emirates used for AirLanka for their benefit and finally few were sold out.
Hanger awarded by manufacturers when purchasing 08 aircraft was fixed at the Dubai base instead in Sri Lanka.
Profits were secretly transferred including international operations.
One simulator (used for Pilot training) received in 2002 when purchased 06 x 330 aircraft was also fixed at Dubai Centre instead of at Bandaranaike airport.
Total operating system was centralised and taken to Dubai and operated all information, intelligence, IT, including the Call Centre.
Monitoring of sales information and training utilised for their own manipulation of marketing and corporate clientele.
Changing of the name from AirLanka to SriLankan, including the airline's logo has affected years of publicity earned by the national carrier.
On 'information Arrival – Departures Boards' at International airports, National Carrier (Air Ceylon) name which appeared on top of the list has been pushed down further to ' coincide with the 'S' stands for SriLankan Airlines, according to the alphabetical order.
Manipulation of the entire ticketing system and installed in Dubai to be favourable to them which means first to sell the Emirates tickets and then the Sri Lankan.
Violating the Staff Collective Agreement.
Introduced the  (Business Module) operating system in their favour.
If Emirates are given the second chance, critics say:
They will grab the remaining landing rights.
Manipulate Code sharing and continue with One World Alliance.
Emirates are not happy with SriLankan Airlines operating to Australia and London routes as Emirates operations will be affected, as such, they will want to block and operate those routes solely by Emirates from Dubai.
Receive new 30 aircraft ordered by Emirates having created a major issue by, where to run and parking with the present global airline crisis.
Plan and block London & Australian operations, including the balance SriLankan rights, thereby to limit SriLankan to a regional airline.
To destroy the International worldwide airline title.
Emirates joining SriLankan Airlines without a single investment, but showing the already purchased aircraft as an eye wash, thus misleading Sri Lankan government and officials.
Especially when the Government of Sri Lanka is concentrating on the expansion of future tourism, utilizing its own airline image, confining the national carrier, as a regional operation will destroy all Sri Lankan government aspirations.
Years of efforts in the form of prestige building and publicity with its name 'Air Ceylon' since 1947, AirLanka, will be totally lost with SriLankan
Air Line business generally has many variables and challenges such as it is capital-intensive, thus making it fiercely competitive.  As far as the capital investment is involved, Japan Airlines will not have to worry about any type of financial investment in this instance, as the Consortium will be financing the project on their own right. Should the Japan Airlines takes over the responsibility of running Sri Lankan Airways, then the labour incentive operational costs could be minimised, because of Sri Lankan low cost labour, including that of Sri Lankan pilots, will be comparatively beneficial to Japan airlines. Invitation to join Japanese appears to be purely on an image building exercise, and with possible and available increased recourses for a mutual benefit.
The consortium seems to believe that with their know- how and experience of Japan Airline Management, it will be possible to identify the need to enhance its understanding and experience of the mechanisms of and implications of code share agreements,  in order to better fulfill its role of ensuring fair competition within the world wide airline markets