FRESH PORK IN SRI LANKA  – RAUF HAKEEM AND INDONESIAN TRADITIONAL MARKETS-   WHY  9.7% MUSLIMS IN SRI LANKA  CONTROL EATING HABITS OF  90.3% POPULATION
Posted on July 1st, 2017
By M D P DISSANAYAKE
Whether you wish to be a vegetarian or not, is entirely upto the individual.  Muslims close their shops on Fridays during mid day, to attend Mosques.  Muslims open their shops on Poya Days to grab market share of non-muslim businesses.
On the question of Fresh Pork, some Muslims were annoyed with me after reading my previous article on 25 June on CARGILLS FOOD CITY- SCARED TO DISPLAY AND SELL PORK:
After passing Wadduwa, you cannot buy fresh pork in down south Sri Lanka.   Even frozen pork are not displayed at Cargills at  Hikkaduwa, Weligama, Matara etc.  If you want to buy pork at Cargills, you need to approach the staff, then they will tell you:  We have frozen pork but cannot display because of Muslims protest".  The sales assistant will bring pork from the chillers in a closed bag and sell."
We as Sinhalese are not frightened to Muslims or any other ethnic groups to divulge the truth.   In fact your threats will only further resolve our commitment to expose extremist religious groups in Sri Lanka.
Why noT Rauf Hakeem and his MR CLEAN MUSLIMS"  travel to world largest Muslim populated country, Indonesia.  He can and his team can see for themselves how Fresh Pork sellers are conducting business alongside the same traditional markets in Java, Sumaratra, Bali, Lombok, Kalimantan etc.  Normally they are located in the order of:  Fish Sellers, Chicken Sellers, Beef. Lamb ( or  Goat) and then Pork Sellers.  Pork sellers are usually Indonesian Chinese. They conduct their businesses in a peaceful manner under one roof with others . Frozen Pork is also freely available at Transmart ( Carrefour), Matahari, Ramayana Robinson Supermarket, Gelael in all parts of Indonesia.
Sellers conduct their businesses in Shopping Malls and Traditional Markets (Pasar) selling Pork daily.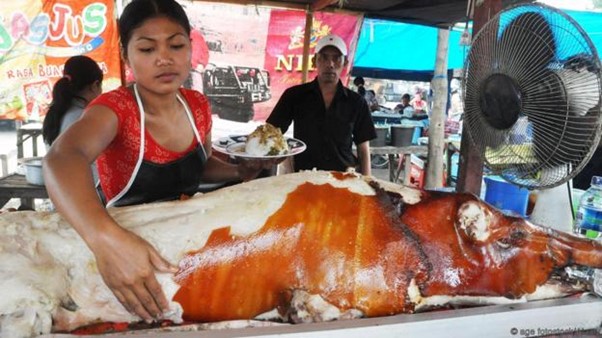 Dear Mr Hakeem, Do you really think Muslims do not eat Pork?  I disagree with you.  I have several Muslims, they love  Deville Pork and a Bir Bintang ( Indonesian Beer).  Of course they do not cook Pork in their homes, but these Muslim Indonesians of all walks of life, have enjoyed Pork meal at friends places, including at my place.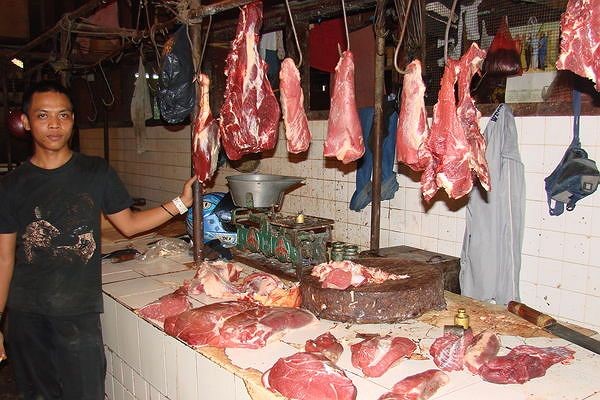 They do follow Lebaran (Holy month of Ramadhan), they do go to mosques on Fridays, but they will never miss a delicious Pork Dish in the company of their friends.
Dear Mr Hakeem, if you do not believe this, please come to Surabaya or Jakarta and I will show you how Muslims are enjoying Pork Develle, Pork Satay, Pork Curry, Nasi Hainam (chicken rice with Fried Pork), quite openly.  I cannot pay for your air ticket, you are a filthy rich Thambi, please accept this invitation and join me at a date and time mutually convenient for both of us.
In  the meantime, you eat what you like, you live with as many spouses as you like (if you have), but allow other Muslims, Sinhalese etc  in Sri Lanka and Businessmen in Sri Lanka to enjoy their lives as well.