The Ancient Haththikuchchi Monastery-Shrine Complex
Posted on August 12th, 2017
Dr. Daya Hewapathirane
Located near Galgamuwa in the Kurunegala district, about 3.5 km away from the Mahagalkadawala junction on the Padeniya–Anuradhapura road, Haththikuchchi is an extensive area of about 300 acres of ruins of a large ancient vihara complex. These ruins lie within highly picturesque surroundings that consist of differently shaped rock boulders and imposing forest trees. The view of this largely forested area from the top of the highest rock mass is spectacular. It is a fascinating site with an assortment of diverse archaeological remains of various types of monuments and structures that belong to different historic periods, but predominantly the early Anuradhapura era. It is one of the most ancient and important Buddhist archaeological sites of Sri Lanka.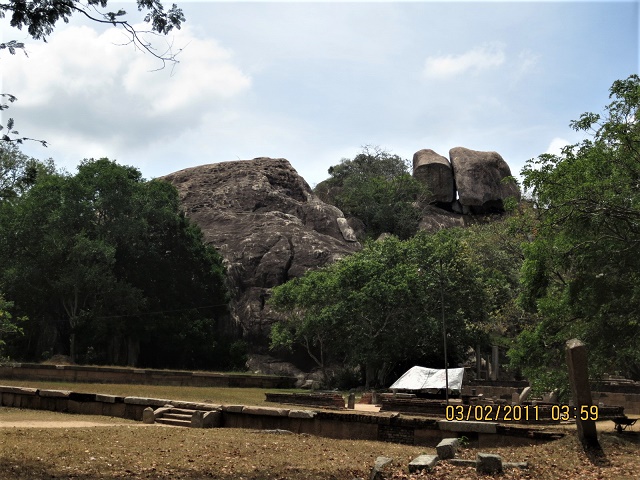 Located at close proximity to the ancient road that existed during ancient times, which extended from Isurumuniya in Anuradhapura to the Maya-rata in the south, Hachchikuchchi was situated in a highly  strategic location in ancient times. Originally, Haththikuchchi had been a typical Buddhist Forest Hermitage, established in the 2nd century BCE by king Devanampiyatissa (307-267 BCE), the first Buddhist king of the island. Subsequently, it was developed by king Saddatissa (137- 119 BCE), also as a forest hermitage. In later years, especially from 2nd century CE to 10th century CE, with the patronage of several kings of the Anuradhapura era, Haththikuchchi developed and expanded as a highly important Monastery-Shrine complex. In the 13th century, Haththikuchchi was destroyed by Kalinga Maaga the Dravidian Tamil terrorist invader from Southern India but was soon restored with the patronage of later Sinhala kings.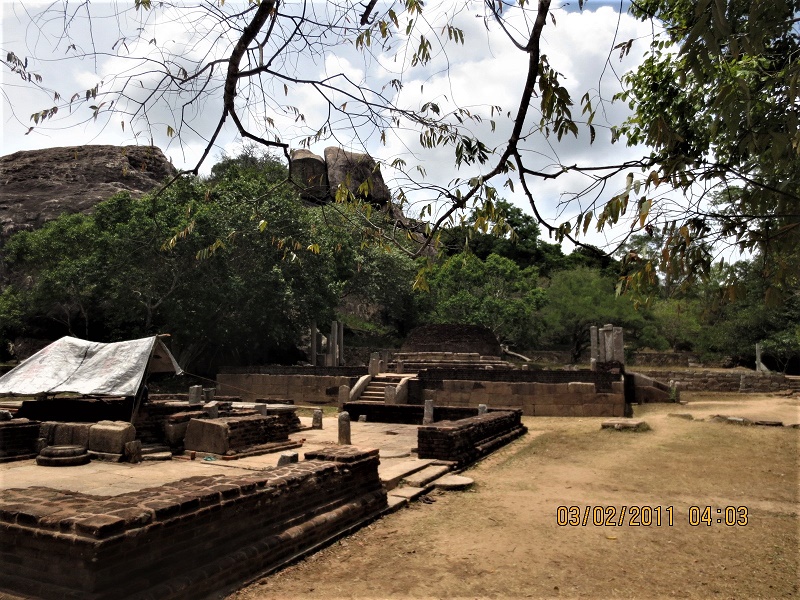 The precincts of this huge monastery-shrine complex consists of many rock caves used as dwellings of monks, including 38 caves with drip ledges and many rock inscriptions, 16 ponds including a perennial pond on top of the large boulder where the meditation cave of king Sirisangabo is located, a Chapter House or Pohoya Geya, remains of eight Stupas, a Vatadage, an Image House, a Bodhighara, an Uposathaghara, a Pasmahal Prasadaya, a three-storeyed Dhathu mandeeraya, a dhana salawa or dining Hall, and many more unidentified structures, architectural monuments and decorations carved out of stones.  There is a cave shrine, with a large reclining Buddha statue that belongs to the Mahanuwara period – 18th century. The face of the Buddha in this statue is exceptionally serene.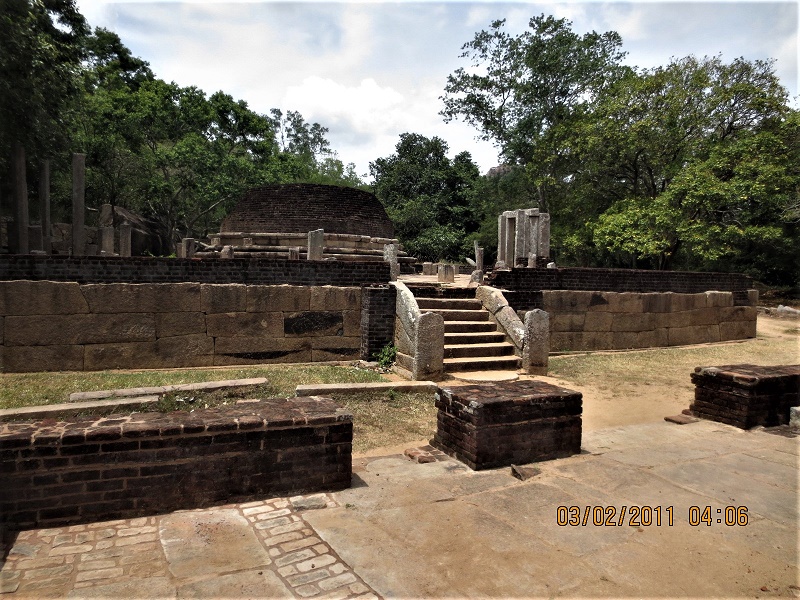 According to records of Venerable Buddhagosha of the 5th century CE, during the early Anuradhapura era, there were four highly developed  Buddhist shrines in the country, namely, Dakshinagiriya, Mihintalaya, Sithulpahuwa and Haththikuchchi. Haththikuchchi forest hermitage was a large and highly important Buddhist centre, especially a reputed meditation centre.
The historical significance of Haththikuchchi is largely owing to its association with king Sirisangabo of the mid 3rd century CE (252 -254 CE). This was the site where this pious king was meditating and where he offered his own head to a peasant. According to Venerable Buddhagosha, King Sirisangabo was meditating in the cave among the overhanging rock, and it was among the best meditation caves in the island.
A ancient tomb has been discovered among the archeological remains in this site, which is considered to have the ashes of the king Sirisangabo. Here, the tombstone was built from bricks and resembles a human body but with a granite sphere placed as the head piece, implying the missing head in the dead body. His body was found at the foot of the cave where the king was meditating and was later cremated and the ashes were enshrined in a stupa, the ruins of which is evident today.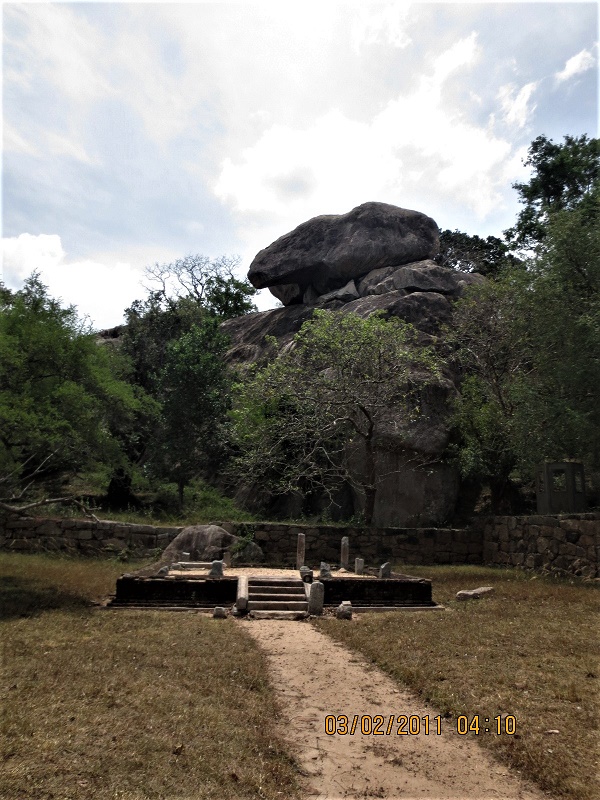 There are different explanations about the association of king Sirisangabo with Haththikuchchi and with Attanagalla. This has   led to controversies regarding this site. But according to reputed research scholars, such as Venerable Nochchiye Somananda Mahathera, there is no doubt that Haththikuchchi had been the place associated with the king Sirisangabo story. He refers to and interprets the accounts of this king cited in ancient chronicles such as Deepavamsa, Mahavamsa, Mahavamsa Tikaava, Rajavaliya, Rajarathnakaraya and Pujavaliya. In his book titled Hachchikuchchi Vihara Vansaya, Venerable Somananda cites evidence from an ancient chronicle titled Sahassavaththuppakarana", written in the 1st century CE, which contains a clear description of the king Sirisangabo story.  Additionally, he cites archaeological evidence, rock inscriptional information, and folk lore, to establish that the king Sirisangabo story is directly associated with Haththikuchchi.