Tense situ at Kataragama Devalaya Nilame and shamans fight over keys
Posted on August 25th, 2017
Dr Sarath Obeysekera
Quote  Ceylon Today ………….
Religious rites were delayed at the Ruhunu Maha Kataragama Devalaya yesterday (22) morning as…… tension prevailed due to an altercation between two Kapumahaththayas (shamans) and the Basnayake Nilame, Police said.  Speaking to Ceylon Today, the Police said an altercation arose over the Temple keys and the opening of the temple.The two shamans of the Kataragama Devalaya alleged that the Basnayaka Nilame had refused to give them the keys to the temple door, hence the altercation. Media reports stated that one shaman had said that when he arrived with the other shaman at 4:30 a.m. to open the temple, Basnayake Nilame D.P. Kumarage arrived with a group of thugs and his son and forcibly took the keys from them.However, the Basnayake Nilame, was quoted as saying, "The keys were missing when I went to the Temple, so I got a key and tried to open the doors, when one shaman yelled at me asking me what right I had to open the temple.
"This is the first time in history that we were unable to perform the religious rites on time," a shaman has said.
Police said the matter was later settled and the religious rites commenced as usual, albeit a little late
Unquote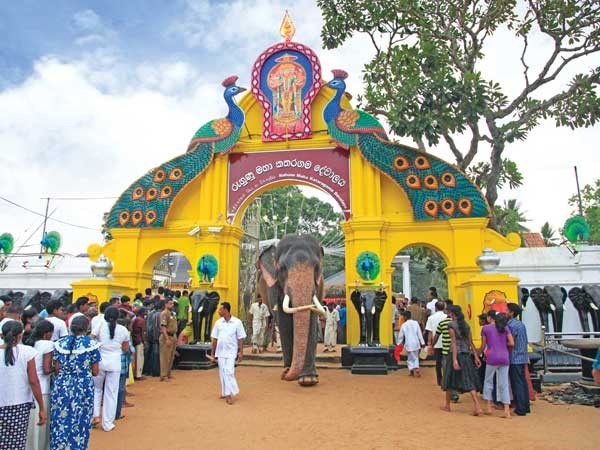 I wonder whether you remember when a Minister in the then Sirimavo Bandaranayake Government  ( was it T B IIllangartane  ?who was also called Karawala Kuamaraya ?–now a days we should call some ministers Bandumkara Kumaraya !) presumably has insulted Kataragama Deity  speaking about Kataragama Deviyo Kolomba Vediaya ( God K'gama came to Colombo ) .and due to this unholy utterance they lost the election badly !.
Can someone enlighten me on the real story why these words were uttered?
Ministers , people doing legitimate and equally crooked business ,drug peddlers ,murderers ,MP's and local politicians alike ( Palaa' Baba) ,Gem merchants ,car dealers ( they make replica of a car in Gold or replica of a fishing boat in Silver ) offer to Kataragama believing that the Deity does not differentiate people by their profession or business is or good nature or of evil nature .
When the rich or influential person goes with the fruit basket , Kapu Mahattaya or his subordinate with  a white Chinese collar shirt and Sarong comes smiling pretending that they know you ,take you into the temple ( Devala) from back door and put you in front of the queue , ( under protest and  cursing  of the ordinary people standing in the queue for hours ). Fruit basket with a minimum 1000 Rs ( sometimes with the car key or new house/building door key or the replica of your Hummer car ) take in behind the curtain stitched with the 2D picture  Lord Kataragama's figure sitting on a Peacock and the peacock sitting on a snake ,
I am not critical of Lord Kataragama as I am still wearing a gold Barrel Pendant ( Suraya ) given to me by the priest who was chief prelate of Wedahiti Kanda after chanting manthra for weeks ,with a long lasting cologne inside ( after 30 years of wearing,  I still feel the scent !)  This priest ( I assume who is no more) used to have his own two four-wheel jeeps at the bottom of Wedihiti Kanda to take pilgrims for 2500 Rs where as poor people walk all the way up along snake like road way .The driver is usually young dare devil type ,who will make you pray God during driving on the way up along the steep hill .
This priest told me that one President asked a fortune teller  ( may have been him)  to cut the photo of another president in Sri Lanka and deep fry in a big Oil Pan ( Kalderama ) for days  to  inflict curse ! .
He also told me that on the way downhill    a resident was not allowing him to pump water to the temple on top of the hill, He took sword ,went  down chopped his head off and went hiding wearing civilian clothes !!!!!!!!
What a story !
Back to God Kataragama ,I still respect him .
When I put on the chain with blessed barrel penchant I murmur to myself Deviyange Phitai ! I stopped going to Devalaya since I started attending Meditation classes conducted by Goenka Disciples.
These kapu mahattayas like lawyers always die of a decease ( never heard of dying due to natural course) may be because they earn money by cheating people .
The fracas between Kapumahattaya ( may be he has houses aboard !) and Nilame who is always a stooge of the running politicians may have had some fracas over the content of  the donation Box (Pin Pettiya ) ?
I do not mind politicians fighting to become the head of Cricket Association ( where stupid fans after paying exorbitant prices, go to the stadium for 4-5 days to watch two stupid while-clad  persons alternatively hit a ball thrown by another,  where all three keep kissing the blessed penchant by Katharagama Deviyo or blessed by a Catholic priest or an Imam  )  ,but why do they want to  become Nilame by bribing many Divisional Secretaries to rob money of the poor people ?
Good old days Kapumahattaya and Nilame were vey pally and shared the loot .
That day , someone was planning to open the Box to collect the whole loot like in Pirates of Carribean ?)
I suggest to all sensible people to go to Kiriwehera and offer some flowers to Lord Buddha and just bypass the temple of crooks but worship God from outside as you will be seen by the God better than others .You may give a donation to the hall where they offer free meals to the devotees .
It is OK to break a coconut until it is shattered into small pieces, and yet if by any chance if it does not break you will be much disappointed, after coming all the way along the Colombo Matara Express way via Tissa worshipping MR for building the highway to go home as early as possible,and say We have at least the highway to go home early  despite a purported robbery of the national wealth
God bless all of you by KD and MR
Dr Sarath Obeysekera