Seize! Detain! Kill! — Sri Lanka Readying Legislation to Kill its Dogs!
Posted on September 12th, 2017
Champa Fernando Secretary, KACPAW (Kandy Association for Community Protection through Animal Welfare)
A worldwide petition protesting to Minister Faiszer Musthapha, Hon. Minister of Provincial Councils and Local Government, to not to legalize killing of dogs in Sri Lanka has gained close to 30,000 signatures within a week from across the world and within Sri Lanka.
The petition asks to say NO to ITEM 14 of Sri Lanka's Draft Dog Registration Act – LDO 36/2015, which would give the Provincial Councils the legality to kill ALL straying dogs!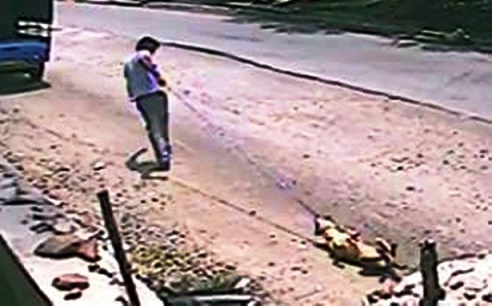 Some Government Officials led by the Secretary to the Ministry of Provincial Councils and Local Government, want as per ITEM 14 of the above Act, ALL STRAY DOGS to be SEIZED by EVERY Local Authority, DETAINED and KILLED if not claimed by payment in 3 Days!!
This would be the beginning of the end of the No-Kill Policy on Dogs, a policy upheld by Minister Faiszer Musthapha as one that cannot be violated. But including Item 14 in the Dog Registration Act will clearly violate the No-Kill Policy, making the Minister's humane stance hollow and meaningless.
The polarity of opinion of the Minister and some of his officials on this issue is indeed peculiar and needs to be bridged in favour of the civilized, humane option of Non-Killing of Dogs, discarding sinister plans to start killing dogs in Sri Lanka.
Predominantly a Buddhist Country, Sri Lanka enjoys a NO-Kill Policy on Dogs since 2006 and has a National Dog Sterilization Programme annually funded by the Government in place since 2008. This HUMANE approach is lauded world over and Sri Lanka is seen as a trailblazing, civilized and progressive country in the region.
So what is needed is not to go back to the Medieval Age by starting to kill dogs, a method proven over hundred years to be futile with regard to controlling the dog population, but to progress forward on the No-Kill Policy and ensure that the dog sterilization programme is effectively and comprehensively carried out right across this small Island nation so that the dog population is systematically and sustainably and HUMANELY reduced.
The petition can be signed at http://www.thepetitionsite.com/949/809/086/seize-detain-kill-sri-lanka-readying-legislation-to-kill-its-dogs/?taf_id=41835710&cid=fb_na
Champa Fernando
Secretary, KACPAW (Kandy Association for Community Protection through Animal Welfare)