FM trying to reduce tax on liquor: GMOA
Posted on October 25th, 2017
Dr Sarath Obeysekera
The GMOA today accused the Finance Ministry of attempting to reduce the tax on liquor through the 2018 budget and said this would encourage the liquor use.It said despite the national policy of the country which is to prevent the easy access to liquor, the Finance Ministry was attempting reduce tax with the intention of promoting the tourism sector. GMOA spokesman Samantha Ananda said the Finance Ministry's move would destroy the values of the country as it would encourage alcoholism.
Meanwhile, GMOA Secretary Haritha Aluthge said the GMOA was informed of an attempt to open liquor outlets countrywide at SATHOSA outlets. He said if it was done it would influence liquor consumption. Dr. Aluthge said liquor and tobacco were not essential to the tourism industry and tourists could visit the country to view its landscape and nature."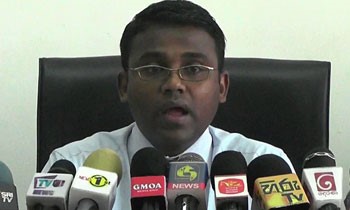 (We should be happy that a Muslim Minister in charge of Sathosa is encouraging liquor sales despite threats from ISIS!)
First and foremost when did GMOA or their members were worried about health issues of the people? They go on strike for planning abolition of vehicle permits .Do they complain importation of vehicles and three wheelers which generate much ait pollution which affects the health of the nation ?Are elite GMOA goes on strike mercilessly for any minor issue and threaten the state inconvenience people.
Vietnam and Thailand and even Indonesia and even Male Resorts  are growing faster because many tourists come to those countries .In Vietnam people drink so much of beer against  consuming hard liquor. These countries are growing fast despite being Buddhist country We should liberalize and reduce beer prices and allow selling them in any grocery shop with toddy .Encouraging  beer and wine drinking is not only good for health but also the discharges urine will enhance Urea content in soil ! Increase in beer sale will create more jobs for capitalist tycoons and also build more beer factories. .Abundant water flowing along Kelani and Kalu  Ganga etc. to the ocean can be used to make beer .We can ask beer companies to filter and clean river water and provide part of it to water- board so that they fulfil Corporate Social Responsibility
We should liberalise liquor  trade and also  increase production of wines so that ordinary people can take a glass of red wine ( which same doctors advice to heart patients to consume) ,This industry will flourish and grape and other fruit growing will increase which is use to make wine .We can make rice wine so that rice production increases. All restaurants will have more business
Regarding Sathosa planning to sell liquor means more people will visit Sathosa and buy other products for  their taste We will sell more meat which means we can also export.
More beer drinking can cure many kidney failures as your organs will work more efficiently '???
Sri Lank will have more and Machans .where people and youngsters will gather stop going for demonstrations where they provide hard liquor.
Beer Tycoons will flourish and they will re- invest the money .More tourists will come for Beer Festivals like in Germany and national income  will increase, More beer sales will increase sale of fridges and bottle coolers .People will sip beer and wine and forget about SAITM and problems of amending constitution .
My final advice is we should allow legal prostitution also where all of them are checked by the same GMOA members to give a clean health bill to stop women going to middles east and be victims of Arab Vultures and return with illegitimate children. Condom production will go up and rubber industry will flourish .We may also liberalize same -sex trade so that more youngsters from Europe and Scandinavia. West is becoming more and more liberal in same-sex marriage and hotels can advertise the service and we get more tourists.
Impose traffic rules like in Norway where you cannot drive even after a glass of wine which means people will not use cars but some other means to travel, our accident rate will reduce
Our Lion Flag can fly all over the world with a brand name like that and whole world will know about the branded beer in Sri Lanka. (Currently we are quite famous for illegal same sex trade!)
So GMOA should look at the pros but only cons,
They should stop  conning" the whole nation.
Dr Sarath Obeysekera