Kaduwela-Fort light trains from 2018: Champika
Posted on January 10th, 2018
Dr Sarath Obeysekera
SEE COMMENTS BELOW
Fort bound Light Railway Service would be initiated from Kaduwela funded by the Japanese Government, Megapolis and Western Development Minister Champika Ranawaka said.He said the feasibility study for the project was being conducted and the Ministry was acquiring lands in the area for the purpose.Participating in an event to the Kaduwela Public Fair and the additional bus halt, the Minister said the construction of the light railway service would be initiated end of 2018.Apart from Colombo, he said the Kaduwela and Homagama areas had been identified economically valuable areas and would be populated more in the near future.Therefore, Minister Ranawaka said a proper city planning had been proposed by Ministry to the Government considering the commercial demand of the lands in the areaHe said it had been proposed to develop the areas surrounding Parliament to create office complex, including the Prime Minister Office and offices of various Independent Commissions.It is our vision to develop the Kaduwela – Battaramulla area as professionals' city with many State institutions. The construction work of three large buildings for the purpose will commence soon," he said.He said the area between Malabe and Homagama would be converted in to a tech city, including technical colleges and technology institutions.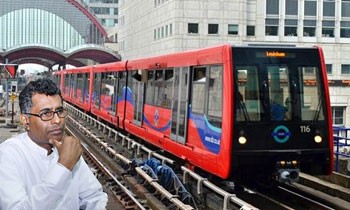 He said 16 companies had already come forward in favour of the Ministry's strategy
An election is at the door step .Rjagiriya fly over has been declared open.Traffic is still moving in a snarling speed ,Canal passenger Trans port plan was  given wide publicity .Water is flowing and no boats as yet. Completion of connection of Kaduwela Kerawapitiya from Airport highway to Souhern highway is still in the horizon .Improvement to Kelaniweli Rail Line  is still far behind .
It takes over 1 -1.5 hours to reach Colombo from Kaduwela.
Building  an elevated light railway will take at least three years in Sri Lanka.How can it be completed  in 1 year  .Officials and politicians are all talking in many forums ,professors from Universities giving lectures about the transport technology .But the poor people who use public transport keep cursing the rulers .
Why are we hoodwinked by the politicians?
How long can the people wait ?