Multicultural victim: White Briton's want their country back  
Posted on January 15th, 2018
Shenali D Waduge
 The term multiculturalism maybe new but the concept has existed for centuries. People of different ethnic, religious, traditions, cultures, customs etc have been living together for centuries. However, those that have reconceptualized multiculturalism have a preconceived plan to erase customary historical-cultural-religious non-Abrahamic ethos and replace it with a newly created culture or replace it completely with the new cultures that are being imported as a political ploy. Those plugging in these new concepts are generally people who have no sense of their own roots, no respect for a country's heritage & history and no care for the people who want to protect and foster their traditional heritage without having it diluted, replaced or completely erased. To understand the situation clearly Britain is the best example to take – today a victim of its own policies.
Multiculturalism is a failure in the very countries promoting it. The Irish hate the English. The Scots hate the English & the Welsh hate the English so what are the Brits preaching to the rest of the world when they can't even force reconciliation amongst their own?
However, the country that once ruled the world and divided the world's people creating simmering conflicts that were never meant to be solved are now finding that the hen has come home to roost.
While we can empathize with the feelings of the white populace, we can only tell the Brits to tell their Governments to butt out of interfering in affairs of sovereign countries and get their house in order before the white British Government gets usurped without their own knowledge!
Declining white population
Britain's population in 1950 was 50million (207people per square mile). Today it stands at 64million (268 people per square mile).
According to Policy Exchange Report only 25 % of white Britons identify themselves as British.
In 2014, some 27% of babies in Britain had foreign-born mothers, up from 26.5% in 2013. According to data released in July 2017, 28% of live births the UK are to foreign-born women – even though foreign-born people only make up 8% of the total population.
Census figures show almost a tenth of babies and toddlers in England and Wales are Muslim – nearly twice the proportion in the general population. Of 3.5 million children up to the age of four in England and Wales recorded in the 2011 census, 317,952 (or 9.1%) were Muslim. According to the census figures, 4.8% of the 56.1 million resident population of England and Wales in 2011 were Muslim.
Oxford Professor and population expert DAVID COLEMAN says white Britons could be in the minority by the 2060s – or sooner.
Confounding the issue is that fact that the White British are not marrying and opting to have fewer or no children. 3.6 million white Brits chose not to get married in 2013. 17.8 million people have chosen to remain single. At the same time the number of divorcees also jumped by a fifth to 4.5 million. Same-sex partnerships were 113,000 people in 2011 census.
Estimated number of migrants between 1800 and 1945
| | | |
| --- | --- | --- |
| Migrant Group | Migration 1800-1945 (145 years) | Migration 1945-2010 (65 years) |
| Africans | 10,000 | 1,000,000 |
| Americans | 70,000 | 250,000 |
| Arabs | 10,000 | 290,000 |
| Belgians | 240,000 | 40,000 |
| Chinese | 20,000 | 320,000 |
| Cypriots | 2,000 | 80,000 |
| French People | 40,000 | 100,000 |
| Germans | 100,000 | 300,000 |
| Hungarians | 2,000 | 38,000 |
| Irish | 1,500,000 | 700,000 |
| Italians | 40,000 | 160,000 |
| Jews | 220,000 | 80,000 |
| Poles | 5,000 | 500,000 |
| South Asians | 20,000 | 1,000,000 |
| West Indians | 10,000 | 400,000 |
| Others | 50,000 | 1,000,000 |
| Total migration | 2,339,000 | 6,231,000 |
| Average migration per year | 16,131 | 95,862 |
3.3 million immigrants came to the UK from 2001 to 2014.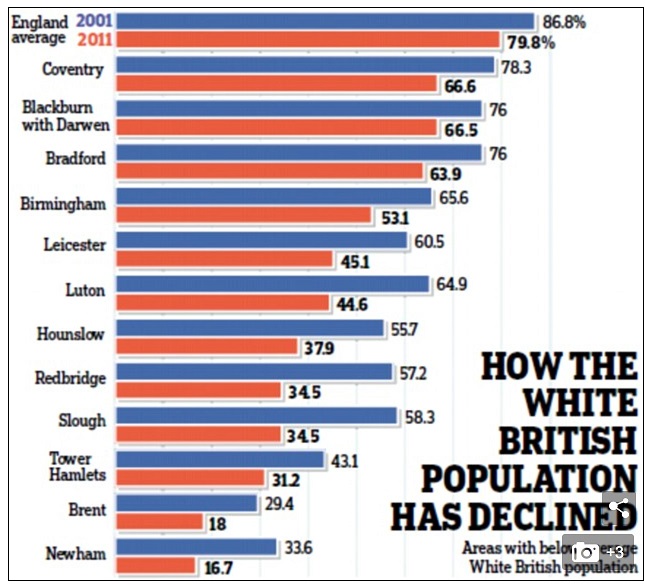 Minority Ghettos
The UK (England, Scotland, Wales & Northern Ireland) population 64millon of which 52million are white British. Presently, there are 2.8m Muslims in the UK of which over 1m live in London (London consists of 8.17m people) In 2011, 2.71 million Muslims lived in England and Wales In 2001, the Muslim populace was only 1.5m.
According to BBC white Brits are now in a minority in London, making up just 45%. Cities like Birmingham, Leicester, Slough, Luton, Bradford and London have seen the white population reduce by 50%.
The guardian gives a breakdown of where Muslims live, https://www.theguardian.com/world/2015/feb/11/muslim-population-england-wales-nearly-doubles-10-years
Coventry is the most dangerous city to live in the UK & according to census 20% of Coventry residents were born overseas. 7.5% residents were Muslims, 3.5% were Hindus and 5% were Sikhs. http://www.coventrytelegraph.net/news/coventry-news/one-five-people-living-coventry-3015765
Britain that is preaching inclusiveness, reconciliation & multiculturalism is struggling to deal with rising ethnic ghetto areas. Magnus Ranstorp of the Centre for the Study of Terrorism and Political Violence at the University of St. Andrews in Scotland says
I think that home-grown terrorism is certainly being accelerated by the growing 'ghettoification.' Not just in Britain, but across Europe"
if so it is applicable to Sri Lanka & elsewhere as well.
David Owen a specialist at the University of Warwick says
a proportion of new immigrants belong to an Islamic sect that does not wish to mix with other faiths…. add to the rising ghetto population, as well as boosting high birth rates."
In 2009, Researchers for the Department of Communities and Local Government asked white British what they felt about immigration. The report quotes a resident: He talks of a few incidents that have occurred over previous years, including a road sign in an area with a high Asian population, on which was sprayed the phrase 'No Whites after 8.30'.
The response by Dr Mohammed Naseem, the chairman of Birmingham Central Mosque If the white working class in Birmingham do feel betrayed, then it is the fault of successive Governments, it has nothing to do with race or immigration or anything like that."
Study by Professor Ted Cantle taking the census of 1991, 2001 and 2011 examined the movement of white population in the UK. His report names Slough, Birmingham, Leicester, Luton, Bradford and a series of London boroughs as 'areas with increasingly dwindling white population'. He says that the proportion of minorities in some parts of Bradford was more than 97 per cent. Blackburn had 95% Asians!
His report further states White people are leaving urban areas in a disproportionate number"… Some made no bones about it — they are moving out because 'they' are moving in."
In London, between 2001 and 2011, around 620,000 white British people left the city, most of whom moved to "whiter" areas.
Prof Cantle predicts the divide between minorities and the white majority will be even greater by the 2021 census. Professor Cantle, after the 2001 riots warned that populations in northern cities were living 'parallel lives', produced the report, Is Segregation Increasing In The UK?, with Professor Eric Kaufmann of Birkbeck College.
Prof. Cantle called upon the Government to stop ethnic ghettos – the same call must apply to Sri Lanka as well. It completely demolishes solutions for ethno-religious federalism.
The DalyStar in 2014 covered a story on homes being illegally advertised for rent to Muslims only". This calls to mind several adverts by minorities in Sri Lanka doing the same.
http://www.lankaweb.com/news/items/2015/09/30/sinhala-majority-discriminated-paid-adverts-tamil-only/
Other adverts have been Room to let for £400 in Plumstead… ONLY FOR ASIAN FAMILY."
Two Double Rooms…. MUSLIM FAMILY ONLY."
There has been over 200 property adverts on websites such as Gumtree, specifying Muslims.
Can the whites complain? Remember the 1950s and 1960s they too had boards 'whites only'!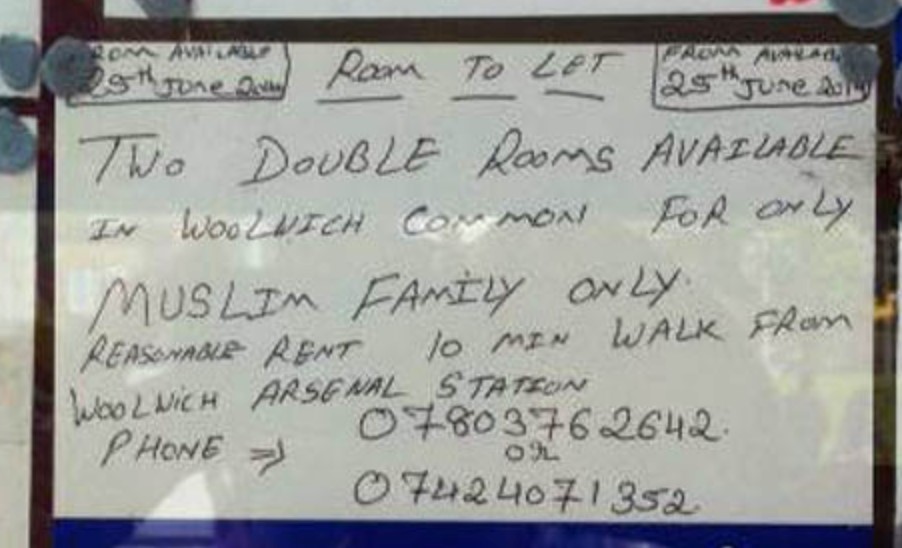 Political correctness & segregation
Dame Louise Casey, the government's community cohesion tsar's blasted local councils for over worrying" about causing offence. This must be the 'political correctness' that most are preaching! https://www.thesun.co.uk/news/2099502/white-british-population-has-fallen-by-more-than-half-in-just-20-years-in-parts-of-uk-as-country-becomes-more-segregated/
Her report reveals thousands of people from all-Muslim enclaves in northern cities such as Bradford, Dewsbury and Blackburn seldom, if ever, leave their areas and have almost no idea of life outside."
In 2015 almost 4 million voters – about one in 10 of the entire electorate in England and Wales had been born overseas. Two seats – East Ham and Brent North became the first constituencies with a majority of the eligible electorate born abroad. Of this 615,000 were Indians and 118,000 were Sri Lankans. It showed the power of the 'migrant vote'.
Since 1980s a large number of Asian & Black MPs have been entering UK's parliament. At local government level too, the number of black and Asian elected councillors has swollen.
Another area that has white Brits angered is the manner non-whites are milking the social welfare benefits. We know too well how LTTE diaspora have mastered this!
Tory MP Peter Bone said the welfare state was being abused. He warned: It would appear that while most migrants come here to work, a disproportionate number are coming for benefits. More than 400,000 now handed payouts that cost taxpayers billions each year. Department for Work and Pensions under the Freedom of Information Act, show a total of 406,900 non-UK nationals were claiming work-related benefits such as jobseekers' allowance, incapacity benefit and disability living allowance in the year to February 2012.
Education/Jobs
Nonwhites already make up over 25 percent of all school pupils in primary and secondary schools combined, and have increased their numbers by more than 10 percent in the last ten years. There are a total of 8.67 million pupils in all schools in England—which means that there are already in excess of 2.167 million nonwhite pupils.
A study by Manchester University finds that adults from ethnic minority backgrounds are more likely to be educated to degree level than their white British counterparts.
Overall, 26% of white British adults held a degree, compared with 40% of those described as Black African, 42% of Indians and 43% from Chinese backgrounds.
However, findings from a report by the government's Social Mobility Commission reveals that British Asians are less likely to land top professional jobs despite having best school results.
A report released by the UK Government in 2017 gives some other shocking facts. Of Britain's 65m populace 30m are employed of which 76% white British have a job. However, Pakistani or Bangladeshi heritage are the least likely to have a job. Police are far more likely to stop and search non-white Britons. Black people are six times more likely to be stopped and searched than white people. White Britons, who comprise 86 percent of the population, account for 94 percent of police officers. About 92 percent of teachers are white. Asian and black teachers account for just six percent. Just 21 percent of black African and 24 percent of Arab Britons are home-owners, compared with 68 percent of white Britons.
Asian countries have had a massive financial influence on the UK economy, and some of the wealthiest British Asians own some of the most powerful companies in the world. Of the 19 richest Asians in the UK topping the list is Gopichand and Srichand Hinduja (and family) — £19 billion.
Who owns London?
MailOnline asked a pertinent question in March 2017 Who owns London" it appears Qataris have 24m sq.feet of prime real estate in the capital. Qatari's have invested £80billion in UK real estate since 2005 and they have invested in 5 main areas in London – Kensington, Knightsbridge, Mayfair, the City & Canary Wharf. Some of London's tallest & most iconic buildings are now owned by foreign investors – Qatar has bought over four 5-start luxury hotels – Claridges, the Connaught, the Knightsbridge Berkeley & the Park Lane InterContinental. No wonder the British are annoyed. Qatari's also own the former US Embassy in Grosvenor Square. Qatari's own more of London than the Queen herself!
http://www.dailymail.co.uk/news/article-4323300/Who-owns-London-Qataris-24-MILLION-square-feet.html
The idea of "Britishness" is often raised by conservative and far-right critics, who argue against multiculturalism. As they rally against immigration, they claim ethnic minorities do not contribute positively to society or ever see Britain as their first home.
The white Brits are a minority in its own capital no different to how Sinhalese are a minority in Sri Lanka's capital Colombo. Much of the Brexit sentiments of white Brits are certainly shared by the Sinhalese.
The white Brits are certainly sitting on a volcano… they may be numerically in the majority but the fact that their politicians are being increasingly influenced by non-whites into bringing legislations and policies that are pro-non-whites will certainly not be tolerated for too long. It is no surprise that violent entities ended up attacking half of all mosques in the UK after just 1 incident. However, there is no shortage to political approvals for mosques and other non-Christian religious centres inspite of UK clinging to its Anglican roots. As statistics have shown increasing number of non-used churches are now being turned into mosques!
Let's not forget that the immigration crisis has emerged as a result of people fleeing from their countries due to West's bombing sprees. If the West had not engaged in bombing countries based on lies and fabrications promoted through western-media people would not be fleeing their homes. Having said that, we can find fault with politicians not only in the West but even in Sri Lanka who have become victims of political correctness for their own personal gains against policies that are country-centric and in the national security interest of the country. Brexit sentiments expressed by the Brits are just as valid as the sentiments presented by the Sinhalese. While we may argue at the 'Britishness' of the Brits, Sri Lanka certainly has a proud history running to thousands of years to protect and foster and not have it replaced or usurped by foreign cultures and foreign rules.
However, YES, the white-Brits have every right to protect what they feel is their 'Britishness' if so the Sinhalese have every right to protect the Sinhala heritage & culture based on which the country was build. The contribution of others came far after.
No liberal concepts can suddenly come into the scene and replace a country's history, heritage and culture just because those promoting it feels that their ideology should prevail over all others.
If birth controls are being applied all over the while why are Muslim nations omitted from this? What is the long term results when everyone else is having lower births while Muslim births keep increasing worldwide?
While the Christian ethos in most countries remain unchanged the same applies to majority Muslim countries. Vatican will never turn its state into a multicultural state nor will any majority Muslim countries. If so why only non-Abrahamic religions have to comply?
Brexit means Brits want their country back – the majority in Sri Lanka can understand and wish the same.
Shenali D Waduge