I have a dream  —  Martin Luther King
Posted on April 12th, 2018
Dr.Sarath Obeysekera
http://www.lankaweb.com/news/items/2017/01/25/i-have-a-dreammartin-luthe-king/
Posted on January 25th, 2017 Lanka Web
News Item
Martin Luther King anniversary marked by events from Washington to Memphis
Marches, speeches and reflection honour the civil rights leader killed 50 years ago: 'It makes me cry when I think what they took from us'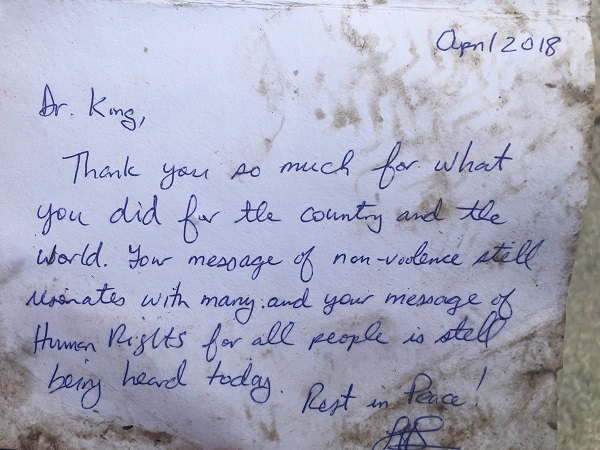 I have a dream that one day this nation will rise up and live out the true meaning of its creed: We hold these truths to be self-evident; that all men are created equal."
I have a dream that one day on the red hills of Georgia the sons of former slaves and the sons of former slave owners will be able to sit down together at the table of brotherhood.
I have a dream that one day even the state of Mississippi, a state sweltering with the heat of injustice, sweltering with the heat of oppression, will be transformed into an oasis of freedom and justice.
I have a dream that my four little children will one day live in a nation where they will not be judged by the color of their skin but by the content of their character."
And ……….I have a dream today."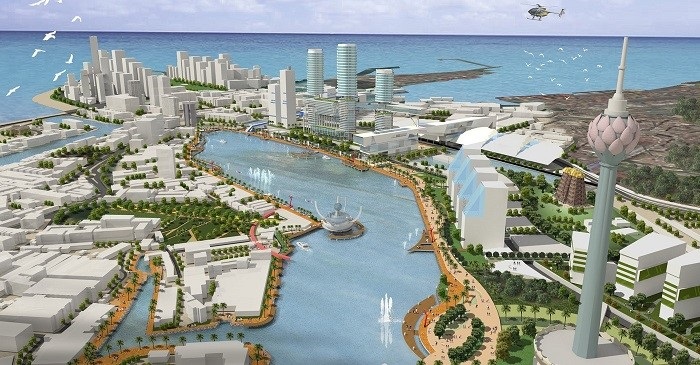 Photograph above is extracted from the Web-page of Megapolis .When I see that area being developed by Chinese ,I feel that Mahinda had some vision and a dream, and if it could have been continued  just after his debacle ,we would have been selling plots to investors. Construction Industry, Cement Industry would have been booming by now.
With Nelum tower in the background , development was  a dream for us .They plan to liberalize boat ownership and Sri Lanka upper echelon who has money will buy a Yacht  ( instead of buying a Benz or a BMW) and park in Port City Marina .It is timely that we started the Yacht Repair and Building Yacts  in Colombo and Galle
We need Marinas and high rises like in Singapore with good facilities and entertainment to entice  investors  .
Galle Harbour was earmarked for a Marina Development .Blue prints were made but various ministers are dilly dallying .If it is implemented ,Galle will be the pinnacle of success in developing tourism like Puket in Tlailand .
Quote
SUNDAY TIMES 2
MTD Walkers PLC steps in to resurrect Galle Marina project
By Bandula Sirimanna
Sri Lanka's ambitious 'Galle Marina' project aimed at making the Galle harbour a tourism port which was temporarily halted by the Bodu Bala Sena-led communal tensions in Aluthgama in 2014, is to be resumed soon.  MTD Walkers PLC, an integrated infrastructure and engineering solutions providers has been granted approval to re-commence the construction of yacht/leisure craft repair/shipbuilding facility at the Port of Galle under this initiative, official sources revealed.  This yacht repair project was launched in 2013 with Hadi Hamam Group of Saudi Arabia as the investor and Sea Gulf Shipyard (Sri Lanka), the project proponent at an estimated cost of US$44 million during the Rajapaksa regime.  The Saudi Arabian investor then backed out from the project after the Aluthgama incident where 3 people were killed and 80 were injured.
It is now ready to re-commence the construction work of the yacht repair project in partnership with MTD Walkers PLC as a sum of $ 2 million has already been spent on the project. However Sri Lanka Ports Authority (SLPA) has objected to the recommencement of the project when this matter was taken up at the meeting of Cabinet Committee on Economic Management (CCEM) recently.  SLPA officials claimed that a yacht repair facility was not included in Request for Proposals (RFP) on the proposed Galle Marina.  Overruling the objection, the CCEM has granted approval to MTD Walkers PLC noting that the project should be allowed with clear guidelines on specifications of yachts, this repair facility site could be undertaken.
The SLPA has been directed to provide clear guidelines for this purpose.  The facilities for yachts provided at Galle Port had been damaged during the tsunami and the proposed development is to provide a fully-fledged Marina for the Galle Port to facilitate calling yachts as well as to attract more yachts.  The repair facility in Galle will also attract a large number of vessels from the Maldives, creating many business opportunities for Sri Lanka, official sources said.  The Galle Port is the only Sri Lankan port that provides facilities for pleasure yachts. The International Yacht Society has also recognized the Galle Port as one of the world's best tourist attraction, officials added.
Unquote
And nothing happened !
People may protest including JVP because they do not like the country to grow .If the country develops them will lose their vote base.
No country can develop without corruption at some level, Even though there are some people in both governments get some kick back  and yet we will have a development which will benefit all of us. .
I have a dream like Martin Luther King ones said..
I want to see that whole Sri Lanka will be a Marina –Paradise with Blue Economy in full swing
Dr.Sarath Obeysekera