BLUE ECONOMY UNDERPERFORMING  UNDER GREEN MANAGEMENT?
Posted on June 17th, 2018
Dr Sarath Obeysekera
Blue Eyed Boys of the government ,please open your eyes and decide what you can really do to  develop Blue Economy"
I was listening to the speech made by Hon Minister during the launching ceremony of the Galle Boat Show on Thursday 10/06 2018.
Quote
Sri Lanka developing seafront infrastructure, rules for boat building, nautical tourism    Malik Sanarawickrama  During 2018 Boar Show Launching Ceremony …Economy Next 16/06 18"
Sri Lanka is developing seafront infrastructure and regulations to promote boat building and nautical tourism, Minister of Development Strategies and International Trade Malik Samarawickrama said. The boat building industry is a billion-dollar industry and Sri Lanka should take full advantage of this emerging trend," he told a news conference to announce the launch of the island's boat show.Boat Show Sri Lanka 2018, which this year will also include a boating festival, will be held during 26-28 October, 2018 at the yacht marina in Galle port, for long a popular stop over for yachts and recreational sailors on the south coast.This year's event will be organised with a novel concept by adding a boating festival to showcase the country's capabilities in marine tourism and recreational boating, yachting and boat building for export," Samarawickrama said.
. This event is a good example of a 'Whole of Governemnt  approach as all government stakeholders of the sector, such as the ministries of ports and shipping, industry and commerce, tourism, and Sri Lanka Ports Authority have joined the Export Development Board and Boat Building Technology Improvement Institute Lanka (BTI) in organising the show."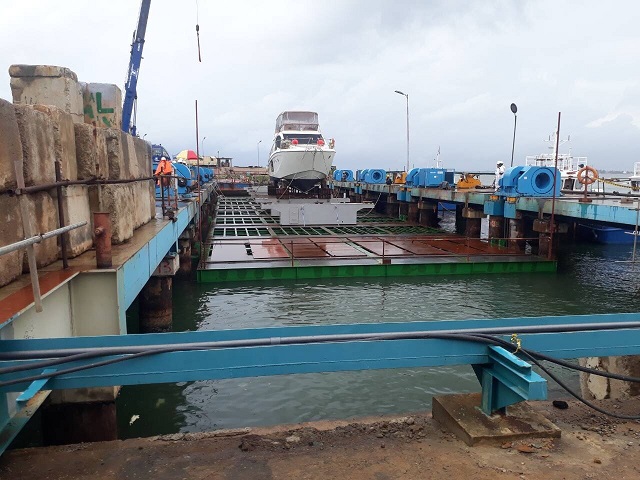 Samarawickrama said his ministry, EDB and Board of Investment were working closely with the industry on budget proposals to promote boat building and nautical tourism..
Work includes developing appropriate seafront infrastructure and regulations, and registration and standardisation covering the entire value chain of the industry, he said..
Samarawickrama said the newly developed National export Strategy has identified boat building as one of the focus sectors to be promoted in the overall strategy. The increasing worldwide, regional and local demand for boats for fishing, industrial, commercial and leisure purposes have opened up. a number of opportunities and new markets for Sri Lanka as a result of its strategic location, highly trainable workforce and labour cost advantages," he said. 
CURRENT STATUS
There are around 5,000 superyachts (30m+) globally, 50% are American-owned • 90% based in the Mediterranean in the European summer; of which roughly 1,500 go to the Caribbean for the winter – collectively spending around $3 billion.
Average superyacht: 50m long, value $35 million, spends $5 million in annual running costs – which can be partly off-set through charter (rental) revenue from wealthy yachting tourists •
Because of the exceptionally high running costs, owners favour destinations where they can charter to mitigate costs •
To attract the superyacht fleet, destinations must allow them to ply for trade" (charter) without having to pay VAT on the yacht's value for temporary importation, and allow crew a one-year visa.
The Mediterranean is the world's principal yachting destination in the European summer. The Caribbean is currently the main winter destination BUT yacht owners are now looking for an alternative .Counties in ASEAN GROUP and Sri Lanka  has a real opportunity to become the new winter yachting destination…
SUPERYACHT CHARTER- GLOBAL SITUATION •
Average Mediterranean charter = 12-14 weeks @ $200,000 per week • Average Caribbean charter = 6-8 weeks @ $150,000 per week • Possible $3 million in charter revenue – mitigates $5 million running costs • Easy regulations makes the Caribbean attractive to owners – no import tax, no VAT, no cross-border hassles, and no immigration issues •
Foreign-flagged superyachts will only go to destinations which allow unrestricted yacht charter and easy cruising .
ASEAN and SRI LANKA  needs to simplify & harmonise tax and immigration regulations to be competitive and attract nautical tourism.
SUPERYACHT CHARTER: ASEAN AND SRI LANKAN   SITUATION
Unfavourable and inconsistent regional regulations prevent foreign superyacht tourism and its high potential economic impact •
Superyacht Owners and Captains will not bring their yachts unless there is transparency and consistency in regulations, unless they can charter, and unless their highly-trained and experienced crew can stay with the yacht
Only 50 out of 5,000 foreign superyachts visited ASEAN in 2016/17
BENEFITS
Redevelopment and expansion of existing businesses and facilities to accommodate influx of yachts and their needs •
Greenfield development of industry leading facilities in refit and repair as well as destination experience tourism •
Job creation •
Developing high end well ness tourism .
Marine services and supplies •
Tourism and hospitality •
Marine Engineering, shipwright, painting, carpentry, electricians •
The experience in Europe & US is that taxation from yachting industry as it grows will more than make up for direct taxation on yacht purchase
WHY SOUTH ASIA AND ASEAN GROUP COUNTRIES?
ASEAN's AND SRI LANKAN coral reefs are the aquatic counterpart of the region's tropical rainforests which already anchor a growing eco-tourism industry •
Yachts lying to ASEAN countries have to pass Galle hence transit can be beneficial
Earth's richest genetic warehouse – home to 17% of world's flora & fauna •
Marine bio-diversity 5 times that of the Caribbean and 25 times that of the Mediterranean •
Existing system of marine parks, & marine protected areas already in place •
Archipelagic geography with massive shoreline & reef system from the Western Pacific region across to the Coral Triangle •
Cultural diversity throughout the region • Growth as luxury and culinary destinations •
WHY ASEAN GROUP AND SRI LANKA SUFFERS
Foreign Superyacht charter prohibited in most countries •
Import duty and other local taxation kills local boating businesses –
They cannot survive on tourism alone •
Some countries developing marine tourism on their own, but a unified regional agenda for harmonisation and simplification of regulations would yield exponentially more •
Lack of consolidated marketing to the yachting fraternity •
Marine conservation and sustainable fishing should be high priority
WHAT STEPS SRI LANKA SHOULD TAKE TO DEVELOP YAHCTING INDUSTRY
Establish and jointly promote ASEAN and SRI LANKA  as a single yachting destination •
Regional regulations should be harmonised and simplified to encourage easy cross border cruising, thus integrating ASEAN  and SRI LANKA into the global yachting economy •
International experts to be deployed aho are ready and available to advise on revision of regulations •
Redefine the luxury tourism offering of the region through a consolidated marketing plan
Develop/convert existing fishery harbours ( under Fishing Village Development Plan approved by the cabinet –brain child of previous Minister of Fisheries )
Get rid of Director Merchant Shipping holding the powers to allow or disallow yacht charter
STEPS TO BE TAKEN
Join the marketing efforts through a consolidated and cohesive  plan to the global yachting community.
Build on the GALLE  Yacht Show in 2018 to incorporate a hosting program for Owners and business leaders in the world
Make Galle Harbour as the super destination for Yacht owners
Develop Yacht Building Repair facilities in Galle Harbour
Carry out a joint promotional program with all agencies in ASEAN group and promote the Yachting Industry .
Encourage Sri Lankans to own yachts and provide parking facilities
( A local yacht owner is struggling to get the approval to sail around the island from Director Marchant Shipping for last three months due to bureaucratic bungling !) 
Make all government stake holders to meet in Galle and formulate a plan by having a conference in Galle
( Megapolis Minister  in his own crusade ,plans to develop inland Water Transportation and mulling to establish sea transportation from Puttalam to Galle, Chamber of Commerce under Industry Minister ,EDB under Minister of Strategic Development, and Tourist Board under Minister of Tourism ( all three patronised Galle Boat Show Launching Ceremony except Megapolis Minister ) ,Transport and Southern Development Ministers were absent) ,are driving the Blue Economy in different Directions .Fishery Minister is having a different program of his own Blue economy with fishermen. )
 NEED OF THE HOUR IS TO APPOINT A QUASI GOVERNMENT AUTHORITY WITH PRIVATE SECTOR PARTICIPATION  WHICH SHOULD ACT AS ONE STOP SHOP" TO AUTHORIZE ESTABLISHMENT OF YACHT MARINAS AND YACHT BUILDING /REPAIR FACILITIES RIGHT AROUND THE ISLAND AND DEVELOPMENT OF NAUTICAL TOURISM AND FISHING ADVENTURES LIKE  IN SICHELLES .
APPOINT A SINGLE MINISTER FOR BLUE ECONOMY AND ENTRUST THE ABOVE TASK .
Dr Sarath Obeysekera