Hemantha Warnakulasuriya PC passes away
Posted on July 11th, 2018
Senaka Weeraratna 
2018-07-11 06:56:28
Presidents Counsel Hemantha Warnakulasuriya passed away this morning at the age of 74 while receiving treatment at a private hospital in Colombo, Deputy Minister of Industry and Commerce Buddhika Pathirana said.
Speaking to the Daily Mirror he said Mr Warnakulasuriya's final rites would be held at the Borella cemetery on Saturday (14).
Mr Warnakulasuriya also served as a Director of the Telecommunications Regulatory Commission (TRC) from August 1, 2016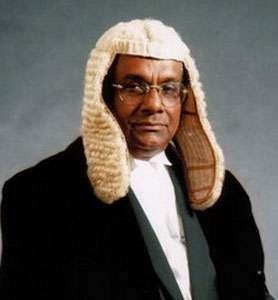 Mr Warnakulasuriya took oaths as an attorney at law in 1972 and began his practice at the Colombo Magistrate's courts, where he became the Secretary of the New Courts Law Chambers.
He was appointed convener of the 'Professional Affairs Committee', which drafted the Code of Conduct and Etiquette for Attorneys-at-Law'.
In 1989 he was elected the Secretary of the Bar Association and served as chairman of the Legal Aid Commission for ten years before being elected as Deputy President of Bar Association.
He is noted as one of the leading criminal lawyers in the country and taken up many notable cases at the Magistrate's Court of Colombo. In 2006 he was appointed as a President's Counsel. The same year he was appointed as Sri Lanka's Ambassador to Italy.
He was an old boy of Royal College.
http://www.dailymirror.lk/article/Hemantha-Warnakulasuriya-PC-passes-away-152516.html
Presidents' Counsel Hemantha Warnakulasuriya dies aged 74
https://www.youtube.com/watch?v=Oa_D7wOFObI
https://www.newsfirst.lk/2018/07/11/presidents-counsel-hemantha-warnakulasuriya-has-passed-away/
Written by Staff Writer    11 Jul, 2018 | 8:59 AM
COLOMBO (News 1st) – Distinguished diplomat and well known Legal Expert, President's Counsel, Hemantha Warnakulasuriya has passed away while receiving treatment at a Private Hospital in Colombo.
Warnakulasuriya was 74 years old at the time of his demise. He rendered a great service in order to ensure the Independence of the Judiciary and the Rule of Law in the country.
President's Counsel, Hemantha Warnakulasuriya was on a mission to educate the public about the legal system of the country and led the battle against injustice.
He possessed an intense and deep understanding of the law and its application. Although his fearless and outspoken views have by now become legendary Mr.Warnakulasuriya had the expertise and the passion to take issues of a national interest to the very boundaries of democratic debate without fear and without prejudice.
Hemantha's outspoken nature where he never hesitated to call a spade didn't appear to augur well in the role as Sri Lanka's representative as Ambassador of Italy and the Vatican.
He served his country extremely well and his passion for all matters legal was matched only by his passion for patriotism, and his firm belief in one country one nation with an equitable playing field for all.
Mr. Warnakulasuriya never shied away from giving his expert legal opinion on many contentious national issues and his contribution to criminal law will be appreciated by generations to come as Sri Lanka prepares to face the myriad of challenges ahead.
His final rites will be conducted this Saturday.
https://www.newsfirst.lk/2018/07/11/presidents-counsel-hemantha-warnakulasuriya-has-passed-away/