BUREAUCRACY WILL HINDER NATIONAL EXPORT STRATEGY
Posted on August 18th, 2018
Dr Sarath Obeysekera
Walkers Colombo Shipyard using 1200 ton Shiplift and 60 ton Boat lift
Sri Lanka recently declared that by 2022, export earnings should reach staggering 22 billion US dollars .Out of six main areas to be developed, boat building is taking priority.
Sri Lanka will lose the chance of becoming a boat/ship-building hub in the region due to the rules and regulation imposed by the Directorate of Merchant Shipping ( DMS)    pertaining to the industry . If the government genuinely wants to develop this industry ,in order to reach the goal of earning 22 billion $ ,utmost attention should be paid to get rid of the bureaucracy and time taking cumbersome approval procedures imposed by DMS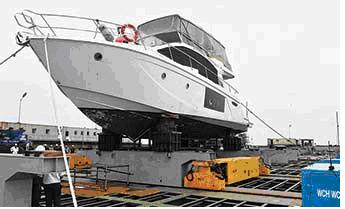 If and when a new boat is built with dimensions less than 25 meter long , ( small commercial vessels) SCV code is applied .That means ,in addition to the approval granted by Classification societies  like Lloyds ,DNV /GL ,ABS and IRS ,DMS will exercise their powers to issue a licence to register the boat in Sri Lankan Waters .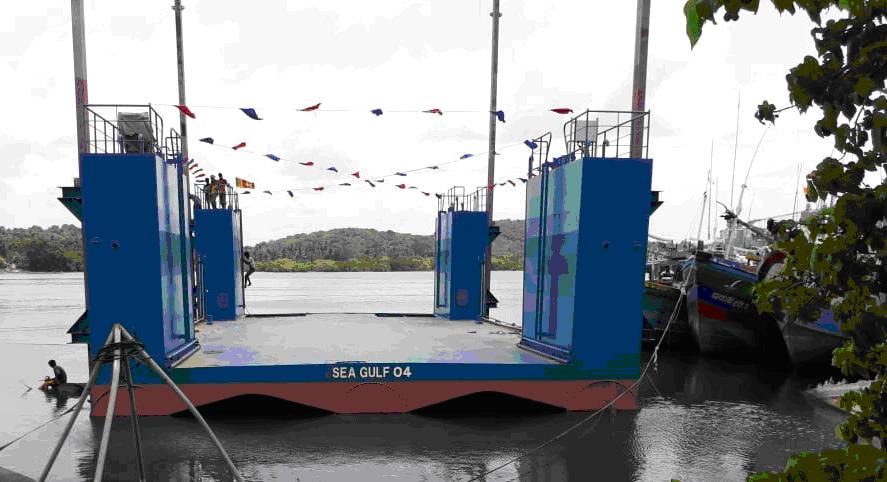 A second shipyard has been commissioned in the premises of abandoned fishery harbour in Mutwal .Colombo 15 by a company  known as  Walkers Colombo Shipyard (Pvt) Limited , a subsidiary of MTD Walkers PLC and  is a fully equipped shipyard with advanced facilities to facilitate vessel repairs, ship-building and other marine engineering capabilities.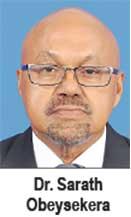 Dr Sarath Obeysekera, a pioneer ship builder and a shipyard manager, who was the CEO of one and only shipyard previously is heading development of the new shipyard.
He said that at present the company is manufacturing 300 ton landing craft for the Maldives in addition to the landing craft which can carry 100 tons .With the NES in the backdrop , shipyard which possess all the facilities, including the technology, will take a leading role  in developing the industry.
Dr Obeysekera said that the government is not giving proper support for this industry to grow as  it has enormous potential to attract foreign orders into the country. Unfortunately, the Sri Lanka Ports Authority, most of the time, in calling for tenders gives preference to foreign companies, he said.
A recent cabinet paper submitted by the Minister of Ports and Shipping shows that, Sri Lanka Ports Authority proposes to lease tugs from a overseas agent  for a period of three years at a cost of over 15 million US dollars.
After the lapse of three years Tugs will be returned to the owners .What SLPA can do is request Colombo Dockyard and Walkers Shipyard to submit offers with financing from local or foreign banks to build the tugs in Sri Lanka. At the cost of around 6 million US dollars a tug can be built ,where cost of three tugs may  be in the range of 18 million US Dollars .Both companies can obtain financing facility from the banks subject to  an undertaking from SLPA that they  will pay interest and the capital for over 5 years, Banks may request a treasury guarantee for the financing facility .At the end of five years tugs will remain as SLPA property ,and if the management decides to build new ones again ,used tugs can be sold at 30 % of the value.
It is sad that government does not encourage local companies to develop the industry initially for local requirements, so that more export orders can be pursued on a sound track record.
Walkers Colombo   shipyard has just commissioned a hydraulic ship lift as shown above, can be used for maintenance docking ,and Colombo Dockyard can do the same in their graving docks .
"This is a multi-billion dollar business but needs to get duty free facilities and a simplified regulatory framework to boost the boat/ship building industry as a life style development or leisure sector industry, he explained. Recent rule imposed by DMS under SCV code ,stipulates that all small vessels should ve built to Class Rules with additional safety requirements which can be provided by Sri Lankan companies during construction .Where as a foreign built vesseles already built and used in a foreign country like China will not be manufactured in accordance with SCV rules .
Walkers shipyard recently built a tug for their own use under Indian Register of Shipping –IRS
( like Lloyds) and submitted application to DMS to register the same to be used in coastal areas.
It is over three to four weeks since submission of the application, but DMS and their staff who are not geared to work to the speed and  culture of a private company ,has been sending the company from post to pillar asking for many details repeatedly .IRS has also become very frustrated with the attitude  of DMS ,and watched helplessly with the Shipyard management .
Shipyard Management requested many face to face meetings with DMS with a view of expediting approval but it was in vain.
This matter was raised with Export Development Board ( EDB ) which has appointed an advisory board to develop boat building Industry (which is one of the components of NES ) ,consist of the members of government and private sector.
CEO of the shipyard as a member of this gazetted advisory board has requested an audience with DMS ,but there was no response .
Due to above  delay , Company lost many opportunities to generate foreign exchange by using the tug in out harbour operations
National export strategy 2018 of the government has identified the fishing vessels and leisure craft manufacturing sector as a potential export sector in the country. 'This is an excellent move by the government.
Unless the lethargy and the bureaucracy of the government organization Sri Lanka  will never see the growth of boat building to fulfil aspiration to generate 22 billon US $ in 2022.
If the performance Government of the government officers can be evaluated using a yard stick indicating  extent of customer satisfaction achieved ,it  is positive that more efficient officers can replace such personnel in DMS
Foot Note
'Walkers will give special concessionary rates for multi-day fishing boat owners  ,small boat/tug  owners and yacht owners for docking and undocking since we need to promote the fisheries industry of the country , provide high standard reliable repair services for them, that could ultimately cause to uplift the quality of fish which goes to the local and foreign market, Dr Obeysekera added.