UNP of Dudley, DS no more: President
Posted on October 22nd, 2018
Yohan Perera Courtesy The Daily Mirror
President Maithripala Sirisena today said he, as the common candidate in November 2014, assumed he was allaying with the UNP founded by the late D.S.-Dudley Senanayakes but later on realised that he had not allied with such a UNP.
President Sirisena said this during a ceremony held at the BMICH to commemorate four Senanayakes namely D S, Dudley, R G and FR who had played great roles in securing independence.
The late D. S. Senanayake, did not engage in corruption, did not waste public funds. He was patriotic and adopted home grown agricultural policies. This is why the UNP became a great party. The UNP was built upon the visions of these great men. I hope the UNP would find greatness again and become the real party which was founded by these leaders," he said.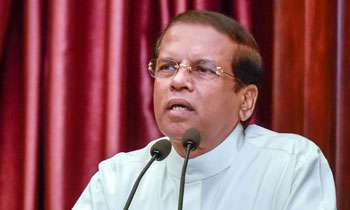 He recalled that there were two dansalas in Polonnaruwa for Poson for many years.
One was named Bandaranaike Dansala and the other Senanayake Dansala. Bandaranaike Dansala was organized by the SLFPers and Senanayake Dansala was organized by the UNPers. However UNPers could not organize it since 2007. Then I decided to rename the Dansala organized by the SLFPers as Bandaranaike and Senanayake Dansala since I thought we should be grateful to these great UNP leaders," he added.
While stating that his father was among those who were settled by the late D. S Senanayake, the President stated that he was a mixture of Senanayakes and Bandaranaikes.
Joint Opposition MP Vasudeva Nanayakkara said time had come once again to launch a struggle against imperialists just as late F. R Senanayake did as US led imperialism had come up again today with the leadership of Donald Trump. USA is trying to rule all countries in the world," he said.
Former Minister Imitiyaz Bakeer Markar who revived memories on late Prime Minister Dudley Senanayake said the late leader always stressed that the issues faced by the Tamils in the North and the East and issues of estate communities were two things which has to be resolved going beyond party politics. He said the late Mr. Senanayake said this in Parliament when a motion was brought to abolish the Tamil Language Act.
Western Province Governor Hemakumara Nanayakkara who paid tribute to the late R G Senanayake said he was a true Buddhist who always held that true Buddhists should respect all religious and ethnic groups. Late R G Senanayake always strived to look after the interests of all people while trying to win real freedom for the country," he said.