Parliament dissolved to form a People's Government – Part IV
Posted on November 14th, 2018
By : A.A.M.NIZAM – MATARA .
In part III of this article it was highlighted yesterday the treachery of Anura Kumara and his money voracious Cabal.  In their malicious servility to Ranil Wickunanasinghe they unsuccessfully brought 20th amendment to the constitution as a private members motion to usurp all the powers of the President and confer those powers and some additional powers to their patron Ranil. An ardent member of the JVP cabal Vijitha Herath recently said that they were ready to defeat Mahinda Rajapaksa government in the parliament and accordingly they submitted a No Confidence Motion when the parliament resumed today under the demented speaker Karu Jayasuriya, which he accepted much enthusiastically.  It must be  reminded that during the recent Ranil government many No Confidence Motions(NCM) submitted against the Ministers of that government were not taken up for debate and were not even listed in the Order Paper as it is required to be done.  One week's time at least should be given for the members to prepare them self to participate in the relevant debate.  It must be reminded that this speaker did not arramge4 debate and voting for several NCMs submitting during Ranil's deposed government.  The4se included an NCM against Ravi Karunanayake, 2 NCMs against Rajitha Senaratne and 2 NCMs against Faizer Mustapha.
Ass per today's Order Paper the Secretary General of the Parliament was to read the President's Policy Statement and then close the business for the day. This demented speaker has completely ignored this Presidential Proclamation which is appended below: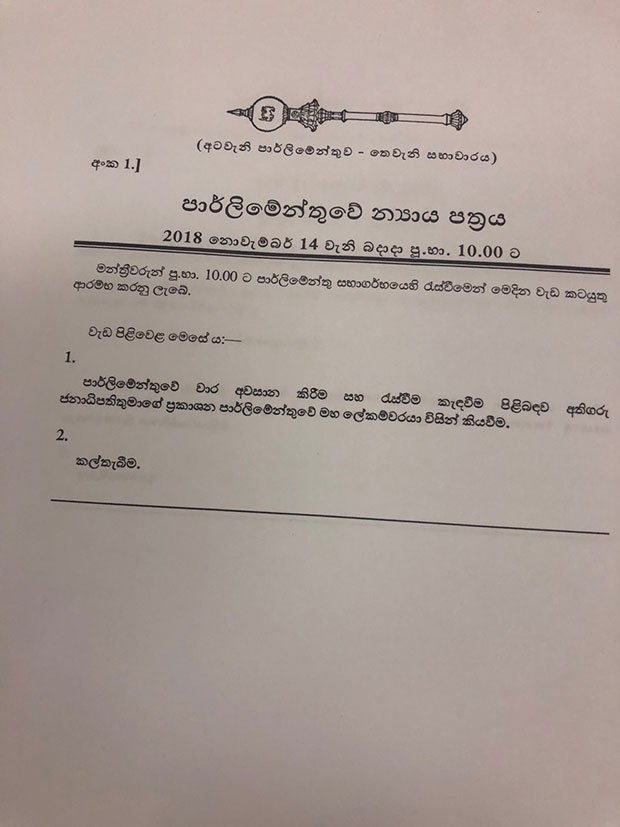 But in this case the demented speaker was hyper active and as requested by tiger terrorist proxy Sumandiran to suspend Standing Orders completely neglecting the parliamentary traditions, displaying his arrogance, stubbornness and insane qualities unitarily decided to call for a vote.  As the Government Members vehemently and in unison protested over this action and left their seats and gathered in the well of the House and shouted protest slogans thee demented speaker announced that the opposition led by Ranil has established their majority in the Parliament.  This announcement caused a tense situation leading to scuffles and the parliament was adjourned till tomorrow.
Many government members including the leader of the House Minister Dinesh Gunawardene flaying the speaker over his despicable and tyrannical activities said that there has never been a speaker attempting to promote his political party and this speaker has brought shame and disgrace to the country.   Also, it must be noted that during this hassle the Maze, availability of which is a must for legality of proceedings was not in place at that time.
Addressing a media conference in the parliament subsequently Ranil Wickunanasinghe said that the speaker has taken the decision to confirm his holding of majority in parliament based on Voice Vote. This is the first instanced that a parliament vote is reported based on the gue4ss of the voice of me4mbers.   He said that he has given a letter to the speaker in which 125 members reportedly have pledged support for him.
 It must also be noted that this incident was the 3rd attempt by the JVP to destroy and destabilize this country.   In the first two attempts they used revolutionary slogans and in the first attempt they made over 2,000 youth to sacrifice their lives and in the 2nd attempt they made over 60,000 youth to sacrifice their lives.  This time instead revolutionary slogans they have adopted the slogan of "Mudal Apita –Api Mudalata"(Money for us and we are for Money)
In the access road to Parliament there were huge crowds demonstrating in support of their groups for the first time as far as I can remember there were well clad ladies from Colombo 7, Colpetty, Bambalapitiya, and Wellawatte areas as they were participating in a beauty contest. This is a good indication that this country is now getting transformed into the class of affluent, butterflies and Westernophiles on one side and the class of toiling masses, professionals and patriots on the other side.  .
President Maithripala Sirisena commenting about this shameful situation has said that he would put a clamp down to this blackmailing situation within the next 24 hours and Prime Minister Mahinda Rajapaksa is to make a special statement in the Parliament tomorrow.
Political analysts point out that if the forthcoming election was held on the first past the post system based on electoral basis the UNP will get their lowest number of seats, less than the pre3sent lowest number of seats of 8 obtained in 1956 and the results of February 10 local government election was a premonition for its future acceptance among the people.  They say that unfortunately the delimitation commission delayed its work and hence the forthcoming ele3ction is forced to be held on the despicable3 preferential vote system which would enable the Bond Scam money Perpetual Treasuries money and Tamil diaspora black moneyto be flooded throughout the country at a time the UNP is faced with the worst infighting.
The analysts point out that the UNP is now split into 3 groups headed by Ranil, Sajith and Rajitha-Champika rogues.  They say that Ranil group is still powerful with minority parties and hill country votes behind it and lot of access to foreign funds and support from the reactionary capitalists and traditional UNPers..
As regards Sajith they that he has a lot of treasure hunt funds and he is making many self-contradicting statements and untrustworthy as he has discarded many people who supported him. Also they point out that he is notorious for bulldozing ancient heritage sites, for instance the Wijithapura areas for treasure hunting in the pretext of establishing Udagam housing projects.
About Rajitha-Chanpika duo the analysts say that both of them are crooks responsible for many fraudulent activities in Mahinda Rajapaksa and Ranil governments and they too have funds accumulated through ships owned by Rajitha under third party names and funds accumulated by Champika through fraudulent coal supply contracts and establishment of air pollution centres. Details about the three group of musketeers will follow:
(to be continued)