Intervenient petitioners seek full SC bench to hear FR petitions on dissolution
Posted on November 16th, 2018
Thilani de Silva and Ranjan Katugampola Courtesy The Daily Mirror
 Five persons who filed intervenient petitions against the 13 fundamental rights petitions challenging the dissolution of Parliament by President Maithriapala Sirisena on November 9, requested the Supreme Court today through a motion to appoint a full bench to hear the said Fundamental Rights (FR) Petitions.
The intervenient petitioners had submitted in their motion that they requested under Article 132 of the Constitution a bench comprising five judges or seven judges or a full bench to hear the FR petitions against the Attorney General challenging the dissolution of the Parliament.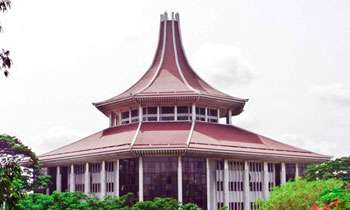 The intervenient petitioners who had made this request through Attorneys Nilantha Wijesinghe and Atula de Silva were Sri Lanka Podujana Peramuna (SLPP) Chairman Prof. G.L. Peiris, Minister Udaya Gammanpila, Wellawatte Jagath, Professor Channa Jayasumana and Attorney Premnath C. Dolawatte.
They have submitted that the gazette issued by the President dissolving the Parliament has made a tremendous impact on the society and what is before the court is a nationally important Constitutional matter and as such it is appropriate to appoint a bench comprising more than five judges.
The three member bench of the Supreme Court that heard the fundamental rights petitions filed by the UNP, TNA, JVP, ACMC, former Parliamentarian Mano Ganeshan, Centre for Policy Alternatives, Attorney Aruna Laksiri and the member of the National Election Commission Professor Samuel Ratnajeevan Hoole, issued an order on Tuesday staying the President's gazette on the dissolution of Parliament and holding the general election under that gazette till December 7.