MANNAR GRAVE YARD AND FABRICATED PROPAGANDA
Posted on March 11th, 2019
BY EDWARD THEOPHILUS
A scientific test on the uncovered human skeletons from an ancient grave yard in Mannar proved that they were older more than 500 years and a TNA MP in Mulaitiu District, Mr. Nirmala Nathan Siva Mohan further fussed against the true information reported by Florida Lab.  According to historical information recorded in Sri Lanka those skeletons were of so-called lower caste fishing Tamils lived in Mannar who were killed by the order of Jaffna Tamil Administrator, Sankili Segarajasekeran VI (1519-1560). It is estimated that 600 people were killed in terms of historical records. Prof.G.P.V. Somaratne (2007) states in his book The History of Christian Church in Sri Lanka" (PP 41-43) the killing of 600 innocent men, women and children were taken place in Mannar in 1543. The reason to kill these innocent people was converting from Hinduism to Christianity.   The killing of people on the ground of the faith was a crime against humanity, was caused by the order of Tamil administrator and it was the end of the so-called Jaffna Kingdom and it also created problems between Jaffna Tamil administration and Portuguese.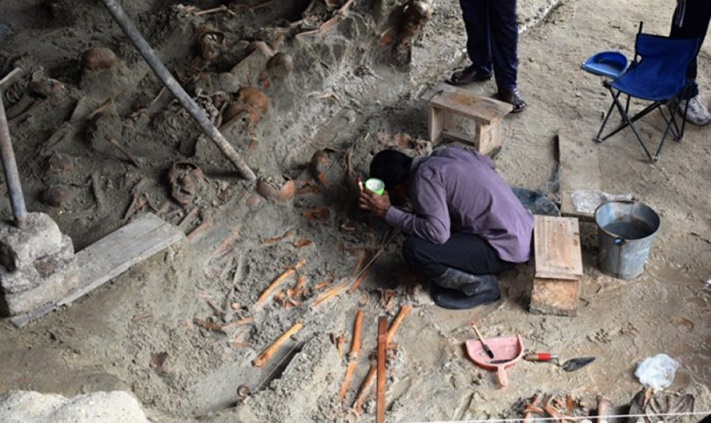 People of Sri Lanka assumes that these so-called lower caste people were decedents of seven Sooriyas (Warnakulasooriya, Manukula    Sooriya, Jayasooriya, Kurukula Sooriya etc), who were brought to the country by King Gajaba and settled in seaside area such Mannar, Negambo, Chilaw, Vaunia, Mulaitiu and Kalutara, and later most of them integrated to Sinhala race.
When this incident was incurred the Kandyan Kingdom was administered by King Jayaweera or Karaliyadde Bandara, father of Princes Dona Catharina and the grand father of Rajasinghe the Second (Senkadagala Rajasinghe) and Kotte King was under Mayadunne, who was killed by his son, prince Tikiri on the advice of Hindu Priests.
According to the history of Sri Lanka, Tamil administration was defeated and united the country by King Parakramabahu the sixth (1412-1467), however, after King Prakramabahu the sixth (Prince Sapumal), Kanakasuriya Singai Ariyan (1467-1478) began Jaffna administration and finished by Sankili Segarajasekeran (1519-1560) as a result of killing 600 people.  After that Jaffna administration maintained at Wanniyar level which was abolished by the British colonial rule.
Historical information indicated that many Tamil kings, who administered in Sri Lanka were cruel dictators, who did crimes against humanity. For example, the behaviour of Kalinga Marga, was so cruel and was the main reason to divide the Sri Lanka's society between Sinhala and Tamils, otherwise Sri Lanka was a united and nationally integrated society under the administration of Sinhala kings.  Why Tamil diaspora attempted to evidence the cruelty of Tamil administrators to mislead the world using Mannar grave yard discoveries. It was not done by Sri Lanka's arm forces during the LTTE war.  Why they are so bankrupt to use fabricated information in the name international human rights.
The other point is that why channel 4 in UK attempted to use this bogus information in the name of international human rights. Sri Lanka's arm forces did a humanitarian mission under the LTTE war and innocent Tamils were liberated from the iron pits of LTTE terrorists.
International human right organizations are truth investigators but not organizations those persuading fabricated lie against democratic and humanitarian countries.  In this situation, Sri Lanka's government has a responsibility to disclose the historical truth about the finding to the United Nations but not for Machiavellian politics to mislead people.