The need of the hour to save the country and make the people to live in peace and harmony sans fear of life.
Posted on May 3rd, 2019
Dr Sudath Gunasekara 
I request all patriotic citizens to carefully and seriously go through the following statements of four Prominent Muslim politicians. TWO, senior Ministers in the present Cabinet and the Governors Hisbulla and Asad Sali.
Also please see the comments made by MP Sumanthiran at a meeting held at BMCI on April 29th.
The only difference between Muslim terrorism and Tamil terrorism in this country is that Tamil Terrorism was mainly operated only by the Tigers and Tamil politicians of the north and East with the assistance of India where as in Muslim terrorism it was operated by Muslim extremists living all over the Island trained and financed by Muslims living all over the world. But both were equally brutal and savage and disastrous to the Sinhala Buddhist nation in this country. Also the Tamils wanted only to have their EELAM in the North and East perhaps with more future plans. Muslims on the other hand wanted to capture the whole Island at once to have perhaps their third Islamic State after ISIS (Islamic State of Iraq and Syria). Their disclosed plan to carry out bombing in all 9 provinces simultaneously clearly substantiates this statement.
Furthermore to find out who Rishard Badurdeen is, I also request to you to view the debate telecasted in Hiru 6.55-7.30 pm news bulletin on April 30 for further stunning revelations by Badurdeen, rather open confessions, revealed by him, thanks to the brilliant members of the panel.
At the same time I request President Sirisena to remove all these four men from their posts as Ministers and Governors immediately and order the police to arrest them before they conspire and hatch, further attacks and proceed with action to remove these traitors form Sri Lankan politics. Together with these three the Western PC Governor also has to removed, in view of the allegations fired at him by many citizens. This I think is the best time to take such bold decisions lest you realize that you have done a big blunder by not doing so as MR did after the conclusion of the war in 2009, and repent later.
Meanwhile I also take this opportunity to request the President (Not the Government as there is no Government in this country) to take the following course of actions at least to save his own life even if he is not seriously concerned about the wellbeing and the good of the country, or Sri Lanka and its people to have a tomorrow.
1To ban all Muslim political parties and Islamic terrorist organizations immediately and bring the country under one Law for all. Ban Muslim Law and all other special privileges afforded to them like polygamy, permission to wear a different dress, separate Muslim schools like Madrasa and nuisance of shouting Allahu Akbar five times a day. Continue the present operation non-stopped until the enemy is totally eradicated from the soil of this land and take all measures to prevent external involvements in all forms and continue the Island wide surveillance non-stop to stop re-emergence of similar situation in future. In this process don't leave any stone unturned in all three spheres land, sea and air.
2 To ban all Tamil political parties including all such parties under different disguised names like the Akila ilangei Mahajana Congress, Lanka Kamkaru Conress, Upcountry Peoples Front and Mano Ganesan's Democratic People's Front and Tamil Progressive Alliance.
3 Setup a powerful search operation unit empowered to search every mosque and all suspected places in the Whole Island and take stern action against all those found involved in any crime against the Government or the people. Also demolish all illegally constructed Mosques
4 Suspend this illegal and unconstitutional Parliament headed by Ranil and Karu J, which has become a big threat to this country and ceased to be of any use for this country long ago and set up a War Council under the Heads of the Three Forces and the Police without any politicians immediately, to handle the present situation and to restore normalcy in the country
5 It may be very appropriate to adopt the Russian and Australian approaches in keeping the minorities in their places. Ask them to adapt to the native system as those countries have done or leave for good for their lands of origin. Just follow Putin and the Australian Prime Minister in tis regard.
7 Also ban communal segregation and control putting up of mosques by legislation with strict conditions to protect the rights of the natives and ban things like Halal and Sharia Law inimical to our traditions and culture.
8 Make everybody in this country and even the whole world to realize that this is the Land of the Sinhala Buddhists as it had been found, defended and protected by their ancestors for the past 2500 years against all foreign invasions
9 Make it compulsory to take native names and convert to Buddhism as it was done in Burma in 1947 if anyone wants to be a citizen and live in this country or go back to their lands of origin immediately.
10 Set up a National Supreme Advisory Council of the Mahasanga consisting of Mahanayaka Theras of the three Nikayas and the Most Rev Cardinal Malcolm Ranjith Fernando and any other whom you deem necessary to advice the government.
11 Initiate an action to work out a plan to get down all housemaids from the Muslim countries.
12 At the same time think of a plan to repeal the 19th A and restore the powers of the Executive President so that there will be a Sinhala Buddhist leader all the time to take crucial decisions on matters of national importance without leaving it in the hands of an anti- Sinhala and anti-Buddhist body like the present Constitutional Council.
I also like to bring to your notice a very serious lapse in peripheral governance and administration that has been a root cause of this wave of crimes and lack of governance in this country with a view to have effective and strong governance and administration all over the country.
One of the main reasons why law and order has disappeared and crimes have increased in the country side today is the complete breakdown of the administration and governance at the village level.
The village, the last link of the administration and Governance of this country has to be completely restructured and reorganized. The main reason for this situation in the country side is the complete collapse of the GS Divisions that form the cornerstone of effective and good Governance of the country. In order to rectify this we have to completely re-organize and restructure the Grama Seva system with people of higher educational attainments, character and integrity, empowered with more power to arrest and produce criminals in courts in collaboration with the Police. The GSS should be given power to search and arrest those whore are found involved in antisocial activities within their Divisions such as illicit brewing, narcotics, illicit felling, illicit gemming, theft and other offences that come under the Criminal Procedure Code, encroachment on crown reservations, criminals and strangers hiding or carrying out any other illegal and criminal activity within his division.
But all this will be a day dream if we don't make it compulsory for the Grama Niladharis to reside 24 hours within his division. Today in most places GSN comes to the village only once a week. This is the appalling situation in village administration in this country. If this is done I can vouch, at least 90% of the countryside crimes could be reduced. When the roots rot or the foundation is gone the tree falls and the building too falls. So no wonder the country has fallen to this sad situation in maintaining Law and Order when you see what has happened to village level administration under the present system.
Also if you need to make District Administration meaningful and effective and efficient in all field like keeping peace and Law and Order, expediting development and end waste and corruption, immediately abolish the Provincial Councils that has been a curse to this Island nation since 1987.That will also prevent the division of the country in to 9 independent political units eternally fighting against each other for resources and power.
It will also save billions of public funds and completely eradicate the existing chaotic governance and enormous waste of financial and human resources in the country
Once normalcy is restored Dissolve the Parliament and allow the people of this country to elect a Government they want.
Finally please remember Mr. President that you will not get a single Muslim or Tamil vote at the next election if you decide to contest. Even Asad Sali and Hisbulla will not give their votes. That is the stark truth about Sri Lankan communal politics. As a matter of fact all Tamils vote only for Tamil candidates and Muslim Muslim candidates. They work only for their own community and their religions. I hope you remember when Asad Sali migrated to Central Province as a PC candidate at the last PC elections he was voted in although he was a complete stranger to Kandy. That is how communalism works in Sri Lankan politics although none of the Sinhala politician accept this. That is why they have leaders like Asad Sali, Badurdeen and Hisbulla Since you are neither a Muslim nor a Tamil you will never get their vote. That is the stark truth though it might sound bitter for you.
Unfortunately we Sinhalese who founded the civilization here and lived and owned this land from the dawn of history today don't have a single leader who is committed to protect and uphold our heritage and rights and aspirations of the Sinhala nation. This is the biggest tragedy we have inherited from the day we got relieved from the Colonial yoke in 1948. Even the buffaloes and monkeys have their leaders. Isn't it a tragedy we don't.
CT Web
02:00 AM May 01 2019
By Ranmini Gunaseka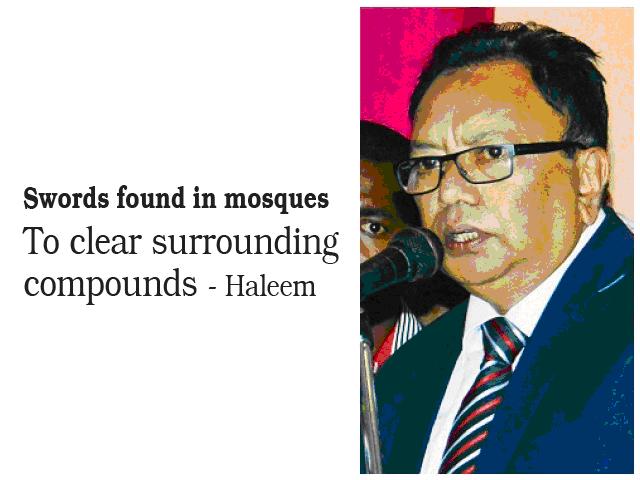 The recent cache of swords and knives found in mosques, according to Minister of Muslim Religious Affairs, Abdul Haleem was to clear the overgrown shrubs surrounding compounds of mosques.
He said so at Media briefing at his Ministry yesterday. It is possible that certain mosques would have kept weapons and other sharp objects to clean the yards and surrounding shrubs around certain religious places," he claimed.
This was in response to journalists' queries as to why certain mosques had amassed weapons such as swords and other sharp objects. Most mosques have graveyards around them and some of these mosques could have a lot of shrubs and weeds growing in their yards, so it's possible that they use these objects to clean up these areas," claimed Haleem.
When queried by journalists as to why some of these places of worship were found keeping uniforms resembling Army fatigues, he claimed that he had seen the suspects involved claim to the media that these uniforms were for re-selling purposes.
We didn't know about such things other than from the media. We also saw a person in charge of a particular mosque saying these uniforms were for re-sale purposes and even showed receipts," he added.
Meanwhile, releasing a statement, the Ministry of Muslim Religious Affairs has asked the Muslim community to cooperate with the necessary security measures implemented by the Government by avoiding different types of face covering veils such as the Niqab and the Burqa.
CT Web
02:00 AM May 01 2019
Updated 9 hours ago
Share
By Sulochana Ramiah Mohan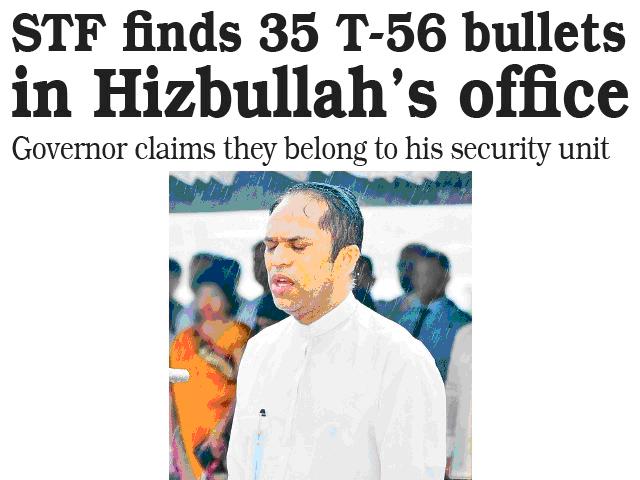 The Special Task Force (STF) yesterday (30) raided Eastern Province Governor A.L.M. Hizbullah's Kattankudi office where they found 35 Type 56 bullets, which the Governor claims belong to the Police security officers working for him.
According to the Police Media Unit, this office was shut down a month ago.
The STF detained two of Hizbullah's office staff for further questioning.
The two staffers were taken to the Kattankudi Police Station for an inquiry and to determine whether the bullets belong to the Police security provided to the Governor.
The STF conducted a search operation in the coastal area of Kattankudi and entered the office belonging to Hizbullah on the road to the Telecom office in Kattankudi. However, when inquired about the raid, Governor Hizbullah told Ceylon Today that the STF that was conducting the search operation had entered the Police security office that is given to him which is in the same premises as his office.
The Governor in his statement claimed that the STF confiscated 40 bullets from the room in the Kattankudi Police post, but the Police Media Unit confirmed that it was 35 T-56 bullets.
He said, These bullets were officially given to the Police security offered to me and to probe further, my two staffers have been detained by the Police."
He claimed that the bullets were not for his private use and that the detention of his staffers has no connection to the bullets confiscated.
He confirmed that the bullets were officially given to his security officers by the Kattankudi Police and they are theirs.
He also denied that the STF raided his residence in Kattankudi.
Bathiudeen's coordinating secretary arrested in Wedithalathivu
30 April 2019
Four men including a coordinating secretary of Minister Rishad Bathiudeen were arrested by the Adampan police following the discovery of 10 detonators during a search in Wedithalathivu, Mannar on Monday.
47-year-old Mohamed Zanus believed to be on of the minister's coordinating secretaries, the Wedithalathivu Rural Bank Manager and two other businessmen were among those arrested. It was reported that the Mr. Zanus is also the Mantai West Co-operative society chairman.
The detonators were recovered near a public toilet located near a shop belonging to Mohamed Zanus, during a search conducted at Erukkalapiddi in Wedithalathivu.
The arrested suspects will be produced in the Mannar Magistrate's Court and the Adampan Police are investigating the incident to determine who had brought the detonators.
Meanwhile, the All Ceylon Makkal Congress (ACMC) said today that none of the coordinating secretaries of Minister Rishad Bathiudeen nor any member of his staff were arrested.
The ACMC said in a statement that Mohamed Zanus, was a former Member of the Mantai West PS representing ACMC, but he is not affiliated to ACMC anymore after he resigned voluntarily.
It said the minister's two officially appointed coordinating secretaries are Jailabdeen Mohammed Naleem and Irshad Rahmathulla. They both attend to their duties regularly at the ministry office, Colombo 3 and not in Mannar. (Sithum Chathuranga)"
The way this man behaved at the yesterday's Sirasa discussion and the words he used, answers he gave and the threats he made alone are quite sufficient to arrest his man immediately as he pauses a very big threat to the security of the country. He warned the panel to remember that there are 2 million Muslims in this country. The only thing he did not say last night is that the entire Arab world and their oil money is behind him
TNA blames Easter Sunday massacres on Sri Lanka's failure to address grievances of minorities
April 30, 2019, 10:33 pm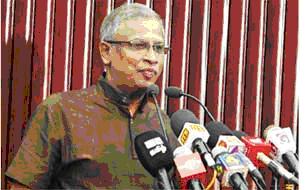 Sumanthiran addressing event at the BMICH on Monday
By Shamindra Ferdinando
Tamil National Alliance (TNA) Jaffna District MP M.A. Sumanthiran on Monday (April 29) alleges that the Easter Sunday carnage was a result of Sri Lanka's failure to ensure certain basic values.
Attorney-at-law Sumanthiran warned of dire consequences unless the government addressed the grievances of the minorities.
Sumanthiran warned: "Unless we agree on those basic values we are doomed." Declaring that there wouldn't be any future for the country unless consensus could be reached on what those basic values were, Sumanthiran called equality a key value.
Complaining about lack of 'Social Contract,' Sumanthiran warned that Tamil people hadn't agreed to live in one country yet.
Declaring that the Tamils hadn't accepted 1972 and 1978 Constitutions, Sumanthiran said that in the absence of their participation in the new Constitution making process, there couldn't be a "Social Contract.'
"The most significant minority not yet given their consent to live together as one country because they had not agreed to that social contract. They were not party to that social contract," he said.
The TNA spokesman emphasized that there was no agreement/consensus with regard to .basic value of equality in the country. Sumanthiran recalled how he opposed in parliament Buddhism being given the foremost place in the Constitution. The Jaffna District MP said that he took a tough stand on behalf of his community when the interim report was debated. The MP said that he declared they were willing to concede that to appease the majority community. "I came under heavy attack. People asked me who are you to concede that," Sumanthiran said. The MP acknowledged that his people were quite right in taking that stand.
At the conclusion, Sumanthiran asked whether Sri Lankans were really ready to accept that all were equal. And if not, there wouldn't be a tomorrow, the MP said".
My comments
Obviously he justifies this 21st carnage and he is overjoyed over the devastation done even as a Christian. Doesn't it clearly displays his deep enmity and the inborn desire to destroy this Sinhala nation and their motherland
Now look at the audacity of this parasitic Indian intruder TIGER who represents only a mere 5 %of the total population of this country. Also note how much he hates the Sinhalese Buddhists and consistently stands for a separate state claiming 1/3 of the country and 2/3 of the coastal belt with over more than ½ of the country's Oceanic resources of this Land of the Sinhala Nation that had been their only Motherland on this planet from the dawn of history. Just imagine what nasty speech he has made and what a hypocrite and a communalist he is as a Law maker who has sworn a as an MP under the 4th Schedule of the Constitution of the country.
Also now look at the list of traitors who have participated in this meeting
Professor Carlo Fonseka, former President Chandrika Bandaranaike Kumaratunga, Speaker Karu Jayasuriya, Minister Mano Ganeshan, MP. Dr. Jayampathy Wickramaratne, MP Dr. Nalinda Jayatissa, former MP Lal Kantha and a large group of civil society activists, including Ven. Dambara Amila, Gamini Viyangoda, Prof. Sarath Wijesuriya, Saman Ratnapriya, Chandragupta Thenuwara and Sandya Ekneligoda were present on the occasion. At the onset of the programme, Annidda editor attorney-at-law K. W. Janaranjana requested speakers Prof. Jayadeva Uyangoda, Human Rights Commissioner Dr. Deepika Udagama, MP M.A. Sumanthiran, PC, J.C. Weliamuna, PC and Constitutional Council member attorney-at-law Javid Yusuf and filmmaker Asoka Handagama to take the Easter Sunday carnage into consideration."
Aren't all these people sworn enemies of the Sinhala Buddhists and of this country?