National export awards 2019
Posted on September 21st, 2019
Dr Sarath OBEYSEKERA
PRESIDENTIAL EXPORT AWARDS TODAY AT BMICH….
Posted on September 14th, 2017
Dr Sarath Obeysekera
EDB invited me as a boat builder to the award ceremony today and watched how exporters of Sri Lanka Tea ,Apparel ,fish ,cineman,coconut shells ,Gems ,few rubber products flowers ,ornamental fish ,herbal products,gift items etc etc garbbing gold plated awards .
Apparel exporters took the centre stage reminding me the days of Premadasa who had a vision to develop the industry many decades back ,and yet we are still talking about apparel exports and giving awards .Singapore also started with apparel industry and small handicraft exports and moved to high tech and financial services during next few decades ,and yet we are still earning 1% of GDP from exports .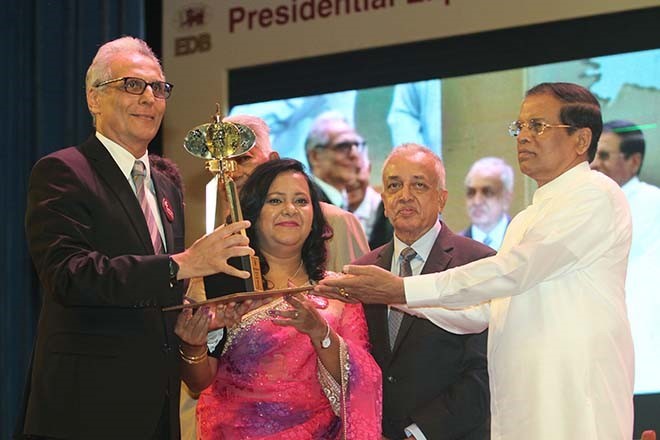 Government should now leave apparel industry to look after themselves and harness the export potential of software ,hardware and other high tech commodities
When you hear speeches given by Harward trained ministers and bureaucrats one can see that none of them have any vision .
I will not be surprised if a Manpower Export Agency will grab the gold award for exports next year and the government may not even grace the occasion !
I wrote this article in 2017
As an invitee I attended National Export awards Ceremony in 2019
Regretbly our development is still at stand still
Apparel Industry is leading since the time of Premadasa and we have not gone forward
Then again

By Charumini de Silva

MAS Holdings was awarded the Export Conglomerate of the Year award, while Brandix Apparel Ltd. won the Exporter of the Year award at the 23rd Presidential Export Award ceremony held yesterday under the patronage of President Maithripala Sirisena.

The awards ceremony, organised annually by the Sri Lanka Export Development Board (EDB), is the most important annual national event that recognises and honours Sri Lanka's export champions for their excellence in the 2018/2019 financial year. This year's ceremony gave away 81 awards in total, including 14 overall awards, 42 sectoral awards and 33 merit awards.
Are we going forward???
Dr Sarath OBEYSEKERA