GOTA PHOBIA – Part VI A (Another attempt to restrict Gota miserably failed)
Posted on October 23rd, 2019
By : A.A.M.NIZAM – MATARA
The inevitable victory of the legendary lady Madam Sirimavo Bandaranaike in the 1988 Presidential Election was thwarted based on a prediction made by one of the then political visionaries the late Mr.Lalith Athulathmudali. He said that Mr. Premadasa could win that election only if voting in the villages could be minimized or halted.  On this advice, Premadasa deployed his rearguard sordid JVP hooligans to undertake the andthey issued death threats that anyone proceeding to vote will be killed without any mercy.  Accordingly, certain people who went to vote in the villages were shot and killed and that ceased all voting village and suburban areas resulting in a narrow victory for Premadasa.  The results were as follows: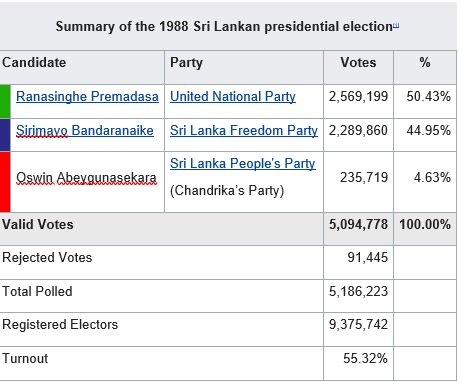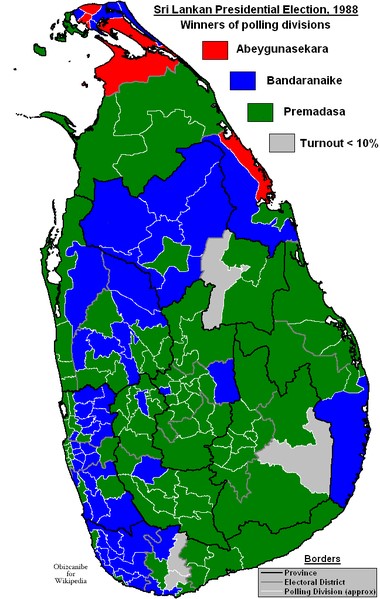 Electorates won by Premadasa in Green, Mrs. Bandaranaike in Blue and Ossoe Abeygunasekera in Red
Similarly, it was a forgone conclusion that Mr. Gotabhjaya Rajapaksa comes forward as a candidate there is no power that can prevent him from becoming the winner.  The first hint on this possibility was given by the former U.S.Ambassador AtulKeshap who urged in his farewell meeting with Mr. Mahinda Rajapaksa requesting him not to file Mr. Gotabhjaya Rajapaksa as a candidate for the presidential election as the U.S.Embassy, he felt most probably, will not be able to keep him under their cognizance. This was the beginning of the Gota phobia. 
When the election was approaching and it became quite clear that Gota will be the common national candidate, the government and its proxies including NGO vultures and the anti-Sri Lankan Tamil diaspora became so worried and explored all avenues available to discredit and using obstacles to the candidacy Mr. Gotabhaya Rajapaksa.  Some branded him as a reincarnation of Hitler and Ranil Wickremasinghe warned that if he happens to come to power Sri Lanka will once again be threatened with white van culture which was a vicious concept floated by the Kallathoni descendent Mano Ganeshan who was also an intimate machan of megalomaniac Prabhakaran to appraise the westerners that Northern Tamils who visit Colombo was being abducted by a fleet of white vans under Gota's command.  Questions were raised by the joint members of parliament to give details relating to identity of ich persons with date and time of alleged abductions and the white van numbers were ignored by the government several times and following persistence of this question the Minister of Parliamentary Affairs Gayantha Karnatilleke finally answered saying that there had been no such abductions and hence answers to other questions become irrelevant.
This Indian Origin Ganesdhan who proudly calls himself as an Indian Origin Tamil (IOT) has vowed that in the next ewlection there will be 14 IOT MPs including him.  His prime objective is to agitate for a Malai Nadu embracing Bafulla and NuwaeaEliya districts and parts of adjoining Matale, Kandy, Ratnapura, and Monaragala districts.  It is because that stupid J.R.Jayawardene conceded to Thondaman's request and granted them Sri Lanka citizenship to the IOTs who were destined to be repatriated to India under the Sirima-Shastri agreement that they have become so bold to speak about a future Malai Nadu.  However, yet this move can be thwarted if Sinhalese and Muslims of these threatened districts make a firm determination devoid of party politics to minimize the number of IOT members getting elected,
Several baseless Court cases were filed as a means to keep Gota held up in Cort premises (in Hultsdorf) and thereby prevent him attending to his election campaign work, and traveling to outstation areas to address meetings.  One such case dismissed by the Court of Appeal recently was a case filed by two notorious NGO vultures named Chandragupta Thenuvara and Gamini Viyangoda relating to Gotabaya Rajapaksa's dual citizenship issue, Romesh de Silva PC who appeared on behalf of Gota convinced the panel of judges the petition was a mala fide (not in good faith) application filed for pure political vengeance and it should be dismissed straight away as there is no right to invoke writ jurisdiction on technicality according to the decided law.
He made these remarks pointing out several factors which were relating to the petition.
Another such bogus case was the Avante Garde case in which case also the Court acquitted Mr. Gotabhaya Rajapaksa and seven others.  Another one was the D.A.Rajapaksa museum construction case which has been postponed to be taken for trial in December. In addition to this the tiger terrorists in the U.S.A calling themselves as Transnational Government of Tamil Eelam (TGTE) also filed 3 cases in theUnited States in an apparent bid to prevent Gota contesting in the Presidential election.  These attempts were also ended in failure.