30,000 monks attend mass alms-giving in Mandalay
Posted on December 10th, 2019
Global New Light of Myanmar
Officials, donors and well-wishers led by Union Ministers Dr Myo Thein Gyi and Nai Thet Lwin attend the third mass alms-giving ceremony for 30,000 monks at the Chanmyathazi Airport in Mandalay yesterday. Photo: MNA
Supervised by Mandalay Region Government, Myanmar well-wishers and Thailand's Dhammakaya Foundation jointly organized third mass alms-giving for 30,000 monks at the Chanmyathazi Airport in Mandalay yesterday.
Present at the event were Union Ministers Dr Myo Thein Gyi and Nai Thet Lwin, Deputy Minister U Kyi Min, Mandalay Region Minister for Electricity, Energy and Construction U Zarni Aung on behalf of Mandalay Region Chief Minister, Mandalay Region Hluttaw Speaker U Aung Kyaw Oo and cabinet members, Hluttaw representatives, departmental officers, consuls general of the People's Republic of China and the Republic of India, invited guests, social organizations, donors from Thailand and well-wishers.
Mandalay Region Minister U Zarni Aung and Deputy Minister U Kyi Min lighted candles, and representatives from Myanmar and Thailand offering flowers, the alms-giving ceremony was opened with the three-time recitation of Namo tassa bhagavato arahato samma sambuddhassa" .
That was followed by the congregation receiving the Five Precepts from the State Sangha Maha Nayaka Committee member Sayadaw Thanlyin Min Kyaung Sayadaw Agga Maha Pandita Bhaddanta Candima Bhivumsa.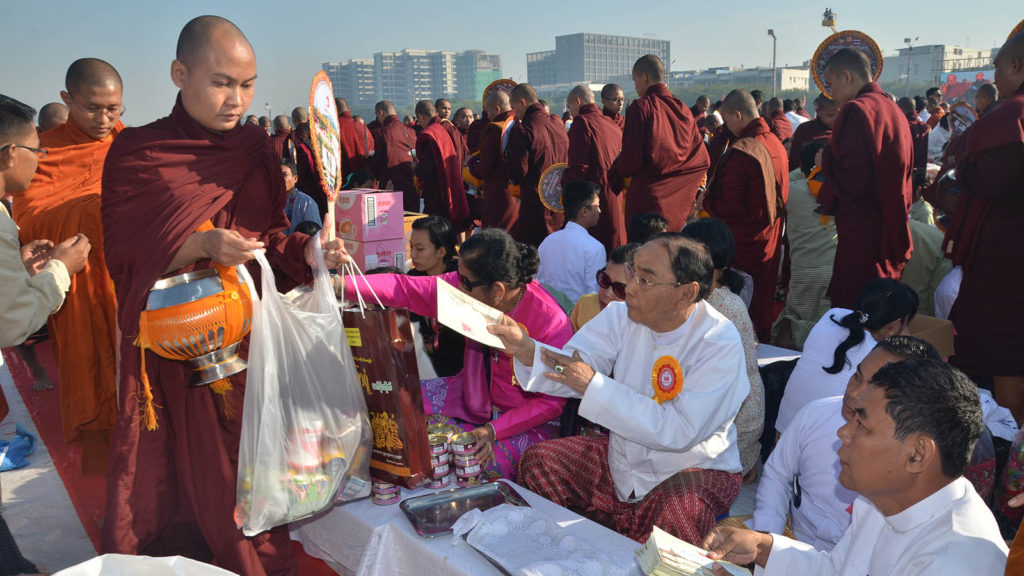 Afterwards, the audio message sent by Luang Por Dhammajayo, the patron of Dhammakaya Monastery in Thailand, was played and Members of Sangha recited parittas.
Six donors from Thailand led the recitation of offering the Four Requisites and donated offertories to the monks.
Supplicating the Members of Sangha at the event, patron of the alms-giving organizing committee Mandalay Region minister for Electricity, Energy and Construction U Zarni Aung on behalf of Mandalay Region Chief Minster expressed delights for getting opportunity for doing merits by peoples of Myanmar and Thailand.
Deputy Minister U Kyi Min supplicated religious matters, Thai donors expressed delights and followed by U Soe Lin, the chairman of the alms-giving event organizing committee, saying words of thanks.
The congregation listened to the sermon given by Mogok Nyaung Thone Bin Pariyatti Thamanaykyaw Monastery Sayadaw Dr Bhaddanta Tejosara Bhivamsa and shared merits they gained.
The ceremony concluded after reciting Buddha Sasanam Ciram Titthatu" three times.
The officials, donors and well-wishers led by Union Ministers Dr Myo Thein Gyi and Nai Thet Lwin donated K 30,000 each monk and offertories to the Members of Sangha.
Foods and soft drinks for congregation were also donated by well-wishers at the event. The first Myanmar-Thai friendship alms-giving ceremony was held for 10,000 monks on 20 September 2015 at the foot of the Mandalay Hill and the second was held for 20,000 monks on 21 January 2018 at the Chanmyathasi Airport. This was the third alms-giving in Mandalay and donated to 30,000 monks. —Min Htet Aung (Sub-Printing House) (Translated by Kyaw Zin Tun)