Political party reps endorse a national programme to fight Covid-19
Posted on March 24th, 2020
Courtesy Adaderana
Many political party representatives have expressed their support for a national programme to prevent the spread of coronavirus (Covid-19), instead of convening a Parliament session, Prime Minister's Office says.
A meeting to discuss the current situation prevailing in the island, prompted by the Novel Coronavirus outbreak was worked off under the patronage of Prime Minister Mahinda Rajapaksa at the Temples Trees this morning (24).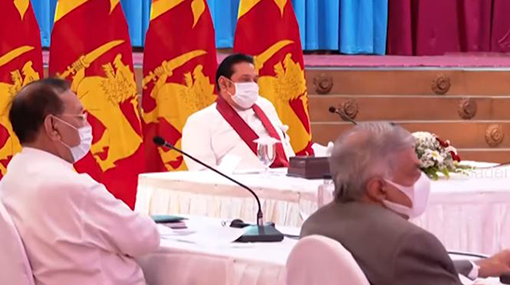 Steps taken by the government to curb the spread of the virus were discussed during the meeting.
Former President Maithripala Sirisena, former Speaker of Parliament Karu Jayasuriya, UNP Leader Ranil Wickremesinghe, Leader of Samagi Jana Balawegaya Sajith Premadasa, National Organizer of Sri Lanka Podujana Peramuna (SLPP) Basil Rajapaksa, Health Minister Pavithra Wanniarachchi and several other political party representatives and State officials joined this discussion.
Ranil Wickremesinghe, addressing the meeting, said: We need curfew to be in effect for some more time but there are issues regarding rural economy. So, I believe that we will be able to resolve this through discussion. We can give permit leave for all public servants who are not essential to be at work. I say that we should bring as much testing equipment as possible."
He also lauded the measures put in place by the government in the fight against coronavirus while adding that it should be continued.
PM Rajapaksa appreciated the participants for sharing their views on how to save the country from the virus irrespective of political differences.