The Government Medical Officers Association (GMOA ) is misleading the nation and recommends the wrong test for identifying infected persons.
Posted on April 5th, 2020
Sri Lanka News
The Government Medical Officers Association (GMOA) today urged the health authorities to speed up the COVID-19 testing of some 42,000 personnel who have been in contact with over 160 patients tested positive for the virus in the country.
GMOA member Dr. Naveen De Soyza said it was revealed at a meeting held at the Presidential Secretariat yesterday that about 42,000 people have been in contact with those tested positive. He said the current pace of testing was not adequate to efficiently counter the spread of the virus.
"We have requested the authorities to immediately conduct the blood tests for COVID-19 instead of the usual PCR test which is time-consuming," he said. The GMOA requested to increase the number of tests done per day to isolate infected people as much as possible.
Apparently the GMOA member Dr. Naveen De Soyza is not aware of the test facilities available for identifying coronavirus infected persons.
The blood test Dr. Naveen De Soyza is refereeing to the antibodies test suitable for patients to check the immunity after recovering from the infections and not suitable for those who are having the infection.
The following information is extracted BBC website.
Coronavirus: Why does testing matter?
By Rachel SchraerHealth reporter Courtesy BBC
The UK has announced new plans to boost testing for coronavirus following widespread criticism for not increasing the number of tests more quickly.
But why is testing important and how does the UK compare with other countries?
What is the test?
The main type of test to see if someone has Covid-19, is taking a swab of their nose or throat.
This is sent off to a lab to look for signs of the virus's genetic material.
Can I get tested?
Testing is not yet available for most people.
At the moment, most tests are reserved for seriously ill patients in hospital.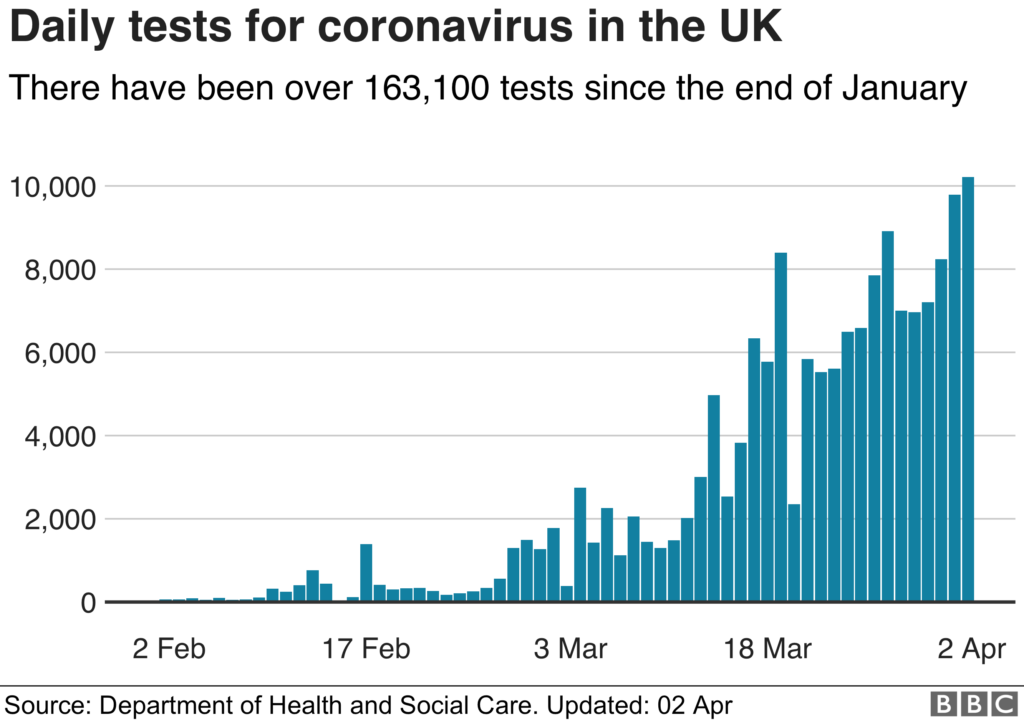 It means the majority of people who have symptoms can't find out if they are currently infected with coronavirus.
Tests are now being made available to doctors and nurses who have symptoms, or who live in a household with someone who does. Tests for other health and care workers will follow.
Health Secretary Matt Hancock said on Thursday that 5,000 NHS staff had now been tested across various testing sites.
Overall, 163,100 people in the UK have been tested since the end of January.
Why isn't the UK doing more tests?
The UK has not had the resources to do mass testing.
Health Secretary Matt Hancock said on Thursday: "We have the best scientific labs in the world but we did not have the scale. My German counterpart for instance could call upon 100 testing labs ready and waiting when the crisis struck."
The government is aiming to carry out 100,000 tests a day in England by the end of April. By 2 April, daily testing had reached around 10,200.
Some NHS trusts say they can only carry out a limited number of tests because of shortages of swabs, testing kits and reagents.
A reagent is the substance used to extract the virus's genetic material so it can be studied more easily. At the moment there is high global demand for reagents, which is why they are hard to obtain.
At first, Public Health England was only using its own eight laboratories. This has been expanded to 40 NHS labs – so, 48 labs in total.
The government says it is now working to recruit more laboratories at universities and research institutes. These will be used to test NHS workers.
Plans have also been announced to work with commercial partners such as Boots and Amazon, as well as with big pharmaceutical companies to build up the UK's diagnostic capacity.
Why is testing important?
There are two main reasons for testing people – to diagnose who has got the virus and who has had it.
Having this information could help the health service plan for extra demand, including on intensive care units.
Testing could also inform decisions around social distancing measures. For example, if large numbers of people were found to have already been infected, then a lockdown might become less necessary.
And not testing more widely means many people might be self-isolating for no reason, including NHS workers.
An antibody test is used to see whether someone has already had the virus. They look for signs of immunity in the blood by using a drop of blood on a device, a bit like a pregnancy test.
The government has bought three-and-a-half million antibody tests, but they are not yet available to use. The tests are still being checked to make sure they work.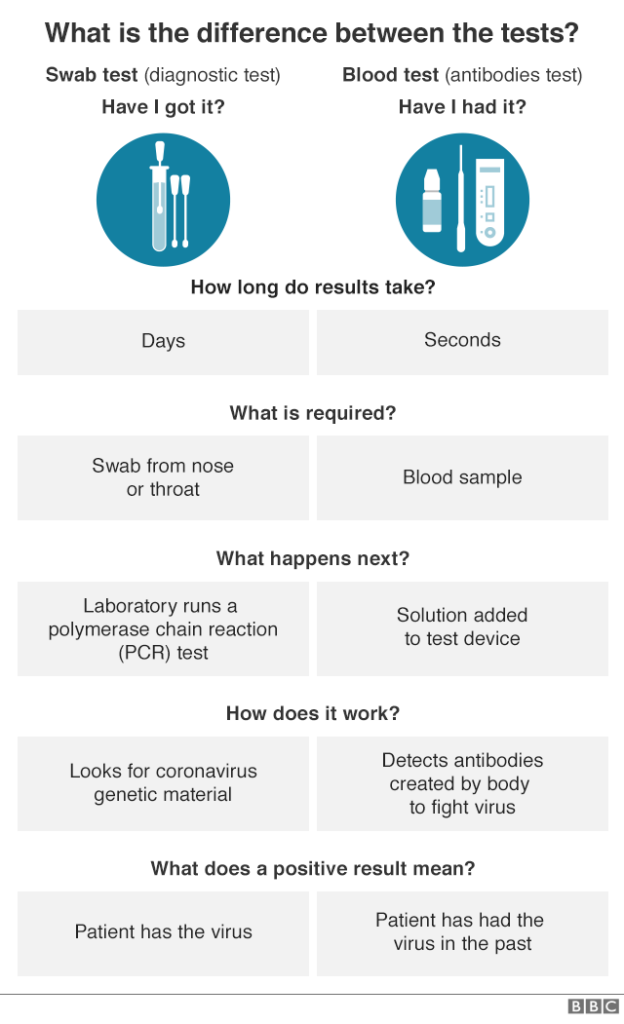 How about the rest of the world?
South Korea, which has been able to test far more widely than the UK has, acted very quickly to approve the production of testing kits, allowing it to build up a stockpile.
Despite having a slightly smaller population than the UK, it has twice as many labs and about two-and-a-half times the weekly testing capacity.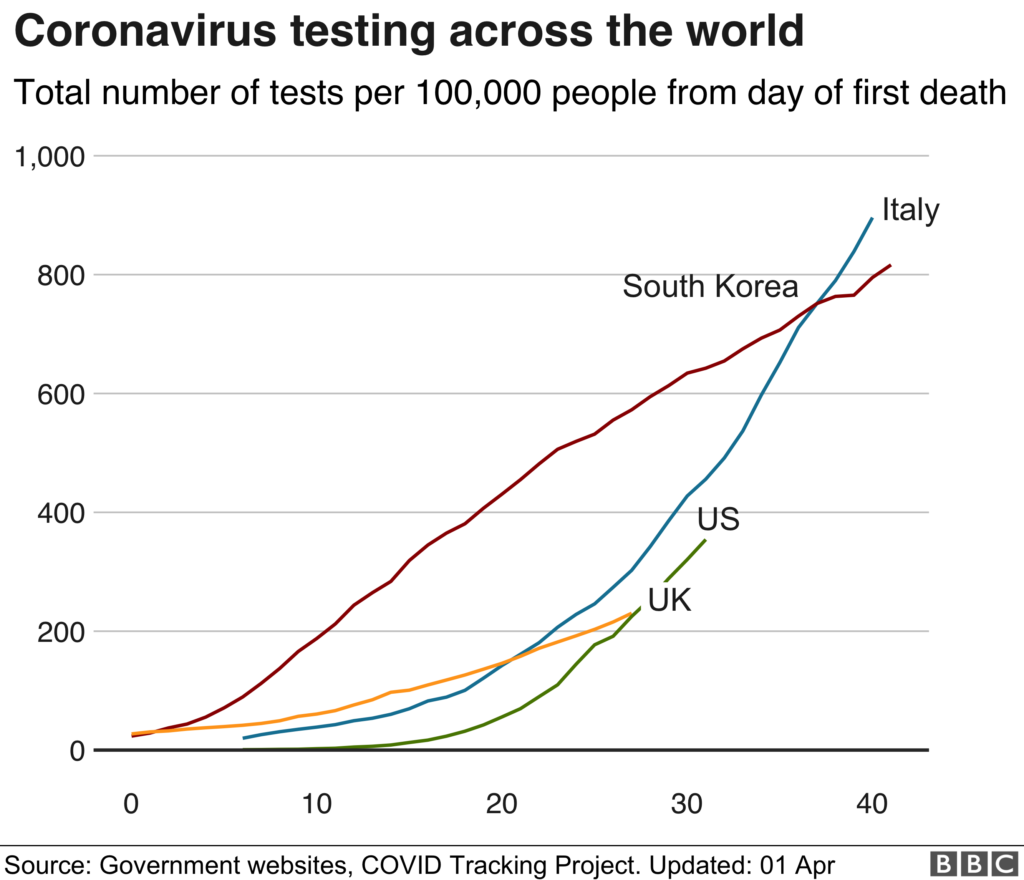 Germany has carried out more than three times as many tests as the UK.
By 27 March, it had tested 1,096 per 100,000 citizens, while as of 1 April, the UK had tested 348 per 100,000 of the population.
That compares with 895 per 100,000 for Italy, 842 per 100,000 for South Korea, 348 per 100,000 for USA and 27 per 100,000 for Japan.