Hemasiri Perera – A true renunciant though a layman -Appreciation
Posted on May 16th, 2021
Senaka Samarasinghe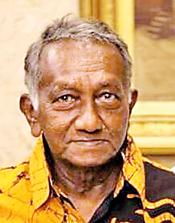 Hemasiri Perera is among the few people with extraordinary qualities I have met in my life. He was a practising Buddhist and I would call him a true renunciant though a layman.
I came to know Mr. Perera in Winnipeg, Canada where he migrated with his loving wife Prema to spend their retirement with their daughter Nirosha.
He was a student of Henegama Central College, in the Gampaha District and was the first from this school to enter University. His mathematics teacher in school, now living in Winnipeg, Mylvaganam Subramaniam remembers him as a hosteller, a hardworking and well-dressed student. We conducted a Zoom meeting with Mr. Perera on his birthday on March 13, 2021 and Mr. and Mrs Subramaniam too joined to wish him.
In 1964, he graduated from the University of Peradeniya. As a student he was at Jayathilaka Hall. During his university days he was an outstanding table tennis player. He was a versatile character with multidisciplinary knowledge but as he was following subjects related to a statistics degree, his batchmates called him Stat Perera. After completing his degree Mr. Perera worked as an Assistant Lecturer at the University of Vidyalankara. For a short time, he was an Economic Advisor to the Lanka Steel Corporation.
Until his retirement, he worked as Director of the Coconut Research Institute, Lunuwila and at the Coconut Development Authority, Colombo. He was a consultant to the United Nations Development Programme (UNDP) and several other UN agencies as well as quite a few countries on behalf of the Government of Sri Lanka.
He was the author of two Sinhala books – Gami Andarayak (Rural Anecdote) and Udella, Ma Ena Thuru Bala Sitee (Mammoty, Waiting for Me). In the latter he illustrated the historical and current conditions in countries such as the Netherlands, France, England, Indonesia, India and Pacific Islands. While in Sri Lanka recently, he was busy with trying to publish his third Sinhala book about new management skills.
He has also published seven books in English on the coconut industry in Sri Lanka drawn from his experience gained from his decades within the coconut sector looking at aspects of economics, desiccated coconut, coconut cultivation in Hambantota District, domestic marketing, productivity and high yielding varieties. These publications and his extensive knowledge made us identify him as a walking encyclopedia.
The Sri Lankan Association of Manitoba (SLAM) utilised his extensive knowledge to script and train performers in a drama and folklore performance highlighting Sri Lankan heritage. Mr. Perera's talents were in evidence at the grand annual event held during the Sinhala and Tamil New Year celebrations. Sometimes he joined in singing folk songs as well. His capabilities helped us to relive our good old memories of home and showcase our rich culture among Canadian communities. Subsequently, he joined the Sri Lankan 55+ Seniors Group and in 2018 was elected as a Board Member. He was re-elected to the Board in 2020.
He also joined the South Side Seniors – the senior's group of the Trinity United Church and was very popular among non-Sri Lankan members too. When the co-chair of the Church Seniors Group came to know the sad news of his passing on April 7, they conducted a remembrance service for him.
Mr. Perera who had been in Sri Lanka for more than one year to attend to some domestic matters, fell ill at this time and was looked after with utmost care by his second son Priyantha. His eldest son Channa is working in Singapore for more than three decades and is closely associated with Ven. (Dr.) Omalpe Sobitha Nayaka Thera, Chief Incumbent of the Bodhiraja Viharaya in Singapore. Ven. Sobitha Thera in fact visited to bless him and conducted a Pansukulaya (Buddhist funeral service) as well.
Senaka Samarasinghe