PRESIDENT MAHINDA RAJAPAKSA IN OBVIOUS REFERENCE TO POLICE EXCESSES SAYS NOBODY IS ABOVE THE LAW IN SRI LANKA.
Posted on August 18th, 2009
By Walter Jayawardhana
President Mahinda Rajapaksa said yesterday in Ratnapura that no one is above the law in Sri Lanka and in the Security forces and the police there is no place for those people who have no control over themselves.
Addressing a felicitation ceremony organized by the people of Sabaragamuwa to mark three months to the victory of the armed forces against the enemy the President said, ƒÆ''¢ƒ¢-¡'¬ƒ…-the armed forces won plaudits from the world due to the high degree of discipline maintained by them during the military operations recently.ƒÆ''¢ƒ¢-¡'¬ƒ"š'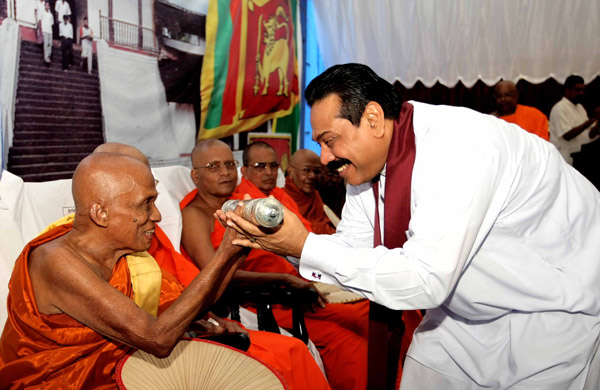 Chief Sanganayaka of Sabaragamuwa Ven Vehelle Attadassi nayaka Thero bestows sannas patra on President.Photos by Sudath SilvaThe President was speaking in obvious reference to two incidents of police excesses that created headlines in newspapers recently.
The ceremony was organized to felicitate the President, Secretary of Defense, heads of all security forces, police and civil defense forces at the Maha Saman Devalaya premises in Ratnapura.
Speaking further the President said he would not hesitate to suppress groups who are a threat to the freedom of the motherland wherever they live in the world.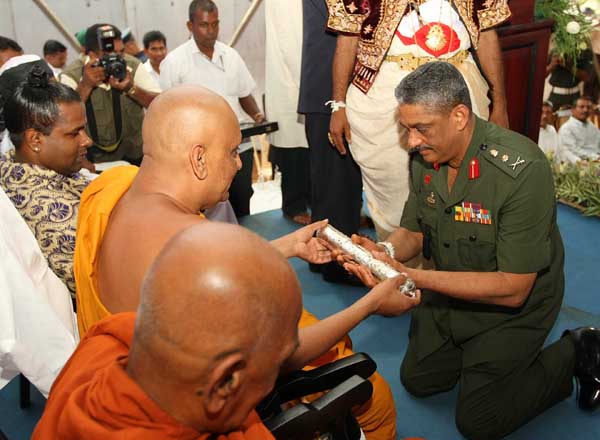 General Sarath Fonseka felicitated by an unidentified nayaka Thero Photos by Sudath Silva
He said he very much appreciated the high degree of discipline maintained from the lowest ranks to the highest ranks in the armed forces which became the pride of the nation during the military operations.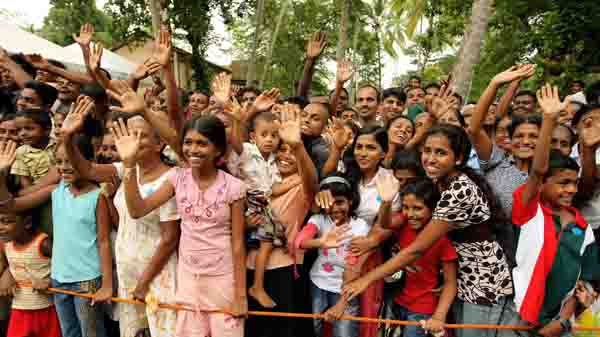 President Rajapaksa greeted by Ratnapura people Photos by Sudath Silva
He said the humanitarian attitude of our forces and the discipline maintained became a crown on the head of our forces. Those are qualities that should be imperatively taken forward in our forces. Such qualities should be followed by the country. Such discipline is a must for the police also, the President pointed out. He said there is no place in the police for people who lack discipline and those who have no control over themselves.
The President said the government was not ready to protect such people lacking discipline .
The President categorically stated that in this country no one can act above the law.
The Sabaragamuwa fraternity felicitated the President, the Defence Secretary, Chiefs of the Armed Forces, the IGP and Director General of the Civil Defence Force for shouldering the task of liberating the country from terrorism.
The Maha Sangha of the area,Chief Minister of Sabaragamuwa Maheepala Herath, and Sunil Shantha Weerasekera, the Basnayaka Nilame of the Maha Saman Devalaya were also present among the distinguished gathering.