Launch of the book titled 'The Most Admired World Leaders by Milinda Moragoda (Tamil Translation)
Posted on September 3rd, 2009
Gamini Sarath Godakanda Media Sec. for Minister of Justice and law Reforms
The launch of the book titled the ƒÆ''¢ƒ¢-¡'¬ƒ"¹…"Most Admired World LeadersƒÆ''¢ƒ¢-¡'¬ƒ¢-¾'¢ authored by Minister of Justice and law Reforms Hon. Milinda Moragoda will be held on 12th, September 2009 at 5.00pm at Colombo Tamil Sangam, Wellawatte, Colombo-06. Mr. T. Senthilvelavar, the Editor attached to the foreign news section of the Associated News Papers Of Ceylon Ltd has compiled this book in Tamil.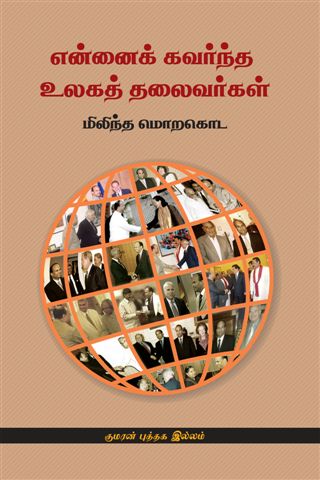 ƒÆ'-¡ƒ"š' 
President of the Colombo Tamil Sangam Professor Saba Jayarajah will Preside the ceremony. Other distinguished speakers at function will beƒÆ'-¡ƒ"š'  Professor S. Chandrasekaran, Dean Faculty of Education, University of Colombo, Mr. V.T.Tamilmaran, Senior Lecturer, Faculty of Law, University of Colombo,ƒÆ'-¡ƒ"š'  Mr. S. P. Samy ,The proprietor of Thinakkural Newspaper, Mr. N. M. Ameen Chief Editor of Navamani News Paper and Dr.Jinnah Sheriffdeen, President of Islamic Tamil Literary Research Organization
ƒÆ'-¡ƒ"š' 
The Director of Pathfinder Foundation Mr. K. Balasundaram will deliver the welcome speech and Mr. Alwappillai Kanadasamy, The General Secretary, Colombo Tamil Sangam will deliver the Vote of thanks.