Wayamba Upahara ceremony felicitated President and valiant forces
Posted on September 18th, 2009
By Janaka Alahapperuma
President Mahinda Rajapaksa and valiant Armed Forces were felicitated in a colourful ceremony at Panduwasnuwara Raja Maha Viharaya in Kurunegala District, North Central Province on Friday evening, 18th September 2009. This glittering 'Wayamba Upahara' ceremony was organised by grateful people of Wayamba Province for the President, defence Secretary and Armed Forces and their utmost dedication given to save the country from brutal Tamil Tiger terrorism.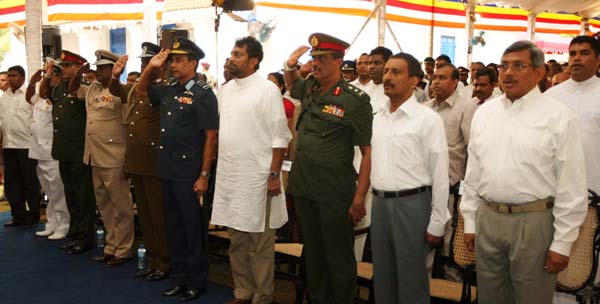 (Pix By : Sudath Silva)
President was honoured by Chief prelate of Kurunegala Ethkanda Viharaya, Bishop of Kurunegala, District Chief Hindu priest (Kurukkal), and Kurunegala chief Maulavi. Defence Secretary Dr.Gotabaya Rajapaksa, Chief of Defence Staff and former Army Commander General Sarath Fonseka, Secretary of High ways and former Navy Commander Admiral Wasantha Karannagoda, Air Force Commander Air Marshal Roshan Goonathilake, Army Commander Major General Jagath Jayasuriya, Navy Commander Vice Admiral Thisara Samarasinghe, Inspector General of Police Jayantha Wickramaratne, Vice Admiral Sarath Weerasekera, Air Chief Marshal Donald Perera also received symbolic appreciative mementos and replicas as public gave them a laud, thundering applause.
Venerable Maha Sanga representing Buddhist temples in Wayamba and many religious leaders including Catholic, Hindu and Muslim also participated the ceremony. Service men and women representing Army, Navy, Air Force and Police, many next of kin of fallen war heroes, disable war heroes, politicians, dignitaries and thousands of Wayamba people attended the occasion.