RAMCO LANKA PRIVATE LTD DONATES FIVE MILLION TO 'APIWENUWEN API' AND ANOTHER FIVE MILLION TO THE PRESIDENT'S FUND
Posted on September 22nd, 2009
By Walter Jayawardhana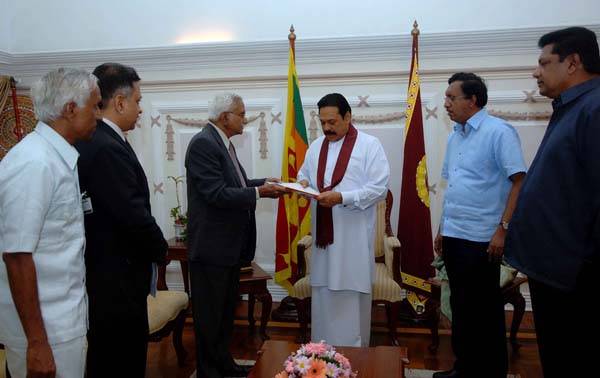 P.R.Subramanearajha , Chairman of Ramco Lanka (Private) Limited donated Rupees five million Rupees for the very ambitious housing project for the soldiers of Sri Lanka, Api Wenuwen Api and another five million Rupees for the PresidentƒÆ''¢ƒ¢-¡'¬ƒ¢-¾'¢s Fund at a brief ceremony to President Mahinda Rajapaksa.
ƒÆ'-¡ƒ"š' Minister Anura Priyadarshana Yapa and Minister Kumara Welgama were present at the ceremony.
ƒÆ'-¡ƒ"š' Ramco industries is an india based company and the Ramco Lanka is a wholly owned subsidiary through which the Indian CompanyƒÆ''¢ƒ¢-¡'¬ƒ¢-¾'¢s overseas business operates.
ƒÆ'-¡ƒ"š' Sri Ramco Lanka (Private ) ltd produces Fiber Cement sheets in Sri Lanka . In march 2009 the the companyƒÆ''¢ƒ¢-¡'¬ƒ¢-¾'¢s factory in Sri Lanka produced 88,161 metric tons of fiber cement sheets.
ƒÆ'-¡ƒ"š' In India the company produces building materials,textiles and windmills that generate electricity.