DECLARING OPEN THE LONGEST BRIDGE IN SRI LANKA PRESIDENT RAJAPAKSA SAYS THE TIME FOR RACIST POLITICS HAS COME TO AN END
Posted on October 20th, 2009
By Walter Jayawardhana
Addressing massive jubilant and cheering crowds both in Sinhala and Tamil after declaring open Sri LankaƒÆ''¢ƒ¢-¡'¬ƒ¢-¾'¢s longest bridge at Kinniya and Irakkandi Bridge President Mahinda Rajapaksa said racist politics in Sri Lanka has come to an end.
ƒÆ''¢ƒ¢-¡'¬ƒ…-Hereafter in this country there is no room for racist politics,ƒÆ''¢ƒ¢-¡'¬ƒ"š' he said.
The 396 meters long Kinniya Bridge built with Rupees 789 million granted by the Saudi Arabian government would replace an ancient ferry service that was the sole mode of transport for people going to Muttur. It is the only bridge to be built across a lagoon in Sri Lanka.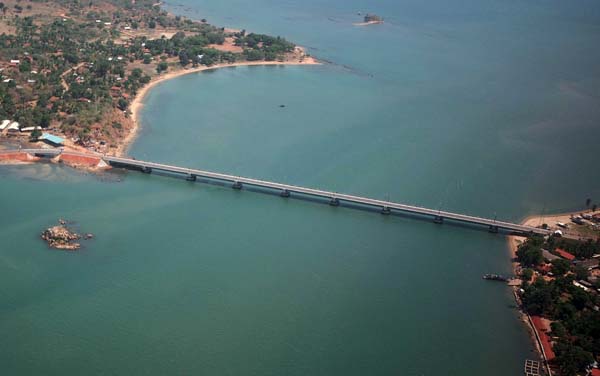 Photos by Sudath Silva
Opening his address, the President said he saw several pandals erected in the ceremonial area addressing him as a king. With humility he said, ƒÆ''¢ƒ¢-¡'¬ƒ…-I am no king. In all times I will always be your friendly trustee.ƒÆ''¢ƒ¢-¡'¬ƒ"š'
He said the government is rapidly building irrigation works in their area like in the South to grow more food.
The President said, he is glad to have had the opportunity to declare open the island nationƒÆ''¢ƒ¢-¡'¬ƒ¢-¾'¢s longest bridge for which he laid the foundation stone many months ago.
Before long the President said his government would finish the Upparu, Kengei, Raal-Kuli, Verugal and Naayan-Keni Bridges in the Eastern Province.
The President also declared open the Irakkandi Bridge put up at a cost of 713 million rupees. It is 300 metres long and seven metres wide. It replaces the old bridge devastated by the Tsunami. The construction was launched in June 2006. Members of the Maha Sangha, Ministers T.B. Ekanayake, Vinayagamurthi Muralitharan, W.B. Ekanayake, Najeeb A. Majeed and Risath Bathiyudeen, Chief Minister Sivanesathurai Chandrakanthan, Eastern Provincial Councillors, Eastern Governor Mohan Wijewickrama and Ambassadors of Spain and Saudi Arabia.
Meanwhile, the President participated in a special Hindu religious Pooja at Thirukkovil in Trincomalee.