Justice and Law Reforms Minister Milinda Moragoda visits Court in Minuwangoda
Posted on October 20th, 2009
PRESS RELEASE

Media Secretary for Minister Justice and Law Reforms,
Minister of Justice and Law Reforms, Milinda Moragoda accompanied by Secretary Suhada Gamlath and Assistant Secretary A.K.D.D.D. Arandara paid a visit to the Court premises in Minuwangoda (20th October 2009). The Minister was met by the Judge Ms. Kema Anne Swarnadhipathi, Minuwangoda Branch President of Bar Association of Sri Lanka Thusari Gunawardena, Secretary Himali Jayasekara, Gampaha District MP. Edwerd Gunasekara, officials, and lawyers of the Court.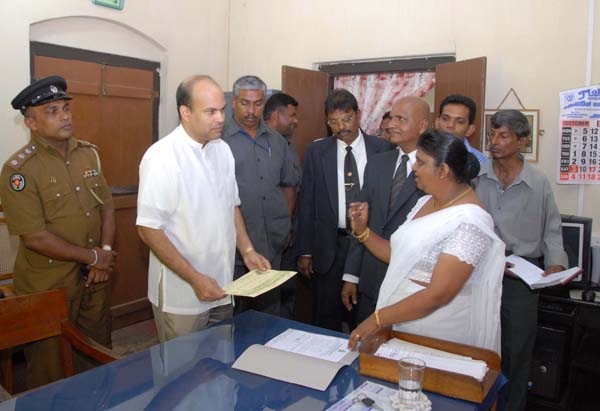 ƒÆ'-¡ƒ"š' Minister Moragoda visited the key Appeal, District and Magistrate Court including Mt. Laviniya, Kaduwela, Matara and Jaffna in the country to meet with the Judiciary and legal community to discuss the challenges and issues faced by them and to identify ways and means through which the Justice and Law Reforms Ministry can prioritize its tasks.