PRESIDENT RAJAPAKSA TELLS PRESS PEOPLE AT LUMBINI THE DEVELOPMENT OF LUMBINI THE BUDDHA'S BIRTH PLACE IS THE RESPONSIBILITY OF THE WHOLE BUDDHIST WORLD
Posted on October 30th, 2009
By Walter Jayawardhana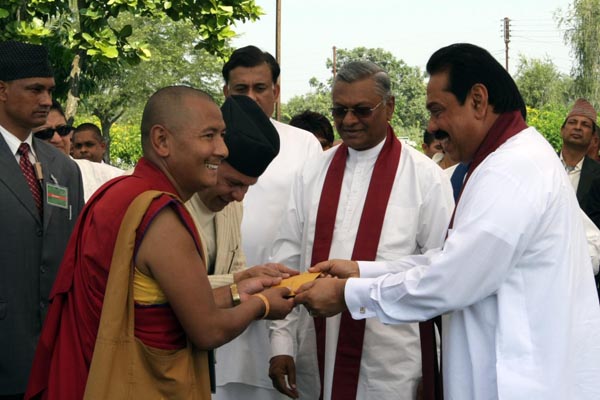 Pix by Sudath Silva President DonatedƒÆ'-¡ƒ"š' US $10,000ƒÆ'-¡ƒ"š' US Dollas for SriLanka Lumbini Development trust
President Mahinda Rajapaksa making brief statement to the pressmen gathered there said that the development of Lumbini, one of the most sacred sites of the Buddhists all over the world was not only the responsibility of the Nepalese government but also the rest of the world including Sri Lanka.
Rajapaksa a devout Buddhist said coming here to Lumbini , the birthplace of Prince Siddhartha who later attained Buddhahood through an ascetic life was his life long dream.
He said in the years to come Lumbini will attract increasing numbers of pilgrims and made a personal donation of US 10,000. At this time the information officer of the Lumbini Development Fund Hari Dhoj Rai showed him the master plan for the Lumbini Development.
The Nepali government beefed up high security around Lumbini due to the visit of President Rajapaksa and he also offered pooja at Maya Debi (Devi) Temple at Lumbini, Nepalese reports said.
The main business of the PresidentƒÆ''¢ƒ¢-¡'¬ƒ¢-¾'¢s visit to Lumbini was to gift and dedicate the first phase of the Sri Lanka Maha Viharaya at Lumbini that was built at the cost of 74 million Rupees of state money . The completed phase consists of a liabrary, a resting place,and a museum and a monastery.
In fact, the Sri Lanka Lumbini Development Trust Fund was established 25 years ago when President Rajapaksa was a novice MP in the parliament and the work at the Sri Lanka section was started then. But unfortunately, the work had been neglected until the President re-invigorated it. The Sri Lankan monastery has been established on land leased by the Nepalese government to Buddhist nations to construct monasteries of their own traditions.
The Sri Lanka government has announced that it would put up the second phase of the Sri Lanka monastery at the cost of 194 MIllion Rupees