PRESIDENT RAJAPAKSA DECLARES OPEN A NEW IT TRAINING FACILITY FOR TEACHERS
Posted on November 11th, 2009
By Walter Jayawardhana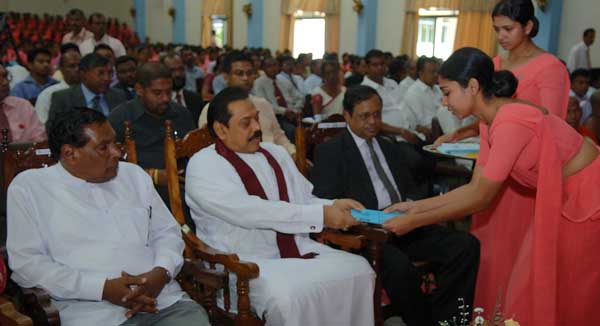 Photos by Chandana Perera
President Mahinda Rajapaksa addressing the new teacher trainee recruits to the Ruwanpura Technical College who would be trained to teach IT in schools said a country won by sacrificing many lives should not be allowed to be succumbed by conspiracies.
"A country so saved should not be allowed to be destroyed by conspiracies," he said. This was an obvious reference to the opposition organized strike.
At the ceremony the President also announced that the trainee allowance would be doubled to Rupees 5000.
He said the increased amount will be paid to them from January next year with arrears from November this year.
The new school had been converted to train IT for the teachers by equipping the institution with new equipment.
On the same day the government announced a 22 % wage increase for Ceylon Electricity Board employees.
Wage increases for other state employees also had been announced earlier.