President Rajapaksa declares open Ranajayapura Ranaviru Housing Scheme
Posted on November 22nd, 2009
By Janaka Alahapperuma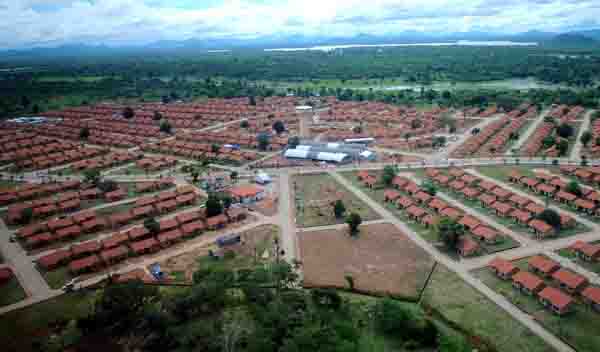 (Pix By : Nalin Hewapathirana)
President Mahinda Rajapaksa ceremoniously declared open the first stage of the Ranajayapura Ranaviru housing scheme at war heroes' town in Ipalogama this morning on Sunday 22nd November.
He participated at the ceremony as the chief guest with the First Lady Shiranthi Rajapaksa and personally handed over 100 keys to the war heroes representing the Sri Lanka Army, Navy and Air Force. Simultaneously the Defence Secretary Gotabaya Rajapaksa and the other ministers also distributed the rest of the keys to recipients.
Ranajayapura housing scheme is located near the Kekirawa-Thalawa main road in Ipalogama, Anuradhapura district consisting of 1,509 houses. It is the largest project ever built for war heroes in Sri Lanka. The whole area spans 180 acres and each house on a block of 10 perch land. Each house is worth 2.5 million rupees and has all required facilities. The government has spent four billion rupees for the housing project and the houses are given to members of the three armed forces at a concessionary rate. The village also includes super markets, banking facilities, school, day care unit, gymnasium, telephone and all other facilities including a well equipped hospital.
Financial assistance came from "ƒ"¹…"Api Wenuven Api Fund', which was launched under the guidance of Defence Secretary and the Ministry of Defence.
The President and Madam Shiranthi Rajapaksa also participated at the opening ceremony of the Nursery School at Ranajayaviru Village. The President also visited several new Ranaviru houses in the village.
Secretary to the President Mr. Lalith Weerathunga, Army, Navy and Air Force Commanders and IGP, several Ministers, Provincial Ministers and Councilors were participating in the ceremony.
This is an excellent way to pay tribute to the war heroes for their service rendered to the country to eradicate terrorism. Ranaviru Housing Project, stage two has already started in Horowpathana.