MAHINDA RAJAPAKSA VISITS ANURADHAPURA BEFORE HIS CAMPAIGN
Posted on November 30th, 2009
By Walter Jayawardhana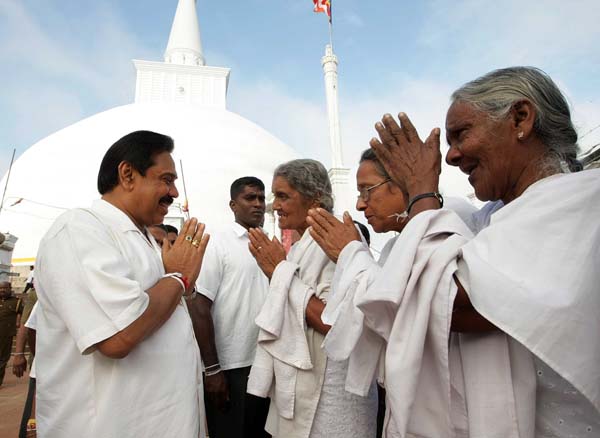 Photos by Sudath Silva
President Mahinda Rajapaksa took time to go on a pilgrimage to the sacred city of Anuradhapura prior to starting his Presidential Election campaign.
Atamassthanadhipathi Veneral Pallegam Siriniwasa led Buddhist monks chanted pirith and blessed the President. The monk said Anuradhapura sacred city and the rest of the country were under the constant threat of the terrorists and the nation is grateful to the President for having dismantled terrorism from the country.
The President clad a sacred Sri Maha Bodhi tree branch , with a yellow robe and offered obeisance and took vows for the success of his campaign.
Venerable Pallegama Hemaratana Thero received him at the Ruwanweliseya premises where the President also took time to talk to devotees who had observed Ata Sil.
At Dambulla Raja maha Vihara he was blessed by the chief incumbent Venerable Inamaluwe Sumangala.
The President also visited the Jayanthi Vihara Anuradhapura.
The President also went to see the economic center in Dambulla