MAHINDA RAJAPAKSA DECLARES HE RECEIVED CONFIDENCE OF HOW TO FACE THE CHALLENGES OF IMPERIALISM BY WORKING WITH WORKING CLASSES
Posted on December 1st, 2009
By Walter Jayawardhana

Pictures by Nalin Hewapathirana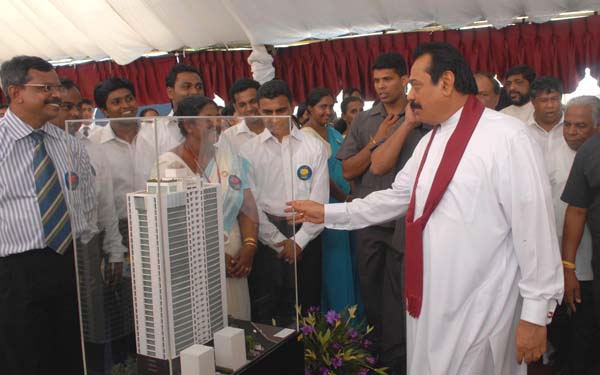 President Mahinda Rajapaksa declared at Narahenpita Colombo that he got the confidence and training of how to face the current imperialistic challenge against his country by working very closely with the working class movement of Sri Lanka in the past.
He said the support of the working class movement cannot be obtained by threatening them or buying them and he had received their support wholeheartedly in the past in all the attempts he had taken to protect the country against terrorism and imperialism based on mutual understanding and trust.
The President was participating in the celebrations for the foundation laying ceremony to build a 30 storey home for the EmployeeƒÆ''¢ƒ¢-¡'¬ƒ¢-¾'¢s Provident Fund and other services related to the labour movement and declaring open a labour Museum in the premises of the Labour Ministry. The Multi storey building will be finished at a cost of 1.7 billion Rupees in three years and the President said he was sure that he would return to the place to declare it open as the next elected President. The EPF and ETF and the related banking services will be housed in the new building. The museum he declared open provides information on the working class struggles of the nation and their leading men and times.
He said in the recent past Sri LankaƒÆ''¢ƒ¢-¡'¬ƒ¢-¾'¢s working classes had stood by the government to defeat terrorism ignoring various attempts to mislead them.
The President said this support could be attributed to a long standing trust and understanding on both sides.
He said he was sure the same kind of support offered to him to save the nation from terrorism would be extended to build up the country economically.
Labour Relations and Manpower Minister Athauda Seneviratne and Labour Minister Mervyn Silva along with other Cabinet Ministers and provincial politicians took part.
Also in attendance were Ministry officials, Government Department officers, Union Leaders, Central Bank officials and the public.