History is made as the Sri Lankan flag is shown live on Canadian and International television for the first time Olympic Winter Games in Vancouver/Whistler BC Canada.
Posted on February 27th, 2010
Sri Lanka News
Sri Lankan and Canadian flags were taken by Prathap Perera to Vancouver, BC with the hope that family and friends back in Toronto, ON would be able to easily spot him if seen on television. However this turned out to be something much more and the following is a brief recap of several events which led to a great idea.  When Prathap carried the Sri Lankan flag to the Olympic Winter Games many tourists and onlookers were very curios as to where this beautiful flag originated from.
Some locals and foreigners were quickly able to recognize the Sri Lankan flag with much disappointment because there was no team present in Vancouver for 2010 Olympic Winter Games.  So due to this reason Prathap was motivated to showcase the Sri Lankan flag both in Vancouver, BC (During Russia Vs. Slovakia Game – Sat Feb, 20 2010) and also in Whistler, BC (Medal Presentation – Sun Feb, 23 2010).  The Flag was carried by Prathap Perera (ON), Suramya Nugawila (BC) Kumarini Nugawila (BC), Emmi/Sharuni Nugawila (BC) & Kasum Perera (BC). 
This was the first time ever in Olympic Winter Games history that the Sri Lankan flag was shown live on Canadian and international television.  This inspired Prathap to start a campaign with the hope of getting a Sri Lankan team ready in time for the XXII Olympic Winter Games to be held at Sochi, Krasnodar Krai, Russia in 2014.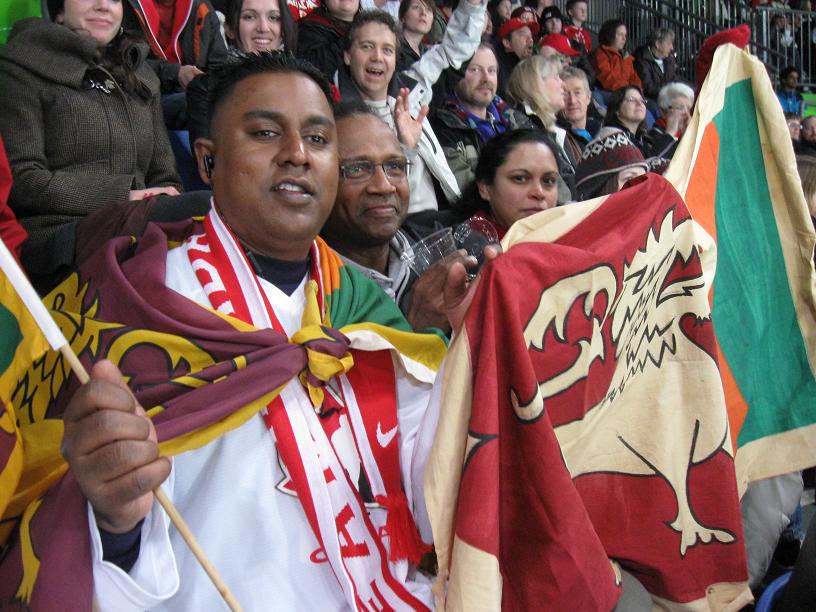 The Jamaicans did it back in 1988 Olympics Winter Games in Calgary, Alberta and we can too. Together we can make this dream a reality, the count down has already begun.  Wishing Sri Lanka peace and prosperity for the future, let's put Sri Lanka on the Olympic Winter Games map.  This gesture was carried out for Sri Lanka and nothing more.