Malaysian Prime Minister visits Buddhist Maha Vihara Brickfields for Wesak
Posted on May 29th, 2010
Sumanananda Premseri
KUALA LUMPUR, May 28 — Buddhist devotees in Malaysia, from all walks of life, celebrated Vesak Day in the spirit of 1Malaysia, offering prayers and alms Friday.
Vesak Day is the most important and sacred day for Buddhists throughout the world who observe the day of the birth, enlightenment and the passing of Gautama Buddha.
In Kuala Lumpur, Prime Minister Datuk Seri Najib Tun Razak and wife Datin Seri Rosmah Mansor joined tens of thousands of devotees who celebrated the holy day at the Buddhist Maha Vihara in Brickfields.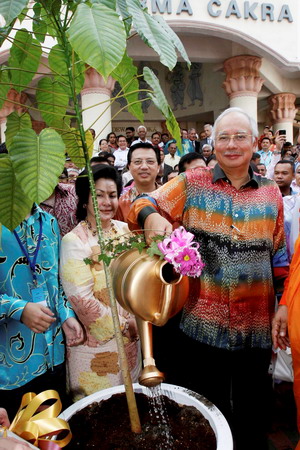 Najib and Rosmah's arrival at 9.30am was greeted by Chief High Priest of Malaysia, Most Venerable K. Sri Dhammaratana Nayaka Maha Thera and a performance troupe that represented the multi-cultural ethnicity in the country.
Seven Cabinet Ministers and Deputy Ministers, as well as representatives from other faiths, Ambassadors and High Commisioners from the various foreign missions in Kuala Lumpur, and various dignitaries also joined in the celebrations.
Celebrity British chef Gordon Ramsey was also invited to prepare a special vegetarian lunch for the VIPs.
Various programmes were also held at the temple, including blood and organ donation, distribution of free vegetarian food, a Sunday School exhibition, a Thorana depicting the Life of the Buddha and mass prayers. At 7.30pm a candle light and a twenty floats procession attended by about 30,000 devotees walked a 12km route to the city centre begining at the Vihara. The procession returned to the Vihara about 3 hours later. The Wesak Eve and Wesak Day celebrations at the Vihara attracted more than 80,000 people to visit the Vihara.