AN EXHIBITION OF BUDDHIST PAINTINGS FOUND IN VIHARAS ACROSS THE COUNTRY – May 28th to June 05t 2010
Posted on June 1st, 2010
At the Gangaramaya Viharaya,  Hunupitiya, Colombo 
The Office of the President of Sri Lanka and the Gangaramaya Viharaya of Hunupitiya Colombo is presenting jointly "A Visual Feast for Vesak" in the form of a comprehensive exhibition of Vihara painting found in selected vihares across the country. The photo images are those of Dr. Daya Hewapathirane and Dr. Sesath Hewapathirane.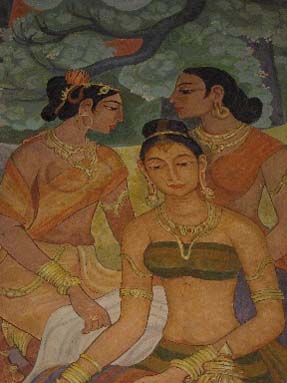 Found in thousands of Buddhist temples all over the country, Buddhist paintings reflect a wonderful integration of aesthetics and spirituality. The photographic work presented at this exhibition is the result of in-depth study of ancient paintings produced on different surfaces or planes. We have utilized the photographic method to identify and highlight special aspects of exquisite Buddhist paintings that are of outstanding artistic and aesthetic quality and overflowing spiritual appeal.
 We all know that among other activities, Vesak is the time for the glorious display of the splendor of our indigenous Buddhist culture. This is the time when spiritual feelings and aesthetic appreciation are generated among Buddhists. In this light, we believe that it is appropriate that we present this exhibition of one of the most fascinating aspects of the nation's traditional visual culture, inspired by the life and teachings of the Buddha. We know that this exhibition will add to the splendor of this festive season of Buddhist celebration.
 This is an "Open to Public Free of Charge" event which we would like to share with as many people as possible, both local and foreign. Details as to the nature and objectives of this event are provided in the attached document.
 Please provide this event with needed publicity as possible so that people could benefit by this unique event.
 Thanks and Best Wishes,
Sincerely,
Dr. Daya Hewapathirane