The Travels of a Journalist—34 GETTY VILLA THEN AND NOW: AN ART MUSEUM FOR ALL;AND THE JOYS OF CROSSING LA'S MULHOLLAND DRIVE
Posted on June 15th, 2010
By Shelton A. Gunaratne©2010
When we passed through the scenic coastal highway from Santa Monica to Malibu on our way to Santa Barbara in mid-1983, we were intrigued by the impressive architecture of the J. Paul Getty Museum we sighted in the proximity of Topanga Canyon. Although we were not fans of art museums, the novelty and the architectural elegance of the building enticed us to put it on our "must visit" list.
Four months later, we did indeed visit the Getty Villa, the art museum located at 17985 Pacific Coast Highway, in Pacific Palisades, a mile east of Malibu. In short, it is within the city limits of Los Angeles. What originally impressed us was the classical European-style museum building with an extremely beautiful main peristylar garden.
Minnesota-born oil tycoon J. Paul Getty (1892-1975) originally opened a gallery adjacent to his home in Pacific Palisades. When his expanding collection of cultural artifacts exceeded the storage capacity of his home, he opened a second museum on the property in 1974. This is the Getty Villa that attracted our attention on our way to Santa Barbara on 24 June 1983.
Docent Betty K. Asher, who gave us an orientation to the one and only J. Paul Getty Museum at the time of our visit on 22 Oct., explained that the Villa of the Papyri at Herculaneum inspired the model of Getty Villa. The building also incorporated additional details from several other ancient sites. I discerned an inexplicable affinity between Getty Villa and Hearst Castle, which we visited on 30 July.
The mission of the museum was "to further knowledge of the visual arts and to nurture critical seeing by collecting, preserving, exhibiting and interpreting works of art of the highest quality." The mission inspired us, the visitors, to take a deeper interest in what the museum had so carefully selected for public exhibition charging no admission for the privilege (except $15 for parking).
At the Main Level of the museum, we visited the classical collection in the Hall of Aphrodite; then, we moved on to the Greek Masterpieces, Atrium, Attic, Memorial Sculpture, Late Classical and Hellenic Sculpture, Room of Colored Marbles, Etruscan Vestibule, and Basilica Temple of Heralds and Mosaics.
At the Upper Level, we saw numerous classical paintings""'Dutch, Flemish, Italian Renaissance, and Baroque. We also visited the Regence Period Room, the Rococo Period Room, and the Neoclassical Period Room. Finally, we saw a changing exhibit""'Renaissance Painting in Manuscript from the British Library. We also went to see the Garden Tea Room and the Herb Garden. It was a wonderful educational experience for Junius, Yoke-Sim and me. We spent three hours at the museum.
In 1997, 14 years after our visit, the magnificent Getty Villa was closed for renovation, and a small part of the museum's collection was moved to the Getty Center in nearby Brentwood. Getty Villa re-opened on 28 Jan. 2006. Wikipedia provides the following update:
Getty Villa once again holds Greek and Roman sculptures some of which were housed in the interim at the Getty Center and the large part in storage for the duration of the Villa's closure. The Greek, Roman, and Etruscan antiquities are arranged by themes e.g. Gods and Goddesses, Dionysos and the Theater and Stories of the Trojan War, housed within Roman-inspired architecture and surrounded by Roman-style gardens.
Machado and Silvetti Associates conceived the new architectural plan surrounding the Villa, which houses some 44,000 works of art although only 1,200 are on display.
Visitors to the Villa now gather in an open-air Entry Pavilion, then walk along a scenic pathway to the heart of the site, the 450-seat Barbara and Lawrence Fleischman Theater (an outdoor classical theater), which links the new Cafe, Museum Store, and Auditorium to the J. Paul Getty Museum entrance.
 Back to Santa Barbara
Junius, Yoke-Sim and I returned to Santa Barbara the weekend after our first visit. On this occasion, we drove on a different route.  Starting from Fullerton, we drove on Orange (SR 57) and Pomona (SR 60) freeways to downtown Los Angeles, where we turned northwest on to El Camino Real/Hollywood Freeway (US 101).
At Hollywood Hills, we tuned west to drive along the 14-mile long eastern stretch of the scenic and winding Mulholland Drive, which loosely follows the ridgeline of Hollywood Hills and Santa Monica Mountains offering spectacular vistas of the San Fernando Valley. Along the way, we stopped at the Fryman Canyon Overlook; and again at Franklin Canyon Ranch, where we hiked the 2.3-mile roundtrip Hastain Trail on the Santa Monica Mountains.  We had a foggy view of the city from the summit (elevation 980 ft.).
We tarried at the Tree People Nursery on the way back to Mulholland Drive, which turns into a dirt road on reaching the Water and Power Pole Road in Topanga State Park, a few miles to the west after it crosses the San Diego Freeway (Interstate 405). Because the "Dirt Mulholland" was not open for vehicles, we decided to skirt around it to reach the western terminus of Mulholland Drive. Turning itself into Mulholland Highway, it then heads southwest to join the Pacific Coast Highway, west of Malibu.
Exploring the enigma of Mulholland Drive was the highlight of the day. (David Lynch's 2001 movie "Mulholland Dr." centers around a woman who turns amnesic after a car wreck on this road. To experience the thrill of a drive along Mulholland Drive, click Mulholland Drive filmed with an on-board camera displayed on a map).  
We turned north on Topanga Canyon Boulevard to visit the western Los Angeles communities of Woodland Hills (pop. 67,000) and Canoga Park (pop. 53,300).  We gawked at the Canoga. Mission Gallery (23130 Sherman Way, West Hills), a former stable built in the Mission Revival style in 1936 by actor Francis Lederer.
Then, we crossed over the southeastern limits of Ventura County to enter the city of Simi Valley (pop. 119,000), 17 miles northwest of Canoga Park. Surrounded by the Santa Susana Mountain Range and the Simi Hills, it has provided the enchanting backdrop for several movies and TV shows.  As fans of Steven Spielberg's 1982 blockbuster "ET""'the Extra Terrestrial," we were naturally interested in seeing the Simi Valley landscape captured in the movie to thrill thousands of its fans. We drove along Los Angeles Avenue between Yosemite Avenue and First Street. We also stopped at a farmers' market to buy some nectarines.
Then, we headed nine miles further west to Moorpark (pop. 47,500). Our focus was the 134-acre scenic campus of Moorpark College (estbd. 1967) with a current student enrollment of 16,600. Students call the college "Kraproom" ("Moorpark" spelled backwards).
We really left the beaten track, when we drove 11 miles north of Moorpark on SR 23 to visit the 2.8 square mile city of Fillmore (pop. 13,700). Wikipedia says: Fillmore has classic "turn of the century" downtown architecture, a one-screen theater, a historic train depot (the Fillmore and Western Railway), a much photographed city hall, and many unique shops and businesses, including a local winery operation.
Nine miles further to the southwest, we visited Santa Paula (pop. 28,600). Dubbed the "Citrus Capital of the World," the city was one of the early centers of California's oil industry. Wikipedia describes Santa Paula "as a quaint town, boasting a main street reminiscent of Middle America but with a Mexican flavor." We visited the Oil Museum.
We were again off the beaten path, when we visited Ojai (pop. 8,000), a 4.4 square-mile city surrounded by hills and mountains of the Ojai Valley. Lying 17 miles to the northwest of Santa Paula, Ojai is well known for its Film Festival, Music Festival and Poetry Festival.
Our final stop in Ventura County was Lake Casitas Recreation Area, seven miles southwest of Ojai. Summerland in Santa Barbara was another 22 miles southwest of Lake Casitas.
After settling down again at the Voegele brothers' pad in Summerland, Yoke-Sim cooked a simple dinner. Don Voegele joined us for the meal while we related our day's adventures.
Sunday (3 July 1983)
This morning, all of us joined a four-hour hike, with Don as leader, up on Romero Canyon Trail, north of Summerland. It turned out to be a strenuous hike. I had to carry Junius some of the way. Yoke-Sim followed with some difficulty. John, who brought his dog "Lady" with him, sighted three snakes.
In the afternoon, we explored another part of Santa Ynez. Bernadette Bauer, a friend of Don's, joined us. Don took us to La Cumbre Peak (elev. 3,985 ft.), from where we had a good view of the valley below. We also stopped to see the ruins of the Knapp Castle, the Painted Village and Jane Fonda's Ranch at Laurel Springs.
We ate dinner at Skandia Buffet in Santa Barbara.
 Monday (4 July 1983)
It being Independence Day, we left the Voegele brothers alone, and set forth to explore more offbeat attractions in Santa Barbara in the vicinity of SR 192 (Foothills Road) and SR154 (San Marcos Pass Road). Our first stop was Westmont College in Montecito, and the second was Cold Spring Tavern (5995 Stagecoach Road), 14 miles northwest of the city. Then, we went to see the Bradbury Dam on Lake Cachuma.
The community of Santa Ynez (pop. 5,600) named after Saint Agnes, and located 40 miles north of Santa Barbara, was our next target. We walked along Sagunto Street, which resembled the Old West. Proceeding further, we reached the community of Los Olivos (pop. 1,000), renowned for its wineries and tasting rooms. We stopped at Mattie's Tavern (2350 Railway Ave.), a stagecoach inn built in 1886, and at Firestone Vineyard (5000 Zaca Station Road). But both were closed.
At Los Olivos, the northern terminus of SR 154, we turned south on US 101 to return to Santa Barbara. We stopped at the McDonalds in Buellton (pop. 3,900) for lunch; and also at Pea Soup Anderson's for desert.
Then, we reached our main destination for the day: Solvang (pop. 5,400), a city of 2.5 square miles founded in 1911 by a group of Danish educators. The city's architecture, its Hans Christian Andersen statue, its restaurants, bakeries, shops and museums are all designed to promote its essential pride in all things Danish.
We returned to Summerland about 7 p.m. after three more short stops at Alisal Guest Ranch (in Solvang), Nojoqui Falls County Park and the hot springs in Gaviota State Park.
Later in the evening, Don Voegele took me to visit with his mother, Lorraine Myers, at her elegant home in the Riviera.
The next morning, Voegele joined us on our return journey to Fullerton.
Postscript
Before the end of my Fullerton Year, we spent another night at Voegele's' pad (new location: 590 Ribera St., Goleta)""'on Christmas Day on our return trip from San Francisco with my mother. I have already dwelled on it in 25 (Part B) of this series.
Although Voegele had a few steady female friends, he remained single. He was a nomad of sorts who taught as an adjunct in several two-year colleges. While on a camping trip in the Midwest, he and his significant other, Julia Christy, visited us in Minnesota.  But they preferred to sleep in their campervan rather than in the guest room we offered.
 Next: Palm Springs
(The writer is a professor of mass communications emeritus, Minnesota State University Moorhead.)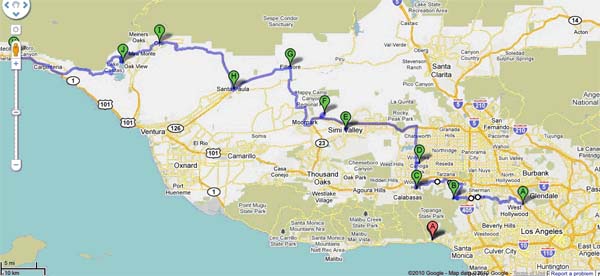 Figure 1: An Offbeat (124-mile) Route from Mulholland Drive (Los Angeles) to Summerland (Santa Barbara). A=Eastern terminus of Mulholland Drive in Hollywood Hills; B="Dirt Mulholland" at Water & Power Pole Road; C=Western terminus of Mulholland Drive, which turns into Mulholland Highway: D=Canoga Park; E=Simi Valley; F=Moorpark; G=Fillmore; H=Santa Paula; I=Ojai; J=Lake Casitas; K=Summerland. Red A=Getty Villa, Pacific Palisades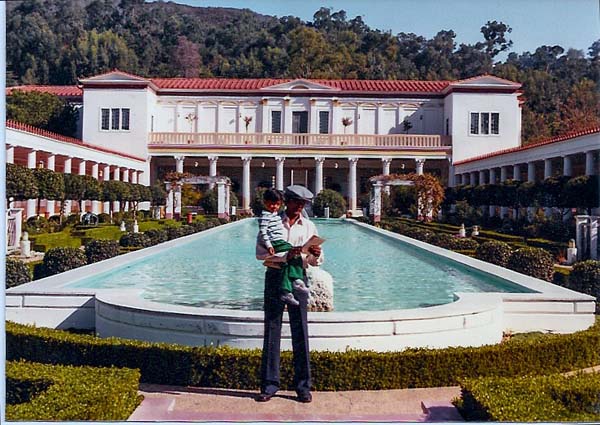 Picture 1: The author, with Junius in his arms, reads a brochure on J Paul Getty Museum in front of what is now called Getty Villa (23 Oct. 1983).
Picture 2:  The author and his son Junius enjoy their visit to the County Courthouse in Santa  Barbara.  (25 June 1983)