The Travels of a Journalist—38,HUNTINGTON, A SCHOLARS' DREAM;QUAINT SPOTS BECKON IN VICINITY
Posted on July 3rd, 2010
By Shelton A. GunaratneƒÆ'-¡ƒ"š'©2010
ƒÆ'-¡ƒ"š' Junius, Yoke-Sim and I visited The Huntington Library, Art Galleries and Botanical Gardens (1151 Oxford Road, San Marino), also known as The Huntington, on a Sunday afternoon (6 Nov. 1983). Located in the San Rafael Hills in the vicinity of Pasadena, it shares with Hearst Castle and Getty Villa the extraordinary attributes of scenic splendor and exuberant ambience. We spent about 2,5 hours to get a feel of the Huntington legacy.
The Huntington (estbd. 1928) was the first public art gallery opened in Southern California. When railroad magnate Henry E. Huntington died at the age of 77 in 1927 (three years after the death of his second wife Arabella Yarrington), the mansion they lived became the centerpiece of the art gallery and the library.
Library and Art Collection
Arabella Huntington, who died at the age of 74 in 1924, is acknowledged ƒÆ''¢ƒ¢-¡'¬ƒ…-the force behind the art collectionƒÆ''¢ƒ¢-¡'¬ƒ"š' at The Huntington. She was a collector of art, jewelry, antiques and other luxury items. Her particular interests were in old master's, Medieval and Renaissance devotional images, and Louis XIV Louis XV furniture and decorative arts.
The Huntington library, Wikipedia elaborates, stands out because:
It holds an extensive collection of rare books and manuscripts, which include a Gutenberg Bible, the Ellesmere manuscript of Chaucer, and thousands of historical documents about Abraham Lincoln, including the papers of his bodyguard, Ward Hill Lamon.

ƒÆ'-¡ƒ"š' It holds some 6.5 million manuscripts and more than a million rare books, which are among the most heavily used in the United States. Every year, more than 1,700 scholars come from all over the world to study these rare materials.

It is the only library in the world with the first two quartos of Hamlet, as well as the manuscript of Benjamin FranklinƒÆ''¢ƒ¢-¡'¬ƒ¢-¾'¢s autobiography, the first seven drafts of Henry David Thoreau's Walden, the double-elephant folio edition of John James Audubon's Birds of America, a collection of manuscripts and first editions of the works of Charles Bukowski, and many other great treasures.
In 2010, the library acquired 35 personal letters, 28 of which never published, written by Charles Dickens (1812-1870), my favorite British author. The Huntington already holds about a thousand letters by Dickens, as well as other manuscripts relating to his work and 49 original drawings by ƒÆ''¢ƒ¢-¡'¬ƒ…-PhizƒÆ''¢ƒ¢-¡'¬ƒ"š' for DickensƒÆ''¢ƒ¢-¡'¬ƒ¢-¾'¢ Nicholas Nickleby.
Botanical Gardens
The 120-acre botanical gardens of The Huntington follow the same theme approach that we saw at the USCR Botanic Gardens in Riverside and the L.A. State and County Arboretum in Arcadia.ƒÆ'-¡ƒ"š'  The gardens exhibit some 14,000 different varieties of plants in more than a dozen themed sections: Australian Garden, Camellia Collection, Children's Garden, Chinese Garden, Cycads [largest collection of the sculptural and 'palm-like' cycads in U.S.], Desert Garden and Conservatory, Herb Garden, Japanese Garden and Zen Garden, Lily Pond, North Vista, Palm Garden, Rose Garden, Rose Hill Foundation Conservatory for Botanical Science, Shakespeare Garden, and Subtropical and Jungle Garden.
Admission to The Huntington is free to all visitors on the first Thursday of every month. General admission on weekdays is $15; and on weekends $20. Closed Tuesdays.
In the Vicinity
We also stopped at several offbeat attractions in the vicinity of The Huntington within an area ranging from 30 miles west of the library to 20 miles southeast. :
ƒÆ'-¡ƒ"š'¨ƒÆ'-¡ƒ"š' ƒÆ'-¡ƒ"š' ƒÆ'-¡ƒ"š' ƒÆ'-¡ƒ"š' ƒÆ'-¡ƒ"š'  M=Will Rogers State Historic Park (14253 Sunset Blvd., Pacific Palisades), which we visited on a SaturdayƒÆ'-¡ƒ"š'  (22 Oct. 1983). [Use key to locate attraction in Figure 1]
Located six miles northeast of the Getty Villa, the park is 30 miles southwest of The Huntington. This is the 186-acre property that Will Rogers (1879-1935), the American trick-roper ƒÆ''¢ƒ¢-¡'¬ƒ…-cowboy philosopher,ƒÆ''¢ƒ¢-¡'¬ƒ"š' purchased in 1922 to establish his 31-room ranch home, which includes 11 baths and seven fireplaces. Surrounding the home are a stable, corrals, riding ring, roping arena, golf course, polo field – and riding and hiking trails.
ƒÆ'-¡ƒ"š' Rogers, his wife Betty and their three childrenƒÆ''¢ƒ¢-¡'¬ƒ¢¢"š¬'Will Jr., Mary and JamesƒÆ''¢ƒ¢-¡'¬ƒ¢¢"š¬'lived here. The ranch became a state park in 1944 after the death of Betty Rogers.
Rogers wrote his most famous epigramƒÆ''¢ƒ¢-¡'¬ƒ¢¢"š¬'his epitaphƒÆ''¢ƒ¢-¡'¬ƒ¢¢"š¬'in 1930.ƒÆ'-¡ƒ"š'  It reads:
When I die, my epitaph or whatever you call those signs on gravestones is going to read: "I joked about every prominent man of my time, but I never met a man I didnƒÆ''¢ƒ¢-¡'¬ƒ¢-¾'¢t like." I am so proud of that I can hardly wait to die so it can be carved. And when you come to my grave you will find me sitting there, proudly reading it.
We toured the patio and the north and south wings of the ranch house. However, we were allowed only into the living room. We walked a mile to the Inspiration Point on Santa Monica Mountains to see the layout of the entire property, including the polo field to the south.ƒÆ'-¡ƒ"š' ƒÆ'-¡ƒ"š' ƒÆ'-¡ƒ"š' ƒÆ'-¡ƒ"š' 
ƒÆ'-¡ƒ"š'¨ƒÆ'-¡ƒ"š' ƒÆ'-¡ƒ"š' ƒÆ'-¡ƒ"š' ƒÆ'-¡ƒ"š' ƒÆ'-¡ƒ"š'  L=Forest Lawn @Hollywood Hills (6300 Forest Lawn Drive). We visited this and the next attractions on a Saturday (5 Nov. 1983). [L is 22 miles north and east of M]
Part of the Forest Lawn chain of six privately owned cemeteries in Southern California, many famous people are buried or entombed here. Its three main features are the Court of Liberty, Lincoln Terrace, and Plaza of Mesoamerican Heritage. In the court, we saw the Hall of Liberty American History Museum, the Old North Church; the Birth of Liberty mosaic; and the statues of Washington and Jefferson.
ƒÆ'-¡ƒ"š'¨ƒÆ'-¡ƒ"š' ƒÆ'-¡ƒ"š' ƒÆ'-¡ƒ"š' ƒÆ'-¡ƒ"š' ƒÆ'-¡ƒ"š'  K=Forest Lawn Memorial Park @Glendale (1712 S. Glendale Ave.). [K is about eight miles east and southeast of L]
This is the original location of the Forest Lawn chain of privately owned cemeteries founded in 1906 by a group of businessmen from San Francisco. The group hired Dr. Hubert Eaton, a firm believer in a joyous life after death, to create a cemetery complex that reflected his optimistic Christian beliefs.
Here we saw the stained-glass recreation of Leonardo da VinciƒÆ''¢ƒ¢-¡'¬ƒ¢-¾'¢s ƒÆ''¢ƒ¢-¡'¬ƒ…-The Last SupperƒÆ''¢ƒ¢-¡'¬ƒ"š' at the Memorial Court of Honor. In the Hall of the Crucifixion-Resurrection, we saw Polish artist Jan StykaƒÆ''¢ƒ¢-¡'¬ƒ¢-¾'¢s 45×195-ft. ƒÆ''¢ƒ¢-¡'¬ƒ…-CrucifixionƒÆ''¢ƒ¢-¡'¬ƒ"š' and its companion, the 51×70-ft. ƒÆ''¢ƒ¢-¡'¬ƒ…-Resurrection.ƒÆ''¢ƒ¢-¡'¬ƒ"š' At the adjoining museum, we saw Lorenzo GhibertiƒÆ''¢ƒ¢-¡'¬ƒ¢-¾'¢s ƒÆ''¢ƒ¢-¡'¬ƒ…-Paradise DoorsƒÆ''¢ƒ¢-¡'¬ƒ"š' and a gem collection. The park contains a major collection of white Carrara [Italy] marble statuary. We also visited the Freedom Mausoleum, the Court of Freedom, the Mystery of Life, the Court of David and the Court of Christos.
The private entombing of Michael Jackson in the privacy of Holly Terrace in the Great Mausoleum received much media attention in 2009.
ƒÆ'-¡ƒ"š'¨ƒÆ'-¡ƒ"š' ƒÆ'-¡ƒ"š' ƒÆ'-¡ƒ"š' ƒÆ'-¡ƒ"š' ƒÆ'-¡ƒ"š'  J=Church of the Angels (1050 N Ave. 64, Pasadena). Junius, Yoke-Sim and I visited this and the next five attractions on a Sunday (6 Nov. 1983). [J is four miles east and northeast of K]
This picturesque Episcopalian church encompasses an area that was once part of the Rancho San Rafael property. Frances, the wife of Alexander Robert Campbell-Johnson, built it to honor her husband. It is one of the oldest stone buildings in the area and has an imported stained glass masterpiece above the altar. The priest stopped to talk to us just after the service.
ƒÆ'-¡ƒ"š'¨ƒÆ'-¡ƒ"š' ƒÆ'-¡ƒ"š' ƒÆ'-¡ƒ"š' ƒÆ'-¡ƒ"š' ƒÆ'-¡ƒ"š'  I=Gamble House (4 Westmoreland Place, Pasadena). [I is two or three miles northeast of J]
David B. Gamble House, another National Historic Landmark constructed in 1908/9, is an outstanding example of American Arts and Crafts style architecture that focuses on use of natural materials, attention to detail, aesthetics and craftsmanship. Following the deaths of David and Mary Gamble in the mid-1920s, the Gamble family ceded the property to the city of Pasadena in 1944. The house and its garage served as the exterior of Doc Brown's mansion in the 1985 film trilogy Back to the Future, an American science-fiction adventure comedy.
ƒÆ'-¡ƒ"š'¨ƒÆ'-¡ƒ"š' ƒÆ'-¡ƒ"š' ƒÆ'-¡ƒ"š' ƒÆ'-¡ƒ"š' ƒÆ'-¡ƒ"š'  H=Pacific Asia Museum (46 N. Los Robles Ave.) [H is 1.5 miles east of I]
This museum, specializing in Asian art, occupies the Nicholson Building, a National Historic Landmark constructed in 1924/6. Grace Nicholson, a dealer in Native American and Asian art and antiques, founded the museum. A 2009 exhibit focused on the mash-up of Chinese calligraphy and American graffiti. One of its current exhibits is titled ƒÆ''¢ƒ¢-¡'¬ƒ…-Visualizing Faith: Buddhist Art in Thailand.ƒÆ''¢ƒ¢-¡'¬ƒ"š'
[G=THE HUNTINGTON is three miles east and south of H]
ƒÆ'-¡ƒ"š'¨ƒÆ'-¡ƒ"š' ƒÆ'-¡ƒ"š' ƒÆ'-¡ƒ"š' ƒÆ'-¡ƒ"š' ƒÆ'-¡ƒ"š'  F=El Molino Viejo (1120 Old Mill Road, San Marino). [F is 2 miles southwest of G]
Father JosƒÆ'†'ƒ"š'© Maria de Zalvidea from the Mission San Gabriel ArcƒÆ'†'ƒ"š'¡ngel (San Gabriel Mission) built El Molino Viejo (the Old Mill) in 1816. (According to legend, the priest used Indian labor to build the water-powered gristmill on the burial spot of Catalina, a 16-year-old Indian, who died of sorrow when handsome Jose did not return after a two-year stint on a ship. Catalina had offered roses to Virgin Mary in hopes of JoseƒÆ''¢ƒ¢-¡'¬ƒ¢-¾'¢s return but turned her back on Virgin Mary when Jose decided not to return. The water gushing out of the millƒÆ''¢ƒ¢-¡'¬ƒ¢-¾'¢s natural spring is CatalinaƒÆ''¢ƒ¢-¡'¬ƒ¢-¾'¢s stream of tears!) It is the oldest commercial building in Southern California and a historic landmark.
ƒÆ'-¡ƒ"š'¨ƒÆ'-¡ƒ"š' ƒÆ'-¡ƒ"š' ƒÆ'-¡ƒ"š' ƒÆ'-¡ƒ"š' ƒÆ'-¡ƒ"š'  E=Mission San Gabriel ArcƒÆ'†'ƒ"š'¡ngel (428 S. Mission Drive, San Gabriel). [E is 3 miles southeast of F]
Father Juniper Serra founded the Roman Catholic mission in San Gabriel (current pop. 40,000) in 1771 as the fourth of the 21 Spanish missions in California. Its aim was to convert the areaƒÆ''¢ƒ¢-¡'¬ƒ¢-¾'¢s Tongva native tribe.ƒÆ'-¡ƒ"š'  Father Antonio Cruzado from Cordoba (Spain) designed the mission to give it a Moorish architectural look. Its capped buttresses and the tall, narrow windows are unique among the California missions. (Note: Asians make up 49 percent of the cityƒÆ''¢ƒ¢-¡'¬ƒ¢-¾'¢s population compared with 33.4 percent white.)
ƒÆ'-¡ƒ"š'¨ƒÆ'-¡ƒ"š' ƒÆ'-¡ƒ"š' ƒÆ'-¡ƒ"š' ƒÆ'-¡ƒ"š' ƒÆ'-¡ƒ"š'  D=Industry Hills Expo Center [D is 10 miles south and southeast of E]
This is a multi-purpose arena in the city of Industry (pop. 777 in 2000). Built in 1981, it seats more than 5,000 spectators. It is home to the Los Angeles Lynx of the National Indoor Football League.ƒÆ'-¡ƒ"š'  It also houses the Ralph W. Miller Memorial Golf Library. Industry is home to more than 2,200 businesses, and is almost entirely industrial.
ƒÆ'-¡ƒ"š'¨ƒÆ'-¡ƒ"š' ƒÆ'-¡ƒ"š' ƒÆ'-¡ƒ"š' ƒÆ'-¡ƒ"š' ƒÆ'-¡ƒ"š'  C=Whittier Narrows Nature Center (South El Monte). My mother and I visited this attraction and the next two on a Saturday (21 Jan. 1984). [C is 4.5 miles southwest of D]
Located in South El Monte (pop. 21,200), this multi-use facility contains North Lake, Center Lake, and Legg Lake (where visitors can operate radio-controlled model speedboats, a rifle and pistol shooting range, numerous softball and soccer fields with picnic tables, a paved airstrip for radio-controlled hobby aircraft, and a connector trail between the Class I Rio Hondo bicycle path and the San Gabriel River bicycle path.
ƒÆ'-¡ƒ"š'¨ƒÆ'-¡ƒ"š' ƒÆ'-¡ƒ"š' ƒÆ'-¡ƒ"š' ƒÆ'-¡ƒ"š' ƒÆ'-¡ƒ"š'  B=Rose Hills Memorial Park (Whittier). [B is 3 miles southeast of C]
This is the largest cemetery in the United States. It features three mausoleums: Whittier Heights Mausoleum (built in 1917), El Portal de la Paz /Doorway of Peace (dedicated in 1930) and The Buddhist Columbarium (built in 1999). The columbarium is located on 2.5ƒÆ'-¡ƒ"š' acres at the highest elevation of Rose Hills, the largest Buddhist pagoda in the United States.
ƒÆ'-¡ƒ"š'¨ƒÆ'-¡ƒ"š' ƒÆ'-¡ƒ"š' ƒÆ'-¡ƒ"š' ƒÆ'-¡ƒ"š' ƒÆ'-¡ƒ"š'  A=Pio Pico State Historical Park (6003 Pioneer Blvd., Whittier). [A is 5.5 miles southwest of A]
This the site of "El Ranchito," also known as the Pio Pico Adobe or Pio Pico Mansion, the final home of PƒÆ'†'ƒ"š'­o de Jesus Pico (1801-1894), the last governor of Alta California under Mexican Rule and a pivotal figure in early California history.
ƒÆ'-¡ƒ"š' Next: Conclusion of California Series
(The writer is professor of mass communications emeritus, Minnesota State University Moorhead.)
ƒÆ'-¡ƒ"š'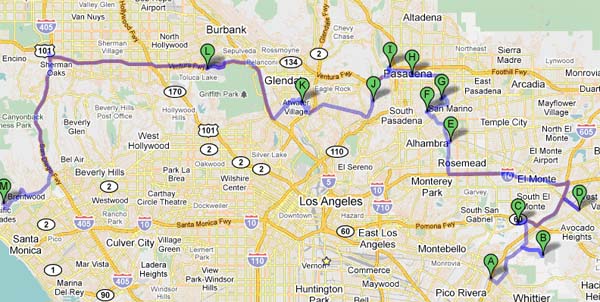 Figure 1: Selected Offbeat Attractions Around G=The Huntington.ƒÆ'-¡ƒ"š'  The text identifies each attraction by its key.
ƒÆ'-¡ƒ"š' 

ƒÆ'-¡ƒ"š' Picture 1: The Huntington in San Marino
Source: Wikimedia Commons
ƒÆ'-¡ƒ"š'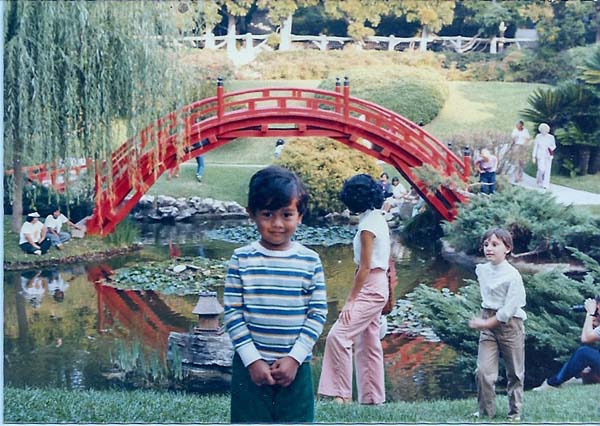 Picture 2: Junius Gunaratne expresses his satisfaction with the visit to the Japanese Gardens of The Huntington (6 Nov. 1983)
ƒÆ'-¡ƒ"š' ƒÆ'-¡ƒ"š' ƒÆ'-¡ƒ"š' 
Picture 3: Yoke-Sim guides Junius at the Will Rogers State Historic Park in Pacific Palisades (23 Oct. 1983)