The Travels of a Journalist,-ABOUT BOWERS, BOATS AND BUDDIES:TIES BEYOND CULTURAL BARRIERS -(PART 2)
Posted on August 31st, 2010
By Shelton A. Gunaratne ©2010   professor of mass communications emeritus, Minnesota State University Moorhead.
Minnesota (pop. 5.23 million) is known as the "Land of 10,00 Lakes." Therefore, it is no wonder that Minnesotans like water sports such as boating, canoeing, fishing and water skiing. Weekend trips to family cabins on Minnesota's numerous lakes are a way of life for many Minnesotans. This also explains why Minnesotans would make an extra effort to introduce their foreign friends to these sports.
Bowers used boating to break cultural barriers and become a lifelong friend of mine. He and I both had to accept and reject parts of each other's culture to foster our friendship. My travels and tall tales presumably made him curious about Buddhism and the Asian lifestyle. He was utterly fascinated by my addiction to wearing a sarong for comfort.
However, his attempt to cope with a sarong on a visit to Sri Lanka in 2000 ended up in utter disaster.
Although Bowers does not call himself a Buddhist, he readily concedes the diagnosis of life embedded in the Four Noble Truths and the benefits of vipassana meditation.  When I visited his Rosemount farm several years ago, I expressed the opinion that the five-acre area surrounding one of the two farmhouses had the ideal setting for a meditation center. Bowers implemented my recommendation by donating the self-same piece of leased farmland to the Minnesota Buddhist Vihara. 
Bowers and Boating
Now, let me chronologically trace how the ties of friendship developed between two people whose cultural backgrounds were very different but complementary like the yin and the yang. Travel propelled this friendship.
It was James Kenneth Bowers who introduced me to boating on Independence Day (4 July) 1969. At the time, the Bowerses (Jim and Kate) were living in an apartment complex in Spring Park in the affluent Wayzata area in Greater Minneapolis. They had planned to celebrate the national holiday with several other young couples""'including the Arnesons (Dick and Diane), the Blackmuns (Larry and Sharon) and the Mentors (Bob and Elaine)""'in the apartment complex. Perhaps Bowers brought me there for display as his exotic foreign friend. He introduced me to all of his party pals.  Everyone was curious about the sarong I wore. They mistook it to be a "dress."
After eating some hot egg-salad sandwiches, we repaired to the adjacent Lake Minnetonka to try our hands (and feet, to boot) in sailing. It so happened that our gathering, bar me, was a group of hard-core boating enthusiasts with a sybaritic bent. First, I got shoved into a small wooden "D scow" (a flat-bottomed boat with a blunt bow), presumably to orient me on the art of sailing. Then, I was deemed fit to sail on an "A scow," a bigger (38 ft. x 7 ft.) boat with a 40-foot mast.
Boating enthusiasts speak of at least nine types of sailboats""'ranging from catboats to yawls""'although I was too much of a greenhorn to figure out the two types of boat I was on. All I learnt was that a sailboat propels itself partly or entirely by its sails. The bigger boat, owned by Blackmun and two others, had a triangular staysail (called a jib) set ahead of its foremast.
"That "ƒ"¹…"A scow' was the last wooden sailboat seen on Lake Minnetonka," Bowers later told me.
Following the sail boating experience, we celebrated the day with a picnic dinner enlivened by the sound and sight of lighted firecrackers.
 After the party, Bowers accompanied me to a place called Downbeat for a parting drink.
Bowers and I kept close contact with each other at coffee, lunch or dinner from then on. We huddled with Davis and Kent to plan our August trip to Berkeley. Late July, the Bowerses took me for dinner at the apartment of Atashi Acharya, an Indian graduate student. After dinner, we went to see the rock-musical play "The House of Leather" at the Crawford-Livingstone Theater in St. Paul. The Bowerses again joined Davis and me for dinner at Lido CafƒÆ'†'© late August. 
Davis and I, together with Kristin Johnson, paid a three-hour visit to the Bowerses in Spring Park on a Friday (6 Feb. 1970) in the thick of winter. However, the next opportunity for boating did not arise until a Sunday (24 May) afternoon in summer 1970.  That morning, three of the SJMC graduate students""'Susan Finke, Bowers and I""'attended the Kappa Tau Alpha initiation banquet at the Sheraton Ritz hotel. KTA is the national honor society in journalism and mass communication.
I wrote in my diary: "Later, Jim [Bowers] took me to his place in Spring Park, where we went sailing on Lake Minnetonka. I operated the jib [small foremost sail of the scow] during the four-hour sailing trip."  I wore a sarong, Ceylon style, again on that occasion.
Dick Arneson, another buddy of Bowers', was the other crewmember on the scow. Kate, Jim's then wife, prepared a nice dinner for us after the trip. I stayed overnight at the Bowerses' apartment. After eating breakfast next morning, Bowers and I returned to Minneapolis, where we ate lunch at Sammy D's.
The third occasion for sail boating arose on a Thursday (3 Sept. 1970) afternoon, when Bowers and his cousin Gary brought Mary Stevens, a visitor from Oregon, and me to Spring Park. All of us enjoyed a memorable bout of sailing a swath of Lake Minnetonka aboard Bowers' 17-ft.-long scow. Following this exercise, we ate a pizza and burgundy dinner at the Bowerses' apartment.
Almost four months later, Davis and I visited the Bowerses' home in Spring Park on the Tuesday before Christmas (22 Dec. 1970) to celebrate Bowers' success in the M.A. oral examination. It turned out to be a very enjoyable evening graced by the presence of the sailboat "gang"""'the Arnesons, the Blackmuns, the Liebenows (Walther and Alvira) and several others. "We drank wine and talked on and on," I jotted down. Rumor had it that a certain lady, who was unable to control her bacchanalian propensity, dropped her bra at this party. Because I was not present at the right place at the right time to witness the shape and size of her mammary, I am unable to vouch for the accuracy of the rumor.
I volunteered to drive back Davis's car after the party. But a cop, who noticed my unsteady driving, stopped me and advised Davis to do the driving.
Again, on the last Wednesday of the year (30 Dec. 1970), Davis and I were back in the Bowerses' Spring Park apartment for another party to celebrate the reunion of a group of students who, together with me, completed the 1970 summer seminar of the Institute of World Affairs in Salisbury, Conn.""'Judy Jew, Carolyn [?], Hiroko Kimura, Tammy Hall and her friend Nancy (who later married Davis). The Bowerses and their boating sybarites did an excellent job as hosts.
I took up a full-time research fellowship with the university's Bureau of Institutional Research in the first half 1971, when a lull occurred in our visits to Spring Park.
On the first Thursday in July 1971, just nine days before I left for Ceylon to do field research for my doctoral dissertation, I invited the Bowerses for dinner at Sammy D's. Kate was in the last month of her first pregnancy at the time.
After I returned to Minnesota in March 1972 to write my dissertation, I met with Bowers for lunch at Bridgeman's in Dinkytown on a Wednesday (29 March).
On a Friday in mid-May (19 May 1972), the Bowerses invited me to attend a party in celebration of Dick Arneson's birthday. They had moved out of their apartment in Spring Park to a home on Casco Point Road (in Orono), less than a mile southeast on the banks of Lake Minnetonka.  [The Bowerses had moved into their new home on the same day that Kate gave birth to Perry in July 1971.] After dinner, I gave a slide presentation on my visit to Sri Lanka (Ceylon). I stayed overnight with the Bowerses.
I spent the next morning writing poetry on the bank of Lake Minnetonka overlooking Spring Park Bay.  Bowers and I visited a friend in the afternoon to help him put a mast on a sailboat. After dinner, Bowers lent me a roller bed, a shelf, a chair and a table before he brought me back to my new place of lodging.
I completed writing my doctoral dissertation by the end of July 1972, and successfully defended it on 16 Aug. 1972. Both Kent and Bowers joined in the celebration. (Davis had taken off to accept a teaching job in Canada, partly as a ploy to avoid the draft.)
Almost immediately thereafter, I left for Missouri to take up my first full-time teaching job.
I returned to Minnesota in January 1974 for a two-month consultancy with the World Press Institute after completing my temporary teaching assignments in Missouri and Florida. My job in Malaysia was scheduled to start in March. 
Bowers came to see me on the second Wednesday (9 Jan.) of 1974. He took Marie ["¦] and me for dinner at a Lebanese restaurant in Minneapolis. Bowers also joined a farewell dinner for me on a Friday (8 March) at Howard Wang's organized by my Dinkytown apartment mates""'Judson Person and the Buetow sisters""'Geruth and Tammy.
My next visit to Minnesota was in May 1977 to participate in the reunion of the 1966-67 group of World Press Institute fellows. Sunday (8 May), Bowers picked me up at the home of Ann "Topsy" Ritz, who has hosted many WPI journalists, in Wayzata.
Bowers brought me to his home in Orono, and introduced me to his 6-year-old son, Perry, who was happy to play with the toy bus I gave as a present. Bowers had sold his scow and bought an aluminum four-seat powerboat (17-ft. long with a 40 horsepower outboard motor) from his father. He took me for a ride on the "new" powerboat, his favorite.
It was my fourth boat ride on Lake Minnetonka with Bowers. After eating dinner at his home, Bowers and I stopped at a couple of places in downtown Saint Paul before he dropped me off. 
"I never sold that powerboat," Bowers told me recently. "I still have it in storage."
I visited the Bowerses (Jim and Kate) in Orono again on Saturday (14 May) with WPI journalist Ben Antao and my Dinkytown buddies George Staples and the Persons (Jud and Laurie). Diane Arneson joined the Bowerses to welcome us. The usual gang of boating sybarites was present. Because Indians are stereotypically thought of as mystics, the party requested Antao, an Indian from Goa, to read the palms of those who did not mind a public reading. Antao read Bowers' palms, declared Bowers a "debauchee" and terminated reading Bowers' palms. Bowers' behavior at the party was consistent with Antao's palm reading.
I did not meet with Bowers for the next eight years until I quit my lectureship in an Australian degree factory and returned to Minnesota to work in an environment more conducive to academic advancement.
Post-1985 Developments
When I returned to Minnesota in late 1985 to accept a tenured faculty position in Moorhead, the personal lives of Bowers and me had changed. Bowers, divorced since 1984, had become a wealthy businessman running a business in gravel mining for road construction. I was married with two young children still striving to catch up with my academic standing lost in the Oz wilderness. But my ties with Bowers withstood our changed circumstances even though we lived some 250 miles apart.
I suppose that Bowers' academic training in mass communication improved his understanding of how to use communication for success in business.
(To be continued)
 (The writer is a professor of mass communications emeritus, Minnesota State University Moorhead.)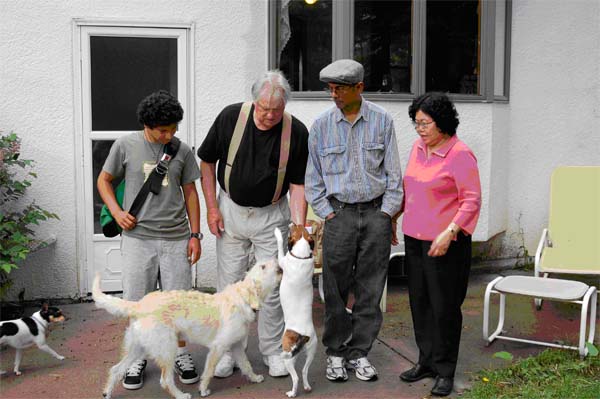 Picture 1:  Jim Bowers (second from left) with his grandson Kieran Jayasuriya (left) and the Gunaratnes in front of Bowers' Rosemount farmhouse. Their dogs (from left) Cosmo [Gunaratne], Lady and Peanuts also wanted to be in the picture.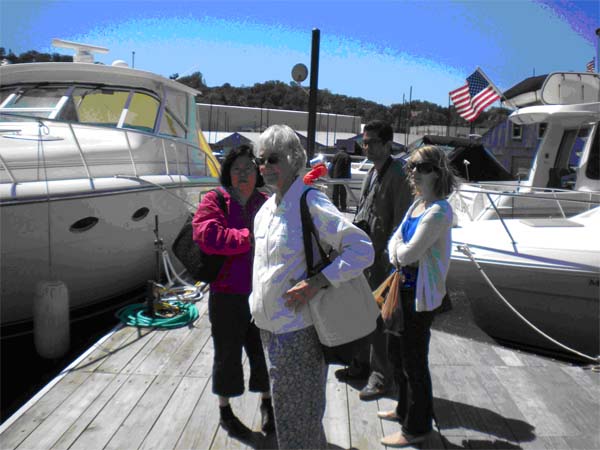 Picture 2: At the marina in Red Wing, waiting to board Bowers' Tiara express cruiser: (from left) Yoke-Sim Gunaratne, Beth Kent, Junius Gunaratne and Lindsay Bennett (15 Aug. 2010).
PHOTO by Kurt Kent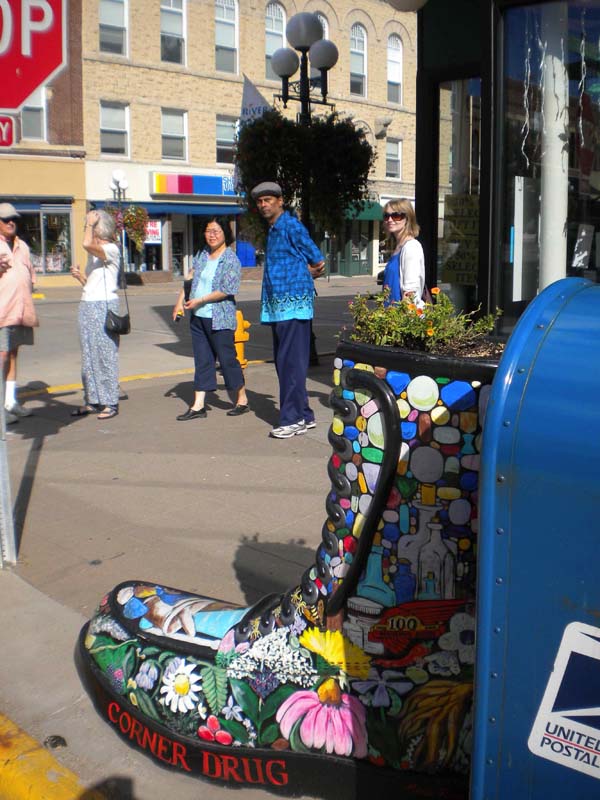 Picture 3: Walking the streets of downtown Redwing, Minn. (from left) are Bowers, Beth Kent, Yoke-Sim & Shelton Gunaratne, and Lindsay Bennett (15 Aug. 2010).
PHOTO by Kurt Kent