The Travels of a Journalist-ABOUT BOWERS, BOATS AND BUDDIES:Widening ties and reaping benefits of bhavana (PART 4)
Posted on September 14th, 2010
By Shelton A. Gunaratne ƒÆ'-¡ƒ"š'©2010
Professor of mass communications emeritus, Minnesota State University Moorhead
ƒÆ'-¡ƒ"š' If I were Charles Dickens, I would have written a novel on James K. Bowers, my long-time pal who has used Lake Minnetonka as his habitat for four decades. He lived the life of a sybarite in his younger days, and used his exuberant business skills, as well as the business reputation of his father-in-law AndrƒÆ'†'ƒ"š'¨s Perry, to become reasonably rich. Bowers had a huge ego until he realized that the Buddhist notion of anatta (no self) was better at freeing oneƒÆ''¢ƒ¢-¡'¬ƒ¢-¾'¢s mind from clutter. Eventually, he realized the vanity of flaunting his masterƒÆ''¢ƒ¢-¡'¬ƒ¢-¾'¢s degree to those who doubted his academic and intellectual credentials. Despite his extravagant lifestyle, he found great satisfaction in establishing ties with ƒÆ''¢ƒ¢-¡'¬ƒ…-aliensƒÆ''¢ƒ¢-¡'¬ƒ"š' like me. Thus, when he found life to be unsatisfactory (dukkha) even as he reached his 60s, he began to use meditation as a technique to rid the defilements off his mind.
But to tell the story of BowersƒÆ''¢ƒ¢-¡'¬ƒ¢-¾'¢ extravagant lifestyle and his eventual transformation, I have to provide the context of how I (and my family) became one of the elements in the anicca process of ongoing change.ƒÆ'-¡ƒ"š' 
The context
ƒÆ'-¡ƒ"š' I returned to Minnesota with my familyƒÆ''¢ƒ¢-¡'¬ƒ¢¢"š¬'wife Yoke-Sim, son Junius (b. 1980) and daughter Carmel (b. 1984)ƒÆ''¢ƒ¢-¡'¬ƒ¢¢"š¬'on a Friday in late-November (28 Nov. 1986). All of us had become green card holders. Another chapter of our lives had begun!
Settling down in the Fargo-Moorhead Metropolitan Area (pop. 195,685) and adjusting to a new social environment restricted our travel beyond the immediate surroundings. We settled down in Apartment 102 at Windwood Estates (2551 Villa Drive) in Fargo, North Dakota. My workplace, Moorhead State University (now Minnesota State University Moorhead), was about five miles away across the Red River to the east.
Because the public transportation system in Fargo-Moorhead was not very satisfactory, we gave the highest priority to purchasing a car. After reading the Consumer ReportsƒÆ''¢ƒ¢-¡'¬ƒ¢-¾'¢ evaluations on the best value-for-money cars, we decided on a 1987 five-door Toyota Camry station wagon because of its fuel economy and suitability for camping. The dealer, Tim Corwin Buick-Toyota, delivered the car on a Wednesday (17 Dec. 1986). Without the extras, the car cost us $12, 132 (or $23,700 in 2010 adjusted for inflation). I still use this car as the secondary family vehicle. Its current (early September 2010) mileage stood at less than117,000.
Continuing saga
Now, back to the saga of Bowers, my friend extraordinaire. Still, 234 milesƒÆ''¢ƒ¢-¡'¬ƒ¢¢"š¬'the distance between Moorhead and ExcelsiorƒÆ''¢ƒ¢-¡'¬ƒ¢¢"š¬'separated us geographically. Despite our 20 years of friendship, Bowers had never met the family I raised in absentia. I tried to telephone Bowers on a Friday (19 Dec. 1986) evening. Because he failed to answer, I left a voice message asking him to call back. He responded 12 days later on the last Wednesday of the year (31 Dec. 1986), when we celebrated the New YearƒÆ''¢ƒ¢-¡'¬ƒ¢-¾'¢s Eve with the Hettiaratchchys (Jayadeva and Navam). Bowers told me the reason for the delay in responding to my voice message: he had just returned home from a holiday in Mexico with his son Perry.
In 1987, I became an active member of the Inter Faculty Organization (IFO) and the much larger Minnesota Education Association (MEA), the bargaining units for Minnesota teachers. This involvement required me to visit the Twin Cities quite often to attend meetings of the MEA Representative Assembly or its Communication Council. Invariably, most of these visits also resulted in an overnight stay at BowersƒÆ''¢ƒ¢-¡'¬ƒ¢-¾'¢ home.
Carmel, Junius and Yoke-Sim visited the BowersƒÆ''¢ƒ¢-¡'¬ƒ¢-¾'¢ home for the first time on the first Saturday of March 1987 (7 March)ƒÆ''¢ƒ¢-¡'¬ƒ¢¢"š¬'the day after I attended an MEA Representative Assembly meeting at the Radisson South in Bloomington. We stayed overnight at BowersƒÆ''¢ƒ¢-¡'¬ƒ¢-¾'¢ home, even though Bowers and his son Perry were in Florida that weekend. In their absence, I was surprised to run into Cris Higgin, who split up with Bowers the previous year.
On another Saturday (May 2), Bowers picked me up solo at the Holiday Inn at the Capitol after I attended a Sigma Delta Chi workshop on magazine reporting. On this occasion, we decided to eat dinner at the Ceylon Restaurant (2008 Lyndale Ave. S., Minneapolis) owned by Indi Tambiah, the estranged better half of Evans Balasooriya. Afterwards, Bowers took me to RupertƒÆ''¢ƒ¢-¡'¬ƒ¢-¾'¢s, a popular bar/restaurant on Highway 12, to imbibe a couple of non-alcoholic drinks. Back at BowersƒÆ''¢ƒ¢-¡'¬ƒ¢-¾'¢ home, where I spent the night, we had a chat with Perry and two of his pals. The next morning, Bowers and I walked from his home to eat brunch at the Park Beach Eatery in Spring Park. In the afternoon, he dropped me off at the airport.
Another Friday (16 Oct.), Bowers and dog Rosie picked me up yet again at the Holiday Inn at the Capitol and took me to his home. In the evening, Bowers and I went to Blue Point restaurant in Wayzata for dinner, which included Boston mackerel, hash browns and broccoli. Early Saturday (17 Oct.) morning, Bowers shared a quick breakfast with me and left Spring Park for Milwaukee, Wis., to join a high school reunion and see his ƒÆ''¢ƒ¢-¡'¬ƒ…-birth daughterƒÆ''¢ƒ¢-¡'¬ƒ"š' Diane Mathisen. (Bowers explained that he was unaware of the existence of an out-of-wedlock daughter that he had fathered until she sprang a surprise by appearing at his doorstep.)ƒÆ'-¡ƒ"š'  On the way, he dropped me off at the home (2023 Dayton Ave., Saint Paul) of my old friend Gordon Erskine, whom I had not seen for10 years.
My family moved into our newly constructed home (at 3215 Village Green Drive) in Moorhead on a Monday (28 Sept.). We checked out of our apartment in Windwood Estates in Fargo on a Wednesday (30 Sept.). Yoke-Sim and I celebrated our 11th wedding anniversary on a Friday (11 Sept.).
Next, we invited Bowers to visit us at our new home in Moorhead and be the chief guest at our New YearƒÆ''¢ƒ¢-¡'¬ƒ¢-¾'¢s Eve party, which almost became an annual ritual from then on.
Bowers arrived with dog Rosie on the last Thursday of the year (31 Dec. 1987). I believe that this was the first time that Bowers met with the rest of my immediate family. [However, he was the host of my younger sister Kanthi when she visited the Twin Cities in 1973. Subsequently, he also met with my mother on 7 May 1989 when she arrived in Minneapolis from London for a 14-week stay with us. I doubt that Bowers had the opportunity to meet with my older sister Rani, who arrived in Fargo a week later and stayed with us for 13 weeks.] Bowers enlivened the party with glib conversation and display of knowledge. Both he and Rosie stayed overnight at our home. Several faculty colleagues and friends of mine joined this party.
The ties between BowersƒÆ''¢ƒ¢-¡'¬ƒ¢-¾'¢ family and mine got stronger from then on.
ƒÆ'-¡ƒ"š' From 1987 through 2005, Bowers attended 14 of our New YearƒÆ''¢ƒ¢-¡'¬ƒ¢-¾'¢s Eve parties in Moorhead invariably accompanied by his dog Rosie or (after RosieƒÆ''¢ƒ¢-¡'¬ƒ¢-¾'¢s death) by Peanuts. His second wife Kathleen, whom he married in September 1991, also accompanied him on eight occasions. Thrice he came with his grandson Kieran Jayasuriya, the son of PerryƒÆ''¢ƒ¢-¡'¬ƒ¢-¾'¢s wife Carlie BenƒÆ'†'ƒ"š'¨ by her first marriage to a Sri Lankan.
ƒÆ'-¡ƒ"š' Next, my family and I visited Bowers on Saturday (7 May 1988), again on a trip to Minneapolis to attend a meeting of the MEA Representative Assembly at the Sheraton Park Place Hotel. We stayed overnight with Bowers, who prepared a brunch for us the next morning. We skipped the idea of a boat trip on Lake Minnetonka because of bad weather.
I made a solo trip to the Twin Cities for a three-night stay with Bowers early August (4-7) when I attended the annual WPI reception at Macalester College Friday (5 Aug.). Bowers and I spent Saturday morning at the Uptown Art Fair around the Lake Street and Hennepin intersection. Then, after a walk on the shores of Lake Calhoun to watch the summer sybarites, we stopped by at the Sri Lanka Curry House (yet again!) for lunch. After returning to BowersƒÆ''¢ƒ¢-¡'¬ƒ¢-¾'¢ home for rest, we decided to go for a three-mile jog late afternoon. Our exercise in self-propulsion took us as far as the Spring Park shopping center. I was surprised when Mary McCarty, whom we knew as a journalism student with a photographic memory during our days at SJMC, turned up later to join a three-hour boat trip on Lake Minnetonka that Bowers had arranged for the pleasure of his employees and friends. This was my fifth boating experience with Bowers.
McCarty, Bowers and I joined for breakfast Sunday (7 Aug.) morning before I took off to Moorhead. Thus, I inferred that McCarty had replaced Higgin as BowersƒÆ''¢ƒ¢-¡'¬ƒ¢-¾'¢ companion. But this romance too turned out to be very temporary.
I returned to the Twin Cities with Carmel, Junius and Yoke-Sim for a two-night break beginning Friday (26 Aug.). We reached the BowersƒÆ''¢ƒ¢-¡'¬ƒ¢-¾'¢ home about 2 p.m. A couple of hours later, Bowers and McCarty joined us to visit the Minnesota State Fair in Saint Paul. I manned the MEA booth at the fair for three hours from 6 p.m. while Yoke-Sim and the kids joined Bowers and McCarty to tour the exhibits until close to midnight, when we parted company. My family spent the night at the Emerald Inn in Arden Hills.ƒÆ'-¡ƒ"š' 
Saturday (27 Aug.) morning, I took my family on aƒÆ'-¡ƒ"š' tour of the Como Park Conservatory and the Zoo. About 2 p.m., we went to Dayton Avenue to visit the Erskines (Gordon and Maria) to whom I introduced my family for the first time. Later, we returned to the state fair so I could man the MEA booth from 6 p.m. to 9 p.m. We spent the night again at Emerald Inn.
Sunday (28 Aug.) morning, we returned to BowersƒÆ''¢ƒ¢-¡'¬ƒ¢-¾'¢ home to eat a hearty breakfast. Then, to the great delight of Carmel and Junius, Bowers took all of us on his powerboat for an excursion on Lake Minnetonka. This was the sixth boating experience I had with Bowers. He even let Carmel and Junius steer the boat for a while. We left BowersƒÆ''¢ƒ¢-¡'¬ƒ¢-¾'¢ home about 1 p.m. for our return journey to Moorhead.
On another trip to the Twin Cities on a Friday (11 Nov. 1988) to attend a meeting of the MEA communications council (while Yoke-Sim was in Winnipeg to attend a joint conference of the Canadian Bureau of International Education and the National Association for Foreign Students), Bowers came to pick me up at the Marriott Hotel the next day. We ate lunch at SashaƒÆ''¢ƒ¢-¡'¬ƒ¢-¾'¢s Deli & Grill in Wayzata. Later, Bowers went to the Wayzata Country Club to help with the make-up for ƒÆ''¢ƒ¢-¡'¬ƒ…-Your Show of ShowsƒÆ''¢ƒ¢-¡'¬ƒ"š' directed by Donna Hubbard. I drove the Volkswagen GTI to the country club to see the play and join the post-play dinner as BowersƒÆ''¢ƒ¢-¡'¬ƒ¢-¾'¢ guest. I had a delightful conversation with Jack Hanna, an engineer with a thorough grounding in humanities, at the dinner. I stayed overnight at BowersƒÆ''¢ƒ¢-¡'¬ƒ¢-¾'¢ home.
The ties between the Bowerses and the Gunaratnes further strengthened in the next two decades. From the foregoing details one could infer how our relationship progressed. As the Venerable Witiyala Seewalie of the Minnesota Buddhist Vihara once remarked, Bowers and I had become ƒÆ''¢ƒ¢-¡'¬ƒ…-amba yƒÆ'†'ƒ"š'£luwoƒÆ''¢ƒ¢-¡'¬ƒ"š' (the Sinhala expression for close friends). Now, let me outline the most significant set of events that brought us closer over the two decades preceding 2010.
Bowers continued the tradition of inviting us for summer boating trips in his yacht on Lake Superior and Mississippi River while we continued the tradition of inviting him for our annual New YearƒÆ''¢ƒ¢-¡'¬ƒ¢-¾'¢s Eve party. For me, the most memorable were our overnight stays at the La Pointe marina of the Madeline Island Yacht Club aboard BowersƒÆ''¢ƒ¢-¡'¬ƒ¢-¾'¢ Tiara yacht named ƒÆ''¢ƒ¢-¡'¬ƒ…-Xuxa.ƒÆ''¢ƒ¢-¡'¬ƒ"š' The Apostle Islands National Lakeshore area of Lake Superior was the venue of my seventh (25-27 Aug. 1995) and eighth (6-7 Sept. 1997) boating experiences with Bowers.

We were special guests at the wedding ceremony when Bowers married Kathleen Jordan in mid-September 1991. (For both, it was their second marriage.) We were also special guests at the wedding ceremony (in September 2002) when BowersƒÆ''¢ƒ¢-¡'¬ƒ¢-¾'¢ son Perry married Carlie BenƒÆ'†'ƒ"š'¨, a Central American single mother with a boy named Kieran Jayasuriya. (KieranƒÆ''¢ƒ¢-¡'¬ƒ¢-¾'¢s father was a Sri Lankan.)

Bowers was the chief guest at the high school and college graduation parties of both Junius and Carmel. He knew how to make the kids happy with his generosity and conversation.

The satisfaction we derived traveling together as a team when we visited some parts of Malaysia (mid-July 1997), Sri Lanka late-July 2000) and Australia (early-March 2006). I introduced Bowers to Buddhist temples in Malaysia and Sri Lanka, as well as to the Minnesota Buddhist Vihara (MBV) in Minneapolis.
BowersƒÆ''¢ƒ¢-¡'¬ƒ¢-¾'¢ attitude toward life changed when he realized that money alone did not bring him happiness. He learned the benefits of vipassana bhavana (meditation) under the guidance of expert Buddhist monks. Let alone my recommendation, it was his conviction that bhavana can bring peace and tranquility to both the rich and the poor that impelled him to donate a tract of leased farmland to the MBV to set up a meditation center.
(Next: Camping and Yachting on Apostle Islands)
ƒÆ'-¡ƒ"š'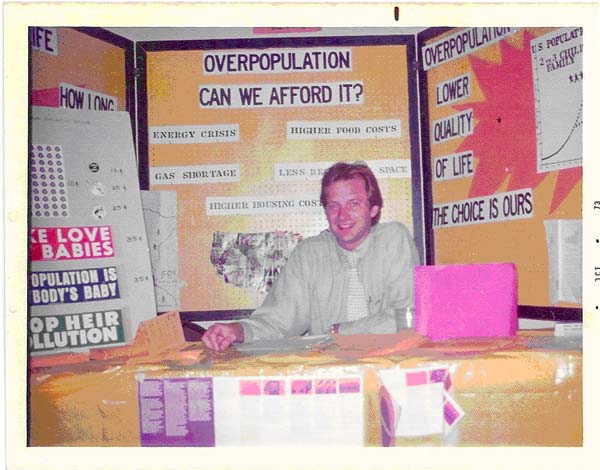 Picture 1:ƒÆ'-¡ƒ"š'  "Jim" Bowers mans the Zero Population Growth booth at the Minnesota State Fair in Saint Paul (c. 1969).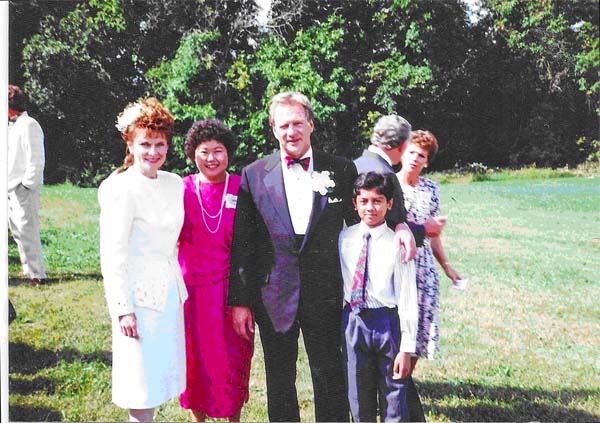 ƒÆ'-¡ƒ"š' Picture 2: Kathleen Jordan (left) and Jim Bowers (in bow tie) pose with Yoke-Sim Gunaratne and Junius Gunaratne at the Bowers-Jordan wedding reception at the Minnesota Center for the Arts, Wayzata, on Sunday 15 Sept. 1991. Those who attended the reception included BowersƒÆ''¢ƒ¢-¡'¬ƒ¢-¾'¢ short-time fiancƒÆ'†'ƒ"š'© Mary McCarty and the Blackmuns. We also met BowersƒÆ''¢ƒ¢-¡'¬ƒ¢-¾'¢ older sister Jacqueline Clausing, birth daughter Diane Mathisen and her daughter Sarah.