Gama Naguma and Jathika Saviya
Posted on September 27th, 2010
Sri Lanka 2010
Jathika Saviya was a programme that was initiated in threatened villages following the Kebethigollawa incident. The President assigned Basil Rajapaksa to the task of looking after the needs of the people living in these villages. The Defence Secretary had also stated at the Security Council that if people moved out, then that land would be available for encroachment by the LTTE allowing them to move towards the interior. Therefore Basil Rajapaksa visited every single village, looking beyond security concerns to provide the required facilities such as infrastructure, roads, electricity and livelihood security.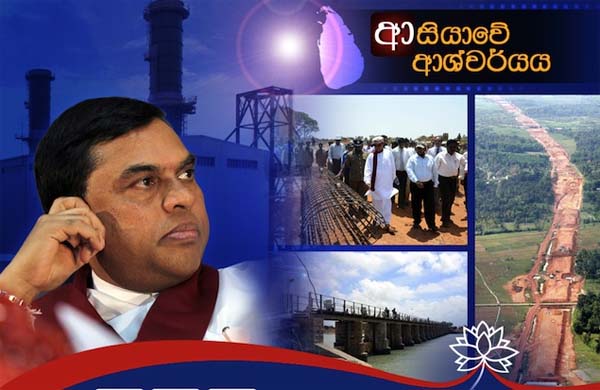 Gama Neguma programme was initiated, as President Mahinda Rajapaksa understood the needs of the village. At the time when Gama Neguma was included in the Mahinda Chinthanaya, no one took it seriously. They thought it was going to be a programme where a culvert would be put in place, the same was thought of the Maga Neguma programme. From the time the President was in the Ministry of Highways he was promoting Maga Neguma and as President his aim was to provide concrete roads to all villages.
Therefore Gama Neguma, is not just building roads and giving electricity. It is about uplifting the life of every individual family in the village. As the President stated, first you have to build the individual, then the family, then the village and then the country to win the world. Gama Neguma has a participatory approach and the man who makes the President's vision a reality is Basil Rajapaksa.
However there is criticism, which is unavoidable. When thousands of roads are being built there may be a few roads that have issues where the contractors may not be able to provide the required standards and these are highlighted by the media. It is inevitable that mistakes occur and these can take place only if one actually does the work.
In order to provide electricity to all the villages, power generation is important. It is for this reason that Kotmale, Kerawalapitiya, Norochcholai and all other projects are being simultaneously implemented. At the planning stages of the flyover bridges, there were those who were sceptical and thought that these would just be a figment of the imagination as an election gimmick. However under the strong leadership of Basil Rajapaksa, roads and flyovers are being constructed successfully. There are flyovers at all the main entry points into the city of Colombo; Kandy Road, Highlevel Road, Galle Road, Lowlevel Road and now the Rajagiriya Road as well.