UK SRI LANKANS WANT POSITIVE MEDIA COVERAGE
Posted on November 29th, 2010
PRESS RELEASE
Sri Lankan expatriates in the UK agree that generating adverse publicity in the media does not help the reconciliation process, badly needed to re-build the nation after the 26 year ethnic conflict in their motherland.
 This was the outcome of a meeting held in the House of Commons in London where Dr Jayalath Jayawadena MP and Dr Wickramabahu Karunaratne were addressing a group of Sri Lankan expatriates, chaired by Former BBC News Editor Clive Lawrence.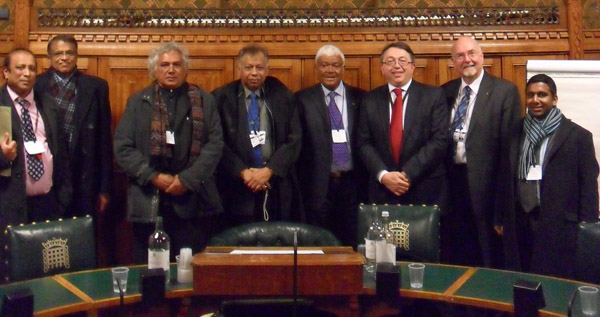 It was a most unlikely and extra-ordinary anti government alliance between Marxist militant Dr Karunaratne and "conservative" Dr Jayawardena that surprised the Sinhalese, Tamil and Muslim gathering at the meeting. Many active participants  constantly challenged the "facts and figures" quoted by both speakers.
 Rajesh Balasubramaniam  who is in constant touch with officials in Sri Lanka regarding the progress of resettling the internally displaced persons (IDPs) was the most vocal in refuting the false claims and the quoting of  inaccurate figures.
 This was yet another successful seminar organised by Dai Liyanage a former Mayor of Medway and Nesan Shankar Raji of EROS.
 Former Labour Transport Minister Paul Clark felt that it was very generous and tolerant act for the attendees to suggest that a line is drawn under all the past activities and a fresh start is generated to reconstruct the country.
 UNP Organiser in the UK, Dr Roger Srivasan's lone voice in suggesting sanctions against Sri Lanka was widely opposed. Cathy Ranasinghe pointed out that sanctions and the removal of GSP plus brought about more suffering to the rehabilitated former Tamil Tiger combatants who work in textile factories.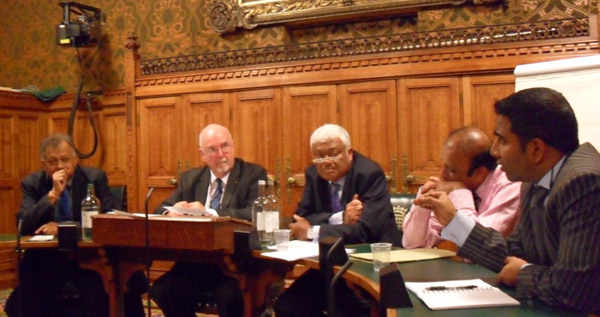 The two questions asked by the Chair were:
 How can we prevent the anti- government people living abroad from generating adverse publicity towards Sri Lanka?
 How do the Tamil people want to achieve peace and harmony in Sri Lanka?
 In response the general consensus was that the following points needed to be taken forward:
a political settlement

Road map for Tamil people

Draw a line and start afresh

Nationwide development

foreign investment

law and order

reconstruction

resettlement

reconciliation

freedom to protest

protect human rights

anti corruption