The Speech made by His Excellency Sarath Wijesinghe, Ambassador of Sri Lanka to the United Arab Emirates at the 63rd Independence Day celebrations held at Hotel Hilton, Abu Dhabi
Posted on February 9th, 2011
The Embassy of Sri Lanka in UAE
Independence of a Nation, country or a State is a condition in which its residents and population feels and enjoys its ƒÆ'-¡ƒ"š' freedom. When a Nation is independent it enjoys the freedom on political, social, and economic issues enjoyed by citizens individually, and the country as a whole.ƒÆ'-¡ƒ"š'  We have been an independent NationƒÆ'-¡ƒ"š'  during the known history of thousands of years.ƒÆ'-¡ƒ"š'  We are geographically situated close to giant India with whom we share close friendships and relationships shared by religious and cultural values and ƒÆ'-¡ƒ"š' civilizations.ƒÆ'-¡ƒ"š' 
ƒÆ'-¡ƒ"š' Our foreign relations with India, Middle East ƒÆ'-¡ƒ"š' and the rest of the world are extremelyƒÆ'-¡ƒ"š'  cordial.
ƒÆ'-¡ƒ"š' We lost our freedom in the year 1815 when the British EmpireƒÆ'-¡ƒ"š'  took control.ƒÆ'-¡ƒ"š'  We ƒÆ'-¡ƒ"š' fought back against Dutch, ƒÆ'-¡ƒ"š' Portuguese and other nations ƒÆ'-¡ƒ"š' for number of years.ƒÆ'-¡ƒ"š'  It is on 04th of February 1948 that we regained the freedom that we enjoyed for decades as a result of the struggle by our ancestors.ƒÆ'-¡ƒ"š'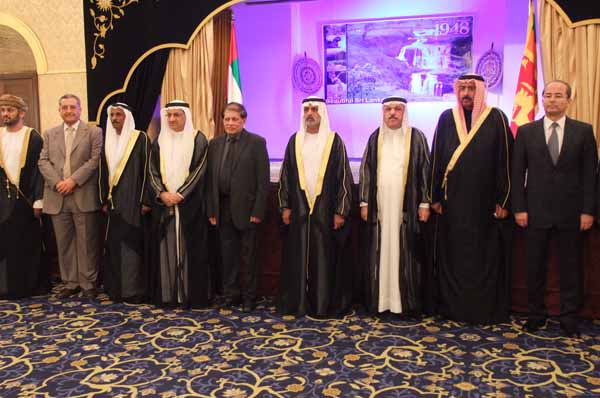 Picture shows third from left H.E. Abdussalam Harib Al Rumaisy, Chief of Protocol, Ministry of Foreign Affairs, UAE, fourth from left H.E. Humaid Mohamed Al-Qutami, Minister of Education, UAE , fifth from left H.E. Sarath Wijesinghe, Ambassador for Sri Lanka in UAE, sixth from left H.E. Sheikh Nahyan bin Mubarak Al Nahyan, Minister of Higher Education, UAE ƒÆ'-¡ƒ"š' and seventh ƒÆ'-¡ƒ"š' from left ƒÆ'-¡ƒ"š' H.E. Ahmed Abdullah Al Musally, Director, Asian Affairs, Ministry of Foreign Affairs, UAE.
We could enjoy the new found freedom only until around 1980s when a part of misguided youth took arms demanding a separate State.ƒÆ'-¡ƒ"š'  LTTE led by Prabhakaran has been the most ruthless and feared terrorist organization in the world responsible for destruction of public property worth billions andƒÆ'-¡ƒ"š'  deaths of thousands of human beings including children, elderly, clergy, world leaders such as Rajiv Gandhi, President Premadasa and many others of all walks of life by attacking killing, shooting, using bombs, suicide bombers and various other ways.ƒÆ'-¡ƒ"š' ƒÆ'-¡ƒ"š' ƒÆ'-¡ƒ"š' ƒÆ'-¡ƒ"š' 
ƒÆ'-¡ƒ"š' President Rajapaksa with his dedication, commitment, strategy and hard work eradicated terrorism from Sri Lanka for ever, when the world was watching in disbelief the success of the most professional and disciplined army, ƒÆ'-¡ƒ"š' crushing the most ruthless and feared terrorist organization.ƒÆ'-¡ƒ"š' ƒÆ'-¡ƒ"š'  Today we are a free country , free of terrorism with a stable Government, ƒÆ'-¡ƒ"š' able to offer security for investors, tourists andƒÆ'-¡ƒ"š'  visitors.
ƒÆ'-¡ƒ"š' The Government in Sri Lanka is one of the most stable and powerful governments and the security situation is extremely satisfactory to the extent that it is one of theƒÆ'-¡ƒ"š'  safest countries in the world with ethnic harmony and a pleasant breeding ground for investment and tourist trade.ƒÆ'-¡ƒ"š' 
ƒÆ'-¡ƒ"š' ECONOMY OF SRI LANKA
ƒÆ'-¡ƒ"š' Economy of Sri Lanka is improving and fast booming.ƒÆ'-¡ƒ"š'  We areƒÆ'-¡ƒ"š'  no longer a poor country.ƒÆ'-¡ƒ"š'  Our standard of living is above average.ƒÆ'-¡ƒ"š'  The stock market is rising day by day, per capita is in the increase, average income is high, unemployment rate is low,ƒÆ'-¡ƒ"š'  foreign investments are pouring in,ƒÆ'-¡ƒ"š'  tourism is booming.ƒÆ'-¡ƒ"š'  There ƒÆ'-¡ƒ"š' is peace and stability all over the country which are main ingredients for investment and prosperity.
ƒÆ'-¡ƒ"š' Sri Lanka is a lower middle income developing Nation with a Gross Domestic Product of about 41 billion US dollars.ƒÆ'-¡ƒ"š'  This transgresses into per capita income of US$ 2,000.ƒÆ'-¡ƒ"š'  Sri LankaƒÆ''¢ƒ¢-¡'¬ƒ¢-¾'¢s literacy rate is high and the life expectancy of 72 years ranks well above those of other countries in the region.ƒÆ'-¡ƒ"š'  The future of Sri LankaƒÆ''¢ƒ¢-¡'¬ƒ¢-¾'¢s economic health primarily depends on political stability, return to peace and continued policy reforms particularly in the areas of fiscal discipline and budget management.ƒÆ'-¡ƒ"š' 
ƒÆ'-¡ƒ"š' SAFETY AND SECURITY
ƒÆ'-¡ƒ"š' No incidents have been reported on terrorism since the complete crush of the LTTE.ƒÆ'-¡ƒ"š'  The forces have full control over the security situation and the forces are well disciplined.ƒÆ'-¡ƒ"š'  The country is safe to travel, live, invest, and to do business with.ƒÆ'-¡ƒ"š'  The machinery on law enforcement is effective and impartial.ƒÆ'-¡ƒ"š'  Judiciary ƒÆ'-¡ƒ"š' ƒÆ'-¡ƒ"š' is independent and has full control over the judicial system.ƒÆ'-¡ƒ"š' 
ƒÆ'-¡ƒ"š' FOREIGN RELATIONS
ƒÆ'-¡ƒ"š' Sri Lanka is a senior member of the United Nations and enjoys friendship with all the other nations based on the principles of sovereign equality.ƒÆ'-¡ƒ"š'  Foreign Policy in Sri Lanka is clearly laid down in ƒÆ''¢ƒ¢-¡'¬ƒ"¹…"Mahinda ChintanaƒÆ''¢ƒ¢-¡'¬ƒ¢-¾'¢ document through which His Excellency Mahinda Rajapaksa has spelt out as follows:
I quote:
ƒÆ''¢ƒ¢-¡'¬ƒ…-I will follow a non-aligned, free and progressive foreign policy.
Priority will be given in the political, defence, economic, trade and cultural spheres to the cordial and friendly relationships that we already have with countries in the Asian, Middle Eastern and African ƒÆ'-¡ƒ"š' Region including India, Japan, China and Pakistan.
ƒÆ'-¡ƒ"š' ƒÆ'-¡ƒ"š' ƒÆ'-¡ƒ"š' ƒÆ'-¡ƒ"š' ƒÆ'-¡ƒ"š' ƒÆ'-¡ƒ"š' ƒÆ'-¡ƒ"š' ƒÆ'-¡ƒ"š' ƒÆ'-¡ƒ"š' ƒÆ'-¡ƒ"š' ƒÆ'-¡ƒ"š'  Unquote
President RajapaksaƒÆ''¢ƒ¢-¡'¬ƒ¢-¾'¢s vision is embodied ƒÆ'-¡ƒ"š' in the ƒÆ'-¡ƒ"š' following paragraph:
ƒÆ'-¡ƒ"š' ƒÆ'-¡ƒ"š' ƒÆ'-¡ƒ"š' ƒÆ'-¡ƒ"š' ƒÆ'-¡ƒ"š' ƒÆ'-¡ƒ"š' ƒÆ'-¡ƒ"š' ƒÆ'-¡ƒ"š' ƒÆ'-¡ƒ"š' ƒÆ'-¡ƒ"š' ƒÆ'-¡ƒ"š'  I quote:
ƒÆ''¢ƒ¢-¡'¬ƒ…-This earth and its vegetation is yours.ƒÆ'-¡ƒ"š'  But they should be protected not only for your benefit but also for the benefit of future generations.ƒÆ'-¡ƒ"š'  A ruler is only a temporary trustee and not an owner of your childrenƒÆ''¢ƒ¢-¡'¬ƒ¢-¾'¢s heritage.ƒÆ''¢ƒ¢-¡'¬ƒ"š'ƒÆ'-¡ƒ"š' ƒÆ'-¡ƒ"š' 
Unquote
ƒÆ'-¡ƒ"š' SRI LANKA-FRIENDLY FOREIGN POLICY
ƒÆ'-¡ƒ"š' Foreign Policy of a country directly or indirectly indicates its behaviour towards power blocs and politics and policies.ƒÆ'-¡ƒ"š'  It is difficult in this complicated world affairs to be non-aligned or non-committal.ƒÆ'-¡ƒ"š'  There are schools of thoughts that some countries are friendly towards certain blocs and world powers.ƒÆ'-¡ƒ"š'  One might say a country is USA-friendly, USSR-friendly , China-friendly, India-friendly or friendly with any other country or power bloc.ƒÆ'-¡ƒ"š'  ƒÆ''¢ƒ¢-¡'¬ƒ…-Mahinda ChintanaƒÆ''¢ƒ¢-¡'¬ƒ"š' and His ExcellencyƒÆ''¢ƒ¢-¡'¬ƒ¢-¾'¢s vision and motto is for a Sri Lankan-friendly foreign policy for the benefit ofƒÆ'-¡ƒ"š'  Sri Lanka, while maintaining independent non-committal impartial attitudes towards the rest of the world.ƒÆ'-¡ƒ"š'  His Excellency Mahinda Rajapaksa has shown this in deed and by conduct.
ƒÆ'-¡ƒ"š' CHALLENGES
ƒÆ'-¡ƒ"š' Challenges before Sri Lanka is enormous being a country in the march towards development and prosperity.ƒÆ'-¡ƒ"š'  We have won the war of terror due to the dedication, commitment and the correct leadership of the leader and his ƒÆ'-¡ƒ"š' group.ƒÆ'-¡ƒ"š'  It is not difficult for us to win the war against poverty andƒÆ'-¡ƒ"š'  march towards development provided,ƒÆ'-¡ƒ"š'  when we work together as one towards the same target.ƒÆ'-¡ƒ"š' 
ƒÆ'-¡ƒ"š' Strength of a nation is not determined by the challenges it faces, but in the response to these challenges.ƒÆ'-¡ƒ"š'  Our other challenges are respect for human rights, democracy, rule of law and to work towards a ƒÆ''¢ƒ¢-¡'¬ƒ…-just societyƒÆ''¢ƒ¢-¡'¬ƒ"š' and a prosperous country.ƒÆ'-¡ƒ"š'  Prosperous does not mean material development alone.ƒÆ'-¡ƒ"š'  It is our duty to save the landscape of the Nation, Environment, and development of the mental peace of the citizens, and equilibrium based on whatever the religion one belongs to. ƒÆ'-¡ƒ"š' 
ƒÆ'-¡ƒ"š' Development of the human being is a prerequisite for the development of a nation, ƒÆ'-¡ƒ"š' as our main concernƒÆ'-¡ƒ"š'  is the well being of the ƒÆ'-¡ƒ"š' Human Being, ƒÆ'-¡ƒ"š' whose well being and dignity are things that any government should preserve, protect and enhance.ƒÆ'-¡ƒ"š' 
ƒÆ'-¡ƒ"š' TRAINING AND EDUCATION
ƒÆ'-¡ƒ"š' Knowledge is Power.ƒÆ'-¡ƒ"š'  Sri Lankan Government is spendingƒÆ'-¡ƒ"š'  a large portion of the national income on education and training.ƒÆ'-¡ƒ"š'  As a result we have an educated nation where the products are spread all over the world serving ƒÆ'-¡ƒ"š' the host country and the country of birth.ƒÆ'-¡ƒ"š'  Training and experience is an integral part of education.ƒÆ'-¡ƒ"š'  We have an educated, skilled and dedicated labour force prepared to serve the humanity worldwide.ƒÆ'-¡ƒ"š'  Discussions are in progress on educating our youthƒÆ'-¡ƒ"š'  about Middle East and the Arabic Language which is one of the most sought for languages in the world.ƒÆ'-¡ƒ"š' 
ƒÆ'-¡ƒ"š' HUMAN RIGHTS SITUATION
ƒÆ'-¡ƒ"š' Human Rights situation in Sri Lanka is extremely satisfactory.ƒÆ'-¡ƒ"š'  We have one of the most effective, modern and just human rights machineries in the world. ƒÆ'-¡ƒ"š' ƒÆ'-¡ƒ"š' Supreme Court has the power to entertain human and fundamental rights cases. ƒÆ'-¡ƒ"š' Extremely rich and powerful Non GovernmentalƒÆ'-¡ƒ"š'  and Inter-Governmental Organizations ƒÆ'-¡ƒ"š' ƒÆ'-¡ƒ"š' are available in abundance in Sri LankaƒÆ'-¡ƒ"š'  in order to protect collective and individual human rights of international standard.
ƒÆ'-¡ƒ"š' Even at the last stages of the humanitarian operation the human rights situation inƒÆ'-¡ƒ"š'  Sri Lanka was implemented and maintained when the LTTE used 300,000 civilians as a human shield.ƒÆ'-¡ƒ"š'  ƒÆ'-¡ƒ"š' ƒÆ'-¡ƒ"š' Today almost all the internally displaced brethrens of ours have gone back to their houses and leading a happy and a contended life free of terror or fear.ƒÆ'-¡ƒ"š' ƒÆ'-¡ƒ"š' 
ƒÆ'-¡ƒ"š' OUR RELATIONS WITH THE MIDDLE EAST
ƒÆ'-¡ƒ"š' Our relations with the Middle East throughout have been close, warm, and cordial.ƒÆ'-¡ƒ"š'  Ancestors of the Middle East ventured South Asia through the famous Silk Route for trade.ƒÆ'-¡ƒ"š'  They were well received by Sri Lankans and some of them have settled as inhabitants where the rest continued trading maintaining cultural and trading bonds.ƒÆ'-¡ƒ"š' 
ƒÆ'-¡ƒ"š' The Silk Route is now reviewed after the construction of the Hambantota Harbour which has the capacity to attract 36,000 ships per year sailing close to Hambantota the birth place of His Excellency President Rajapaksa.
ƒÆ'-¡ƒ"š' Five more harbours are being built round the Island.ƒÆ'-¡ƒ"š'  There will be satellite developments around Hambantota Harbour on Free Trade Zone, Airports, Business complexes and other Mega Projects which will catalyze the elevation of Sri Lanka to be the ƒÆ''¢ƒ¢-¡'¬ƒ"¹…"Wonder of AsiaƒÆ''¢ƒ¢-¡'¬ƒ¢-¾'¢ in few years.ƒÆ'-¡ƒ"š' 
ƒÆ'-¡ƒ"š' Sri Lanka remembers with greatest affection and dedication, warmth, friendship and assistance extended by the Middle East to Sri Lanka during the last stages of the humanitarian operation when the country required friends in need in the global family.ƒÆ'-¡ƒ"š' 
ƒÆ'-¡ƒ"š' Our cultural and economic bonds and relationships are very close.ƒÆ'-¡ƒ"š' 
ƒÆ'-¡ƒ"š' The investment from the UAE to Sri Lanka are pouring with the booming on tourism.ƒÆ'-¡ƒ"š'  Sri Lankan citizens serve the host country by being a part of the economy and the country of birth by remitting funds to Sri Lanka which is a wonderful symbiotic co-habitation.ƒÆ'-¡ƒ"š'  Sri Lanka and UAE are going to be very close friends and partners in business, trade and friendship and in all other respects.ƒÆ'-¡ƒ"š' 
ƒÆ'-¡ƒ"š' WAY FORWARD
ƒÆ'-¡ƒ"š' Way forward is based on our friendship, dedication, co-habitation, ƒÆ'-¡ƒ"š' and working together to achieve main goals of development, prosperity and for a bright future for the world.ƒÆ'-¡ƒ"š'  Peace and stability are main ingredients for development.ƒÆ'-¡ƒ"š'  Way forward and our salvation is based on our working together with close and warm bonds and friendships among the family of nations.ƒÆ'-¡ƒ"š'  UAE and Sri Lanka has unprecedented warm bonds and friendships running back to thousands of years and shall continue to be.