ELIZBETH TAYLOR OF OLD CEYLON'S ELEPHANT PASS RECOVERING FROM HEART AILMENT
Posted on February 28th, 2011
By Walter Jayawardhana reporting from Los Angeles
Elizabeth Taylor, the British born Hollywood actress, very close to the hearts of her fans in Sri Lanka ever since her arrival in the Indian Ocean island to play the  female lead of the film Elephant Walk is getting better in a hospital after admitting for congestive heart failure, her agent said.  
The two times Oscar winner (78) did not have to undergo surgery or did not suffer a stroke in the Cedar Sinai hospital where she continues to stay the representative added.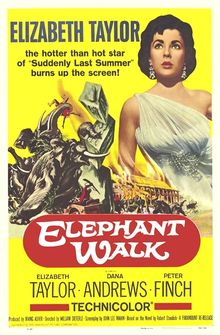 "Elizabeth Taylor's doctors continue to be encouraged by her progress," a statement issued from the hospital further added.
"She is in good spirits and continues to feel stronger every day, "the statement issued on February 23 said. Taylor who has been married eight times had to undergo surgery for a leaky heart valve in 2009. She won Oscars for appearing in "Who's Afraid of Virginia Woolf?" and "Butterfield 8.'
The British born actress came to Sri Lanka (then Ceylon) to perform in the 1954 film, Elephant Walk, based on the novel of the same name with Dana Andrews and Peter Finch who acted for the male roles of this love triangle. The story tells how wild elephants finally destroyed a tea plantation bungalow which blocked their way to their water hole as their revenge, The bungalow, the target of the elephant rampage, was built in a location in the Peradeniya area to be finally destroyed by the elephants exactly as depicted in the Robert Standish novel, which some believe was a true story of the British plantation raj.