The Travels of a Journalist—61–British Columbians forget Dickens while naming spots honoring Britons
Posted on March 13th, 2011
By Shelton A. Gunaratne ©2011

Professor of mass communications emeritus@ Minnesota State University Moorhead
"Dickens" is a small (84-block) neighborhood in east Vancouver, British Columbia. The neighborhood extends from East 12th Avenue (north boundary) to King Edward/ East 25th Avenue (south boundary); and from Fraser Street (west) to Knight Street (east). Kingsway runs diagonally through the neighborhood, which lies within the city-defined community of Kensington-Cedar Cottage. The area is dubbed "Dickens" because both of its two schools bear Charles Dickens' name.
As an avid fan of Charles Dickens, the famous 19th century British novelist, I found it hard to swallow that the British Columbians have failed to name a single park, town, city or province to memorialize Dickens even though they have overused the name of British explorer Capt. George Vancouver (1757-1798) just as Americans have overused the name of President George Washington (1732-1799).
By ethnic origin, about one-half the population of British Columbia identify themselves as of English or Scottish origin. Another 18 percent identify themselves as Canadian. These three powerful ethnic groups explain the reason for the retention of British names and traditions (e.g., Victoria, Vancouver, High Tea at the Empress Hotel) more than a century and half after Queen Victoria declared the Colony of British Columbia a crown colony in 1858. Despite such abject loyalty to Britain, the BC majority, unlike Mr. Barkis (in David Copperfield), has not been willing to recognize Dickens! On his 1842 visit, Dickens found Canada delightful after the disappointment of the United States. On the whole, Dickens found Canada a pleasant surprise.
These thoughts crossed my mind as we""'Carmel, 5; Junius, 9; Yoke-Sim; and I""'passed through the so-called "Dickens" neighborhood in Vancouver Wednesday (30 Aug. 1989).
Because we camped overnight in one of the most scenic provincial parks in BC in a mountain wilderness setting encompassing several peaks, including Mount Bishop (1,509 meters), Mount Elsay, Runner Peak, and Mount Seymour (1,499 meters), we thought we would be able to capture the scenic splendor and do some hiking in the morning. The setting included several lakes and ponds too, including Elsay Lake (the largest), De Pencier Lake, Gopher Lake and Goldie Lake. These lakes drained eastward into Indian Arm. Other smaller lakes and ponds drained westward into the Seymour River.
Unfortunately, a thick fog had set in covering the mountains overnight dashing our hopes of enjoying scenic glory in the morning. We stopped at the cafĮՠթ of the ski resort to pay our $10 camping fee and drove slowly downhill through thick fog for 13 km along the exit parkway to Highway 1. Thus, what should have been a scenic descent turned out to be a harrowing experience.
On the positive side, downtown Vancouver was only 30 km southwest of Mount Seymour PP campgrounds. Memories of my first visit to Vancouver some 22 years ago occupied my mind as we began our day's explorations.
Recalling 1967 Visit
After completing my internship at the Eugene (Ore.) Register-Guard, I took off to Barrow, Alaska, to interview the Eskimos for my Assignment USA Project for the WPI. I traveled by Greyhound bus from Eugene, Ore., to Vancouver, BC, via Seattle. An immigration official at the border crossing pointed out that my visa to re-enter the U.S. was no longer valid. Thus, my top priority on arrival at Vancouver on a Monday (17 April 1967) was to visit the U.S. consul office to update my visa.
I toured downtown Vancouver by foot but could not see much of the city because I was scheduled to leave at 5.30 p.m. on the bus to Prince George (pop. 70,981), 788 km to the north. The bus drove on Highway 1 (Trans Canada) for 344 km to Cache Creek (pop. 1,037), and then followed Highway 97 (the "Caribou Trail"). I was lucky to sit by a female who got on the bus at Abbotsford (pop. 123,864) and kept me in good cheer until she got off at Williams Lake (pop. 10,744).
The bus stopped at Quesnel (pop. 9,326) for morning tea and reached Prince George, "the BC's Northern Capital," at 7.50 a.m. Tuesday.
The city originated as a trading post that fur trader Simon Fraser established in 1807 as Fort George, named for King George III. The city's dust repelled me, and the only thingamajig that caught my attention was a turbaned Sikh riding a motorcycle that I never expected to see in the caribou country.
I was delighted to leave Prince George two hours later on a Coachways bus, which headed northwest all the way to Prince Rupert (pop. 12,815), a distance of 717 km on Highway 16. The bus stopped at Burns Lake (pop. 2,107) Panhandle for lunch, and at Cedarvale/Minskinish (unincorporated) in the Skeena River Valley for supper. Farms and the wilderness dominated the route.
Railway magnate Charles M Hays founded Prince Rupert in 1910. He named the settlement after Prince Rupert of the Rhine hoping favors from the prince. This port city (nicknamed "the Rainbow City") is the land, air, and water transportation hub of BC's North Coast.
Our bus reached the Prince Rupert terminal at about 10.30 p.m. Immediately, I started looking for overnight accommodation, when I ran into Paul Young, a Native American returning from service, who was also looking for a place to sleep. We joined forces and approached the Friendship House (744 Fraser St.), which allowed us to sleep on the floor of its dining room.
Wednesday morning, Paul and I had to arrange the tables of the Friendship House dining room as a return favor. A very good deal! Then, both of us got on board the ferry "Taku," which left Prince Rupert at 9.30 a.m. carrying people and their vehicles to all ports along the Alaska Panhandle. But that's another story (see Journey of a Journalist""'Part 3B).
Back to 1989
Thus, I was no stranger to BC whereas Carmel, Junius and Yoke-Sim were. They already had a lesson on the vagaries of weather conditions in BC as we descended the Mount Seymour Parkway zigzagging through Hidden Lake, Mystery Lake, Dog Mountain Dinky Peak, Flower Lake and Mountain Forest. A short distance west of Maplewood Park, we merged into Trans-Canada Highway 1, where we turned north on Lynn Valley Road to enter the 250-hectare Lynn Canyon Park""'a forested park that features awesome creek and waterfall views and hiking trails through the temperate rainforest. Located 23 km south west of the Mount Seymour PP, the park comes under the authority of the District of North Vancouver municipality.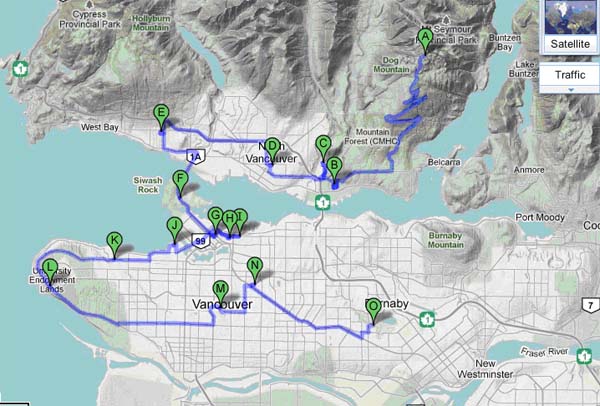 Figure 1: Our tour route of Vancouver, BC (August 1989)
A=Mount Seymour Provincial Park; B=Maplewood Farm; C=Lynn Canyon Park; D=North Vancouver; E=West Vancouver; F=Stanley Park; G=Holy Rosary Cathedral; I=Chinatown; I=Hotel Patricia; J=St. Roch National Historic Site; K=Jericho Beach Park; L=VanDusen Botanical Gardens; M=Quean Elizabeth Park; N="Dickens" neighborhood (east Vancouver); O=Dear Lake Park/Burnaby.
We spent more than one hour in the park hiking on the 50-meter high Lynn Canyon Suspension Bridge (built in 1912) section of the Baden-Powell Trail, which runs 50 km from Horseshoe Bay to Deep Cove. [Wikipedia points out that this trail is host to the annual Knee Knackering North Shore Trail Run (or "Knee Knacker"), a half-day long run along the entire length of the trail. The District is also home to the Grouse Grind hiking trail, a steep vertical climb sometimes referred to as "God's Stairmaster."]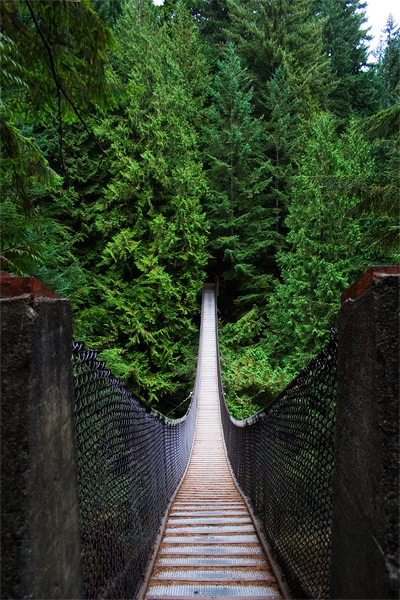 The Lynn Canyon Suspension Bridge (September 2006)
Source: Wikimedia Commons. Photo by Tim Hollosy.]
On the far side of the bridge, a trail leads to a natural canyon-formed swimming pool (called the "Thirty Foot Pool"). The creek provides an ideal spot for cliff jumping. The park is a second growth forest, with most of the oldest trees aged 80-100 years. The park's five exhibits""'its ecology center, plant gallery, animal gallery, human gallery and Exploratorium""'constitute another attraction. After leaving the park, we drove to Lynn Village shopping area in North Vancouver to nourish ourselves with whatever edibles we craved. From there, we went to the Park Royal mall in West Vancouver to collect maps and tour guides from the Royal Canadian Automobile Club.
Now, let me clear up possible nomenclature confusion. British Columbians have nonplused the world by naming too many places to memorialize Capt. George Vancouver. What they call North Shore applies to the city of North Vancouver (pop, 43,165), the District of North Vancouver (pop. 82,562), which surrounds the city of North Vancouver; and West Vancouver (pop. 42,131). These three are separate municipalities, each with its own mayor. The city of Vancouver (pop. 642, 843) stands across the Salish Sea on its south shore. Located on the Burrard Peninsula, Vancouver lies between Burrard Inlet to the north and the Fraser River to the south. Greater Vancouver (pop. 2.2 million) consists of 21 municipalities, including the four neighboring Vancouvers. The most populated municipalities in this group in rank order of population size are Vancouver, Surrey, Burnaby, Richmond, Coquitlam, Delta and Langley. In this light, the identification of "Dickens" as a neighborhood of east (lower cased) Vancouver is likely to increase confusion.
We crossed the Burrard Inlet on the First Narrows Bridge (or Lions Gate Bridge) and landed on the 405-hectare Stanley Park (founded in 1888), which has an 8.8-km seawall surrounding it. Forested with trees""'some more than 100 years old, the park offers more than 200 km of trails and roads. It attracts more than 8 million visitors a year. We ate lunch at the Prospect Point picnic area; then, we stopped to see the Third Beach, the Second Beach, and the totem poles. Our next visit was to downtown Vancouver, where we stopped at:
"¢ Holy Rosary Cathedral (646 Richards St.) to see its stained glass windows.
"¢ Harbor Center Complex, where we walked along the gaslight shopping area.
"¢ Chinatown (centered on Pender Street), where we ate at a restaurant; and also visited the Dr. Sun Yat Sen Classical Chinese Garden, where Yoke-Sim felt quite at home.
We checked in at Hotel Patricia (203 East Hastings St.) to spend the night in relative comfort after four nights of camping outdoors. Later in the evening, I walked a few blocks east of the hotel to Oppenheimer Park, where I saw several courtesans parading themselves in an alley between Hastings and Cordova streets.
Thursday (31 Aug.) morning, we continued our explorations in Vancouver.
First, we crossed the Burrard Bridge to visit the Saint Roch National Historic Site of the Vancouver Maritime Museum. Launched in May 1928, St Roch was first ship to completely circumnavigate North America.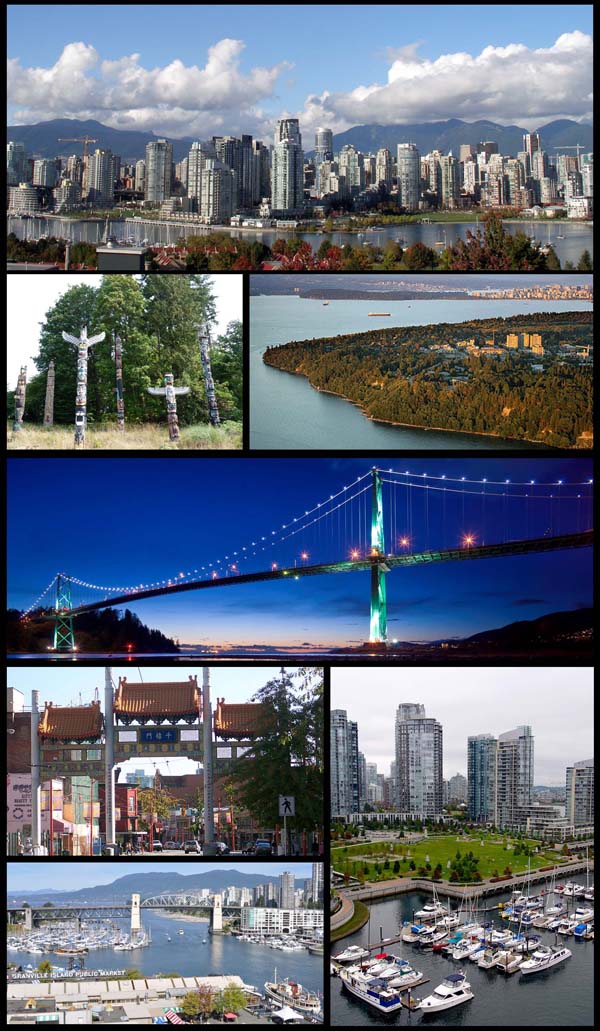 A montage of Vancouver images: (clockwise from top) Downtown Vancouver as seen from the southern shore of False Creek; University of British Columbia campus; Lions Gate Bridge; boats on the harbor; Granville Island; Chinatown gate; and totem poles in Stanley Park (2008).Source: Wikimedia Commons. Photo by Dolphin Jedi.]
Then, we drove along the shore of the English Bay to Jericho Beach and the associated Jericho Park, from where we entered the scenic campus of the University of British Columbia. We passed the M.Y Williams Geological Museum, which exhibits an 80 million-year-.old Lambeosaurus found in Alberta in 1913, spectacular rocks, minerals and fossils. The scenic beauty of the campus fascinated us.
For us, the main attraction of the day was the 22-hectare VanDusen Botanical Gardens (established in 1975) in the Shaughnessy neighborhood. We spent about an hour in the gardens enjoying its outstanding plant collection gathered from all over the world. Its special attractions include carved totem poles, large stone sculptures and a Korean Pavilion. Then, heading east, we stopped for lunch at Queen Elizabeth Park (4600 Cambie St.) on Little Mountain in King Edward Station neighborhood. A surprise attraction in this park was its sunken garden.
Finally, we drove past "Dickens" neighborhood in east Vancouver and stopped at Deer Lake Park in Burnaby, where we visited the art gallery and walked in the scenic rose and rhododendron gardens.
We concluded our tour of Vancouver at about 3 p.m. and drove 479 km northeast to Sicamous (pop. 3,192), BC, to camp overnight at the Yard Creek Provincial Park, where we arrived about 10.30 p.m. The day's travel distance totaled 554 km.
(I shall dwell on the drama of man versus nature that we encountered on that tedious drive in the next installment.)