US Congressman Steven Chabot visits Jaffna
Posted on September 30th, 2011
By Janaka Alahapperuma
US House of Representatives Sub-committee Chairman on the Middle East and South Asia, Congressman Steven Joseph Chabot called on Commander of the Security Force ƒÆ''¢ƒ¢-¡'¬ƒ¢¢"š¬…" Jaffna, Major General Mahinda Hathurusinghe during his one day visit to Jaffna at Security Forces Headquarters in Jaffna on Wednesday 28 September.
Having received visiting US Congressman and the entourage by the Commander Security Force ƒÆ''¢ƒ¢-¡'¬ƒ¢¢"š¬…" Jaffna, presented a detailed account on recently concluded successful resettlement programme and accelerated de-mining process in the peninsula. He explained about the governmentƒÆ''¢ƒ¢-¡'¬ƒ¢-¾'¢s development programmes and the ArmyƒÆ''¢ƒ¢-¡'¬ƒ¢-¾'¢s involvement in community projects while ensuring security of Jaffna and the people. Major General Hathurusinghe also briefed about prevailing security situation and other development activities taking place in post conflict Jaffna.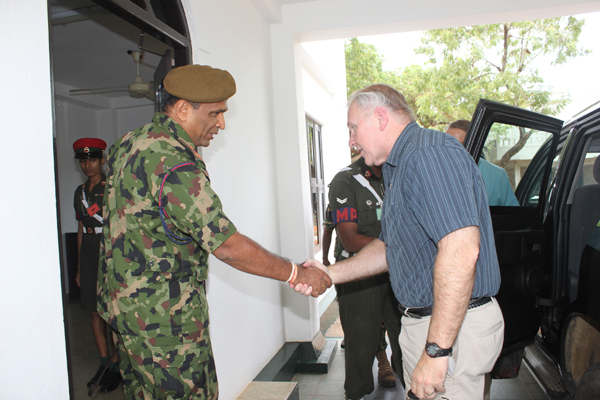 ƒÆ'-¡ƒ"š' 
During the cordial meeting, US delegation expressed their satisfaction about ongoing developments in Jaffna.
ƒÆ'-¡ƒ"š' 
Before they left for Colombo Mr Steven Joseph Chabot and team members visited several places and many areas in Jaffna and met representatives of different societies to discuss emerging investment opportunities in the Northern Province. The delegation in the meantime was very impressed by the resettlement, development, rehabilitation and reconstruction programmes carried out by the authorities within a short period of time and stated that the US will give their fullest support to expedite the development activities in the Northern Province.
ƒÆ'-¡ƒ"š' 
Staff Director Sub-committee on Middle East and South Asia, US House ofƒÆ'-¡ƒ"š'  ƒÆ'-¡ƒ"š' representative, Washington DC and Mr. Kevin William Pitzpatrick were among the other team members. Representing US Embassy in Colombo, Chief of Political Affairs Dr. Paul Carter and Political Officer Jacob Chriqui were also present at the occasion.
Source: Security Forces Headquarters- Jaffna