Ambassador Wickramasuriya Calls upon Sri Lankan Americans
Posted on March 4th, 2012
Embassy of Sri Lanka Washington, D.C.
In this month's webcast Ambassador Jaliya Wickramasuriya provides an update on the situation regarding Sri Lanka at the ongoing United Nations Human Rights Council (UNHRC) 19th Session in Geneva.The United States has stated that it will support a resolution that might be brought against Sri Lanka at the UNHRC.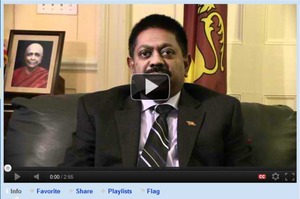 Ambassador Wickramasuriya explains how and why such resolution can jeopardize Sri Lanka's reconciliation process that is already underway. 
Moreover, he articulates what Sri Lanka expects from her sons and daughters now living in the United States, in communicating these serious concerns to the concerned U.S. authorities. 
The Fact Sheet below shows Sri Lanka's post conflict achievements:
SRI LANKA FACT SHEET
Sri Lanka has made tremendous strides since the successful end of its war against terrorism in May 2009.  
It is important to understand first-hand the true status of events in Sri Lanka, rather than the version that might be presented during the contentious debate at the United Nations Human Rights Council session in Geneva. Indeed, the facts speak for themselves.  
Since the end of the conflict, Sri Lanka has:
Resettled 300,000 people who were displaced by the conflict;
Invested $1 billion annually on new infrastructure to help support livelihoods and the economy, especially in conflict-affected areas;
 Rehabilitated over 1,000 former LTTE child soldiers and re-united them with their families;
 Given amnesty and job and educational training to 12,000 former LTTE terrorists who have returned to civil society;
 Held presidential, Parliamentary and regional elections, giving voters who were previously prevented by LTTE terrorists from taking part in democracy the power to elect their own leaders;
Lifted conflict-era emergency regulations that were in place for 26 years;
Achieved an annual growth rate of 8.4 percent national GDP and an unemployment rate of 4.3 percent in 2011, and continued low inflation amid a global economic downturn;
Achieved an annual growth rate of 22 percent GDP in the Northern Province in 2011;
Reopened North-South highways for trade and passenger transportation;
Adopted a self-employment loan scheme in the North and East that to has apportioned USD 318 million to thousands of beneficiaries;
 Lifted fishing restrictions in the North;
Recruited Tamil-speaking police force in the North;
Established an independent commission, the Lessons Learnt and Reconciliation Commission, appointed by President Mahinda Rajapaksa, to examine the conflict;
 Agreed to implement the recommendations of the Lessons Learnt and Reconciliation Commission. Despite the fact that the LLRC issued its final report and recommendations just two months ago, the implementation machinery has already been put in place as follows:
The formation of an Inter-Ministerial Committee and a Cabinet Subcommittee to adopt the recommendations;
A review and report by the Justice Ministry on proper implementation of the recommendations;
Establishment of a court of inquiry by Sri Lanka's Army as part of a possible courts martial process;
A census of the Northern Province to ascertain the damage;
A system to settle all issues pertaining to land in the Northern and Eastern Provinces, where the LTTE practiced extensive ethnic cleansing;
The withdrawal of military forces from large areas of the North and into smaller security zones;
The revival of the fishing and agricultural industries in the North;
Progressive release of land from the high security zones in the affected areas to enable the internally displaced persons to resettle
 
Most importantly, we have ended terrorism in Sri Lanka ""…" there have been no security incidents, and no injuries or loss of life due to terrorism, since the conflict ended in May 2009.
 
In the light of this progress within Sri Lanka, there is no justification or urgency whatsoever in floating a UNHCR resolution calling for the implementation of the LLRC's recommendations and engagement with the High Commissioner, when this implementation has already been effectively undertaken by the Sri Lankan Government. What we now need from the international community is objectivity in assessing Sri Lanka's efforts. More than anything we need to ensure that the process is allowed to advance unimpeded. We do not need unwarranted incursions that will compromise successful implementation. LLRC recommendations must be adopted in a democratic manner without external pressure to ensure effective implementation and lasting results.
 
Watch Video on You Tube : http://www.youtube.com/user/slembassyusa?feature=mhee#p/u/12/ySyqGz9aTHc
Embassy of Sri Lanka
Washington, D.C.